Denise Sauriol Uses Cumulative Courage to Go After Her Goals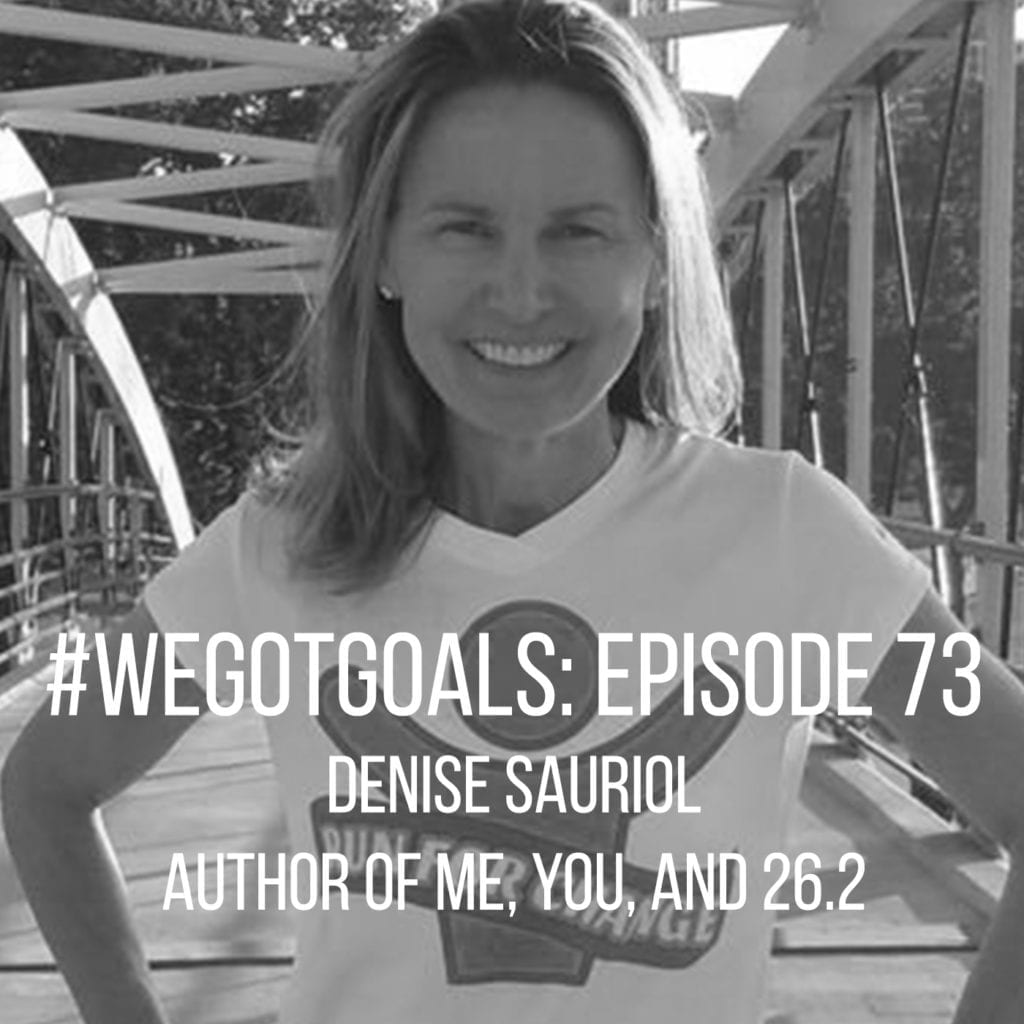 Maybe you'll be lining up next weekend at the TCS New York City Marathon, or watching the Bank of America Chicago Marathon a few weeks ago has you pondering a big race of your own. Or perhaps you're facing a job change or another challenge in your life that has you "scited"—scared but excited—hoping you can handle it but afraid you'll fall short.
Coach, author, marathoner, and aSweatLife ambassador Denise Sauriol has a message for you: You can do it, and even if you think you've failed, the struggle will be worth it. "Do things you think you can't do. It will transform you on the other side," she told me on #WeGotGoals. "That's when we are really showing up in our lives."
For this week's episode, we headed back to the Hotel Moxy the week before the Chicago Marathon to soak up some pre-race run-spiration from the woman her runners call the "marathon whisperer."
Sauriol was fresh off the publication of her new book—Me, You & 26.2: Coach Denise's Guide to Get YOU TO YOUR First Marathon—and was about to take on her 100th marathon that weekend. (Post-recording update: she finished, in a time of 4:52:39 and what just might have been a personal-record in smiles, high fives, and megaphone-enhanced cheers along the way.)
In a week that found her bouncing between media appearances, her own final race preparations, and pep talks with the nearly 200 runners she was coaching through the event, Sauriol's joy was palpable. In many ways, these successes represented the culmination of the dream she'd gone after two years ago, when she quit her job in accounting after 26 years to coach runners full-time. In another of her trademark Denise-isms, she called this "de-corporation," or "a goal that has filled my soul."
Walking away from a steady income and the only professional life she'd known wasn't easy. Sauriol recalled sitting in her therapist's office the week before she was supposed to go back to school for another advanced degree. The therapist asked what would make Sauriol truly happy. "And I said, 'Well, I just want to help people. I want to share running with everyone,'" she said.
A master's probably wasn't necessary in order to do that, the therapist pointed out. "She said, getting that degree is like having to go to Florida and going to California to get there. So the next day I emailed Northwestern and dropped out of the program," Sauriol said. "I texted my therapist and I said, 'I canceled my trip to California.'" Six weeks later, she booked her ticket to Florida by giving her notice.
Even once she'd made the decision, Sauriol faced doubts. Running a business, even if it's your dream job, has its challenges. "It's not all rainbows and unicorns," she said. To get through the tough spots, she's harnessed what she called "cumulative courage." She reflects back on other things she didn't think she could do but accomplished anyway, including her first marathon back in 1994 and the 98 others along the way, and reminds herself she has the strength to get through.
The more I talked with Sauriol, the more I realized cumulative courage extends beyond an individual's achievements. In fact, it's yet another reason that, per the maxim on constant repeat here at aSweatLife, "everything is better with friends." The power with which Sauriol believes in her runners fuels them to greater distances and bigger accomplishments than they ever thought possible. Watching them crush their goals, in turn, reminds her to think more broadly about her own capabilities.
"When I get overwhelmed or stuck on which route I should take, I don't stay there. The feedback and the connection I'm making with people that were once strangers—seeing them do things they didn't think they can do or seeing them finally believe in themselves like I believe in them—counteracts when I'm overwhelmed," she said.
Sauriol will call on that cumulative courage to continue growing her business: "I'm not done with it," she said, and I certainly believe her. She'll also use it to conquer her fear of heights for her next big fitness goal. For more on what that is—and many more simple, solid tips for tapping into the collective strength we all share—listen to the full episode. Stick around till the end for a real-life goal from one of Sauriol's runners; and hey, if you want to be featured on an upcoming episode, email a voice memo to me at [email protected].
If you like what you hear, please subscribe to #WeGotGoals on Spotify, Apple Podcasts, or any other podcasting app, and while you're at it, leave us a rating or a review. Thanks so much for listening!