How Katlin Smith Built an All-Natural Empire By Keeping Things "Simple"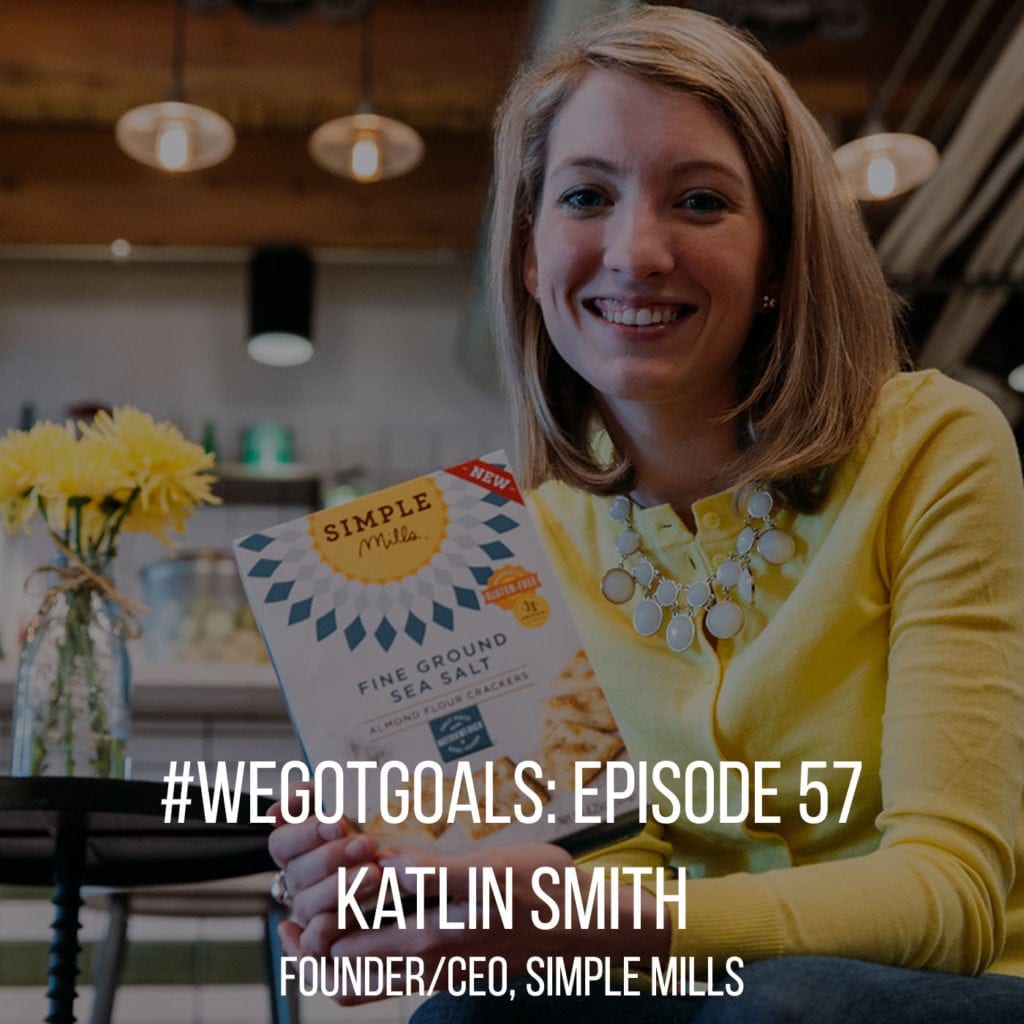 If there's one thing I've learned from listening to over a year of #WeGotGoals, it's that building a business or achieving a major goal is rarely as easy as these rockstar goal-getters make it seem.
But for Katlin Smith, keeping things simple is the secret ingredient to her success with Simple Mills, an all-natural baking mix and foods company that uses recognizable, natural ingredients in place of things like high-fructose corn syrup and artificial ingredients.
Smith started Simple Mills in 2012, right after she began cleaning up her diet and cutting out processed food and sugar. Almost instantly, a lightbulb went off in her head.
"Growing up, I learned okay, food affects your weight, it affects your digestive system. But never did I think that food could affect your immune system or the other things we're learning about now, like anxiety, depression, or cancer. And it was just stunning to me that food can affect those things."
Armed with these realizations, Smith realized she had to do something to change how people eat — and thus, Simple Mills was born.
And even though the premise of Simple Mills was — and continues to be — clean, nutritious foods for a better life, Smith has never shied away from a great mission that expands beyond the grocery store aisle. In fact, once she realized how much her health was affected by a clean, unprocessed diet, Smith went home and did something I truly identify with: she made a list.
But not just any list. "I brainstormed 10 different ways that I could impact the way that people are eating and what they're eating and how many kinds of whole foods they're eating," Smith shared. "It ranged everything from going and getting my master's in public health to starting a natural food company that would help change what people are eating."
(Spoiler alert: that last one is the idea that won out)
Recently, Smith was able to participate in a life-changing trip made available through her inclusion on the 2017 Forbes' 30 Under 30 list. With about 85 other attendees, Smith traveled all over Israel, including at the Syrian and Jordan border, learning about all the complexities behind the conflict in the Middle East.
Seems heavy for something that looks like a press tour on the surface, right? Yes — but according to Smith, the trip helped open her eyes to the larger complexities facing the world, in addition to sparking ideas for how she and Simple Mills can have an impact in spaces larger than grocery stores.
"There were two key realizations for me on that trip," Smith reflected. "The first was that what we have today we can take for granted really easily, and things can change. The other thing that I really thought coming out of that trip was just how not simple conflict is."
Even more surprising about the trip? It was entirely paid for by Schusterman, the company who invited Smith and the other attendees. So what was the catch?
No catch, revealed Smith — just a firm reminder that with great power comes great responsibility, and all the standout attendees on the trip had the means to truly change the world. Fresh off the trip when we talked, Smith takes that responsibility incredibly seriously and intends to start by using Simple Mills as a platform to change the food industry. From there, the sky's the limit.
"I do plan on doing more things with my life than just Simple Mills. There are a lot of problems in the world, and a lot of problems to solve and I think that if you have like the energy and the resources to impact the world, you absolutely should."
We can't wait to see what Smith does next. Listen to Katlin talk to me about her goals on this week's episode of #WeGotGoals by downloading his episode wherever you get your podcasts. If you like the show as much as we do, be sure to subscribe and leave it a rating and a review.
And! Don't take out your earbuds before you listen to the end of this podcast — we've got a real-life goal from a goal-getter like you that you've got to tune in for.