Revolutionizing What It Means to Work Out at Home: Why Residential Buildings are Focusing on Health-Forward Amenities
[
Disclosure: This post is a part of a sponsorship with Spoke. As always, we only talk about the places, people, things, and experiences we truly love.
]
I vividly remember searching online for my second Chicago apartment, and being somewhat impressed by one building that boasted a "state-of-the-art fitness studio." It wasn't until I viewed the unit in-person that I realized the generous photo angles and flowery language had been used to disguise two treadmills and two ellipticals that were probably purchased in the early 2000s — and let me say, it was also a pleasant surprise that the gym shared a space with the laundry room. The ultimate convenience!
Residential buildings have come a long way from that when it comes to in-building health and wellness amenities. Now, these state-of-the-art amenities (ironic quotes not necessary this time through) are setting the standard for residential buildings, and wellness trends have exploded in popularity over the past five years: the International Well Building Institute, which accredits wellness-friendly work and living spaces and was only created in 2014, now has 93 accredited residential properties all over the world (including 22 in the United States).
Fredrik Elund, of Bravo's Million Dollar Listing, noted in an interview with The Cut that "Before, wellness was a bonus. You picked a location and you got a great doorman, and on the side you had a gym or a pool. Now people's lives center around health and wellness."
For many renters or buyers, an amenity-rich building will cause a total re-think of their budget.
Sarita Scherpereel, a real estate broker with @properties, says she's noticed an interesting phenomenon when showing buildings to clients.
"People approach both the renting and selling side with two different budgets: one budget is including all amenities, and one is for a more basic building. Amenities have become something people factor in — if you have a building with a really great gym, they'll pay a certain amount, and if there's a pool they'll pay a little more. People are willing to go up in price for either rent or Home Owners Association fees if they know they don't have to purchase a gym separately every month or could do ClassPass as long as they have a basic treadmill in their building."
At Spoke Apartments, a full-amenity residential building in River West, resident wellness is the heart of the building, whether you're spinning away in the ground-floor Peloton Studio or practicing in one of the two private yoga studios.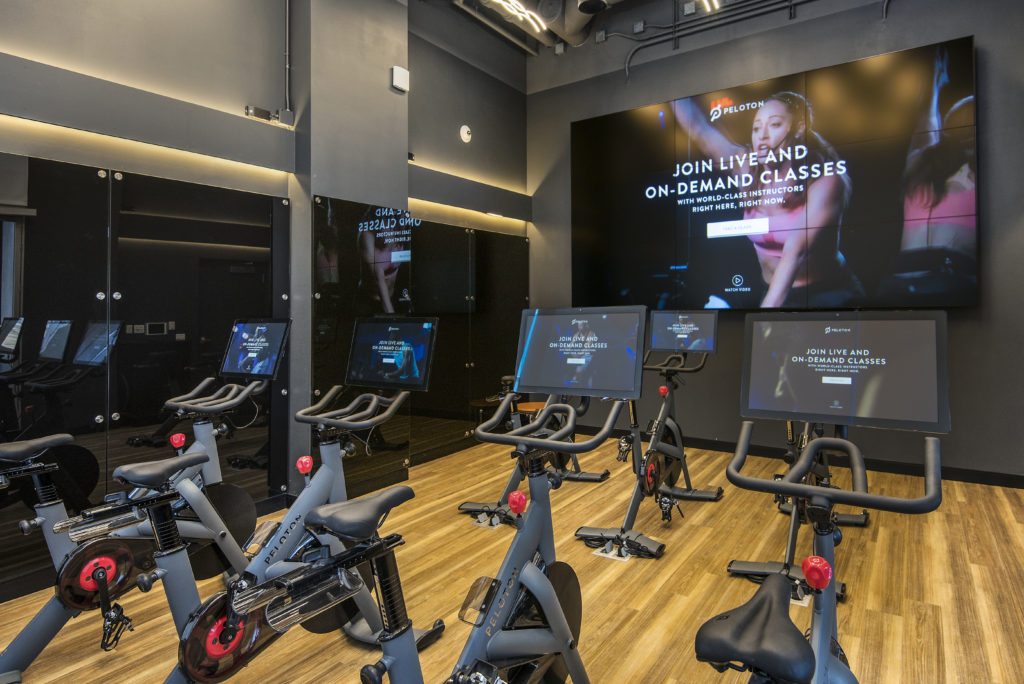 "Having these amenities in the building make it so much easier to live a healthy lifestyle," confirms Tess O'Brien, Spoke's leasing director, a sentiment Scherpereel backs up.
"In-building healthy amenities have always been important for people in a city [like Chicago] where weather is unpredictable. We're a marathon running city, we have a lot of races, and it's important to people to eliminate excuses. Health in this city is pretty important, and getting a workout in regardless of the weather is important as well."
(The research backs up Scherpereel's observation: a 2017 study from the National Apartment Association found that fitness centers are the most popular building amenity among renters.)
And if you think these healthy amenities are just a well-stocked gym with enough treadmills to go around, think again. At Spoke, residents can enjoy the aforementioned virtual cycling studio and premium gym (which includes machines, free weights, cardio equipment, and even a boxing training system). Two private yoga and performance rooms feature on-demand fitness videos and a weekly free community yoga class. In the 15th floor Sky Lounge, residents can take part in a monthly cooking class on premium appliances, learning how to make healthy recipes in a fun, community-building environment.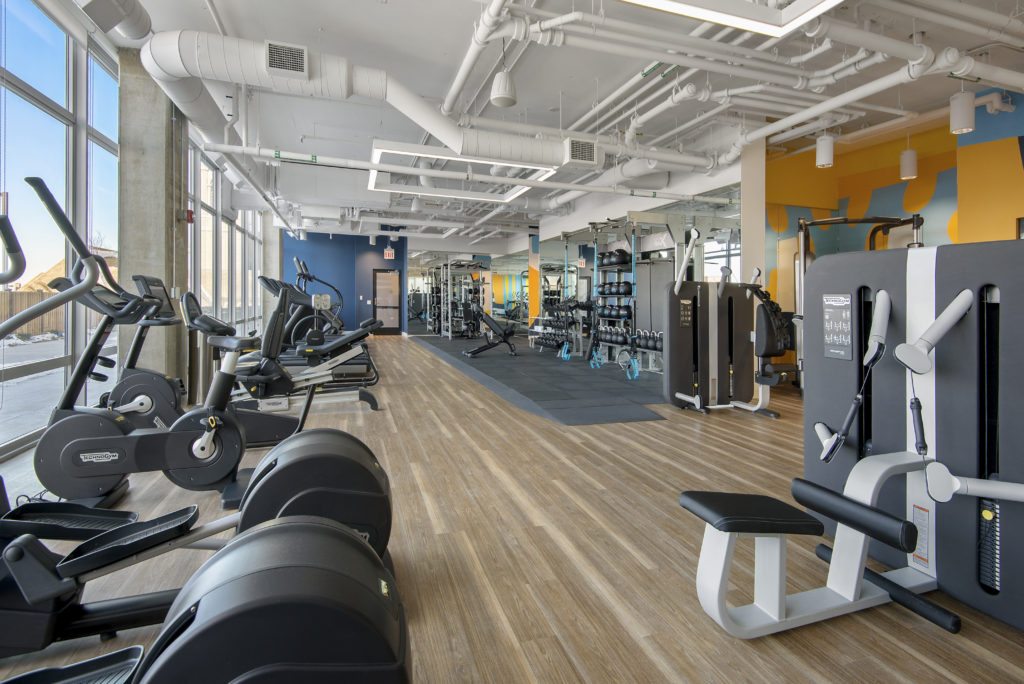 Similar amenities are popping up all over Chicago, and Scherpereel says she's seeing more and more yoga studios, running tracks, pools, and virtual fitness options in residential buildings. At The Kent in Lincoln Park, for example, Scherpereel notes that they gutted their first floor to build out a yoga studio that features Wellbeats Virtual Fitness. Fitness concierge companies like LulaFit will even partner with a building to create community events that fits the space and the residents' interests.
The most popular feature, though? According to O'Brien, it's hands-down the Peloton bikes and the access to free Peloton classes.
"The Virtual Cycling Studio has been a big hit," she raves. "Having access to free Peloton classes is a huge value for our residents.
Could wellness-forward buildings incentivize residents to stay longer? Absolutely, says O'Brien — and it goes beyond just having a nice gym to the feeling of community residents get from interacting with their neighbors throughout the complex. When we spoke with amenity-provider hOM in 2017, their data confirmed what O'Brien has seen: the retention rate for residents in buildings that have hOM programming (which includes fitness, yoga, and meditation) is 15 percent higher than the national average.
Adds O'Brien, "To date, we've also hosted a live music happy hour, a comedy show, a mixology class, and a class on plant feng shui.  The events are a great way for residents to meet their neighbors and try something new.  Residents are more likely to renew if they have friends in the building and are genuinely enjoying experiences they can't find anywhere else."