Strength Training for Women with Amanda Scavo
By now, readers of aSweatLife know the obsession that we have with the trainers over at Hard Pressed. In just thirty minutes, you get a full-body, high-intensity workout that leaves you sore for days. But unlike other high-intensity workouts in Chicago, Hard Pressed gets you results through lifting heavy. As in, lifting weights that you never would have had the guts to load on the rack by yourself. It's tough, it's exhausting, and it's awesome.
But when you ask women about their strength training routine, you tend to hear the same thing over and over again: "I don't like lifting heavy. It'll make me bulky" or "I'd rather lift light weights because that'll tone my body without bulking up." People, I'm here to call bullshit on that.
To help debunk the myths that commonly surround women and strength training, we knew there was no better person to turn to than Amanda Scavo, Hard Pressed's newest trainer (and first female trainer).
After growing up competing in gymnastics and cheerleading, Amnda received her degree in sports medicine from Eastern Michigan University. After graduating, she worked as an athletic trainer and began competing in women's body building competitions, eventually "retiring" and following her love of helping people to become the COO of an athletic club in Michigan, TruFit.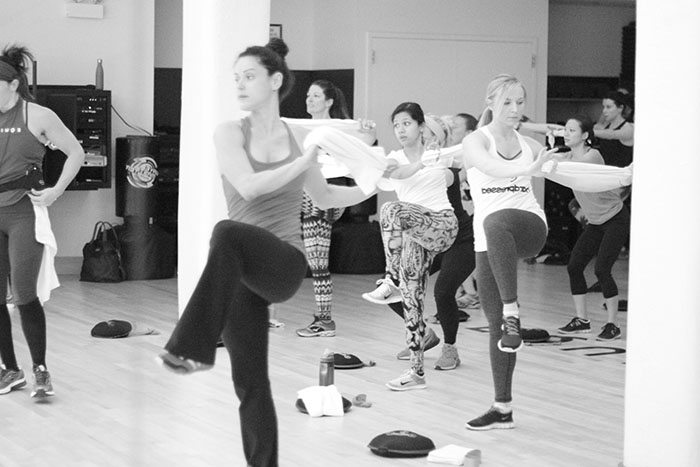 (Amanda at a recent #Sweatworking event)
Now, you can find her training clients at Hard Pressed and exploring her new digs in Chicago. We spoke with Amanda to learn about strength training in general and for women specifically, as well as all the benefits of strength training.
We asked Amanda first about the benefits of strength training for women, and she astutely called strength training "the secret cure that people are afraid of."
"People are okay with popping pills in their mouths that a doctor gives them, but they're afraid of lifting up a few things, one of the most natural movements since the dawn of time," Amanda explained. "I think you can fix just about everything through strength training."
"Women buy the fitness magazine and say 'Oh, I want to look like the girl on the cover.' Well, the girl on the cover weight trains! She'll do a little bit of cardio too, but for the most part, the meat and potatoes of her workout is going to be weight training."
If that's not enough to convince you, strength training is also "literally the most anti-gravity solution for everyone," since the only way to tighten the skin is to fill it.  Through strength training, you're building the muscle underneath and tightening the skin so that you stay looking young, fighting cellulite along the way.
Plus, with strength training, your workout never becomes stagnant. If you hit a plateau, you can up the reps, add weight, or add manual resistance- you're never going to get used to it like you can get used to, say, running.
Amanda also noted that with strength training, your confidence also increases. "Strong is a total body mindset," said Amanda. "You walk differently when you strength train. You have a confidence about you that changes when you realize you can press more than the guy next to you, even though you're 5'3″ and still look like a girl. "
Finally, strength training contributes to an independent lifestyle, Amanda pointed out. "If you're living in the city, you need to carry everything! And you have to walk carrying all of that stuff … You want to feel strong and realize 'This is my life, and I can do it.'"
Amanda laughingly recalled how she has to open her grandmother's pickle jar every time she goes to visit her. "I don't want to be 75 not being able to eat some pickles because I don't have anyone there to open the jar! I want to be able to open my pickle jar! That's why I strength train." 
Of course, women should strength train all of their muscles, but avoid strength training your legs for fear of not fitting in your jeans. "I have never, in my entire life, been able to find a pair of jeans in two seconds at a store," Amanda said (preach, sister). "Your legs are the key to everything."
And getting bulky? Nah.
"If you aren't injecting yourself with the same levels of testosterone that men have naturally, and if you're not eating like a man, then you're not going to look like one," Amanda explained.
After I mentioned the fact that I've seen most of my running crew at Hard Pressed at one time or another, Amanda and I started talking about how strength training can prevent injuries.
"The reason injuries happen is because the exterior muscles around joints are not strong enough. So the joints are broken down over and over again because of impact, especially in running – that's because you don't strength train. If you're not going to strengthen the things that support the building, then the building's going to collapse."
Like any other type of exercise, strength training should be considered just one part of an overall fitness and wellness lifestyle – and that's how it should be, Amanda explained.
"Variety is the spice of life. I still run! In anything, you need variety. Life's going to throw you a bunch of stuff that you're not prepared for, so do a little of everything and then you're set for whatever happens … If your work out is a monotonous obligation, you lose the love of it. You need little bit of everything"
If you're new to strength training, the best way to start is simple, according to Amanda: just try it.
"I can tell you and I can preach and I can spit the best salesmanship game that I've got, but you have to actually try it for yourself more than once, a real, true, genuine try, and see how your body changes."
Finally, and perhaps most importantly from our conversation, Amanda and I got to talking about how physical strength can carry over to become emotional strength. Simply put:
"If you're strong by yourself, you're going to be able to be strong for everyone else around you, and that brings people to you. You won't be alone."
 By strengthening yourself, you're able to strengthen your relationships with the people around you. And we're stronger together. 
To learn more about getting strong with Amanda, contact Hard Pressed about setting up a session with Amanda.