Taking on a Triathlon For the First Time
Growing up, the only sport I knew was swimming.  My dad swam on a swim team when he was younger and for that reason all four of my siblings and I were enrolled in swimming lessons. I swam through high school and was on a club team in college. After college graduation, I wanted to try something new, so I started to run.  I found running to be exciting; it was a new unexplored challenge.  But a couple of years went by and I lost the excitement for it, and I started to miss swimming again. I did some research and found that there were quite a few triathlons and teams in my area. I signed up for my first Chicago Triathlon, and three months later I was able to call myself a triathlete. It was love at first race.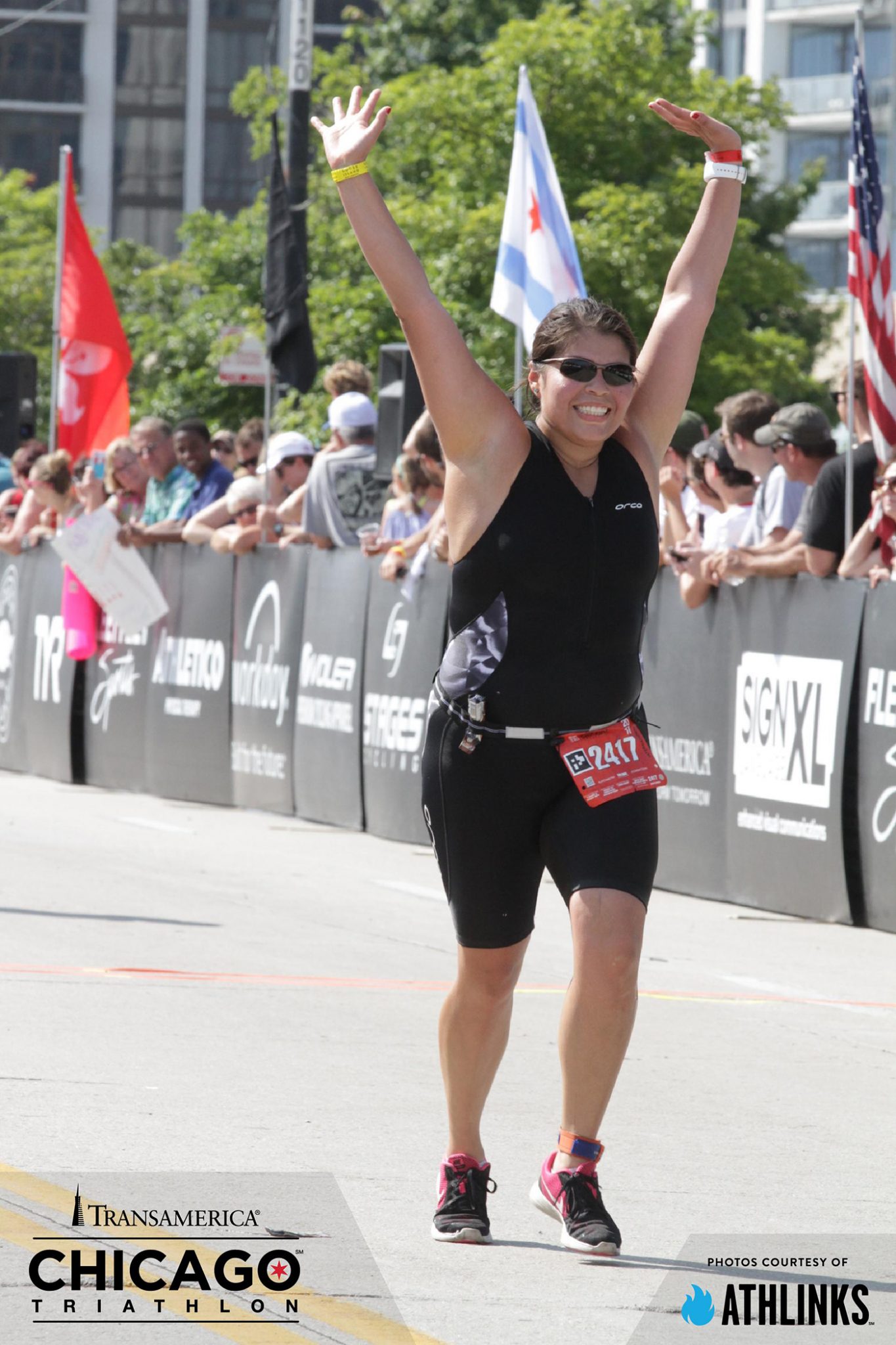 It was the perfect way to blend two sports I already knew and loved and get out of my comfort zone with a new sport, biking. Considering I had never ridden more than 12 miles at a time on a bike, I wanted to know exactly what I was signing up for.
If you're like me and don't already know the varying distances of each sport in a triathlon, here is your guide.
There are different distances in each type of triathlon.
Sprint: .5 mile swim, 12.4 mile bike, 3.1 mile run
Olympic/International: – .93 mile swim, 24.8 mile bike, 6.2 mile run
Half Ironman: – 1.2 mile swim, 56 mile bike, 13.1 mile run
Ironman: – 2.4 mile swim, 112 mile bike, 26.2 mile run

As with anything, to train for a triathlon, you have to start somewhere.
I will say that I could have trained better and could have followed a plan.  At that time I was not completely in love with fitness but I did it to stay healthy. This is how I approached each element of triathlon training:

Swimming
For swim training, I went to all of the open water clinics hosted by the Lifetime Tri at Ohio St beach and those were extremely helpful.  I was able to get acquainted and comfortable with swimming in large groups and waves.
Biking
I rode my bike to the lake and used that as my training.  I did complete two long rides of 25 miles each, which was the distance of the race. Biking to and from the lake helped to get accustomed to being uncomfortable on the bike.  Cycling was the hardest for me since I was not used to sitting on the seat for so long.
Running
The running part was not bad since I had trained for runs in the past.  I could go long distances at slower paces.  The runs were fun since the lake path is beautiful and there were always other people running by.  It's a great time to spend some time alone and relax and let go over everything.
Prepare yourself to tackle race day.
On race day, I was extremely excited and nervous, all at the same time.  I wasn't sure what to expect but I felt ready with the work I had put in. My biggest hiccup during the race was during transitions between swimming, biking and running. I struggled to find my things for the next leg of the race, but that did not take away from the amazing feeling I felt during each portion of it. During the swim, I pushed myself – just enough – since it was only the beginning. Once I got to the bike, I let my legs take over and do the work. Being on Lower Wacker felt like a scene in a movie – the roads were flat and I was able to speed through.  And finally, once I got to the run, my legs were tired but I was ready for the finish line.  
I crossed the finish with a huge sense of accomplishment.  I had done it, I had made it to the end.  But it wasn't really the end, it was just the beginning of a new journey.  Next up is the half ironman this August!
Interested in attempting a triathlon of any distance for the first time? aSweatLife writer Kelly Magnus also took on a race for the first time and broke down how to build up your base here.
Interested in attempting something new but not sure if a full-on triathlon is your thing? Jamie created her own triathlon and listed examples of how you can do the same.