Building a Base: Triathlons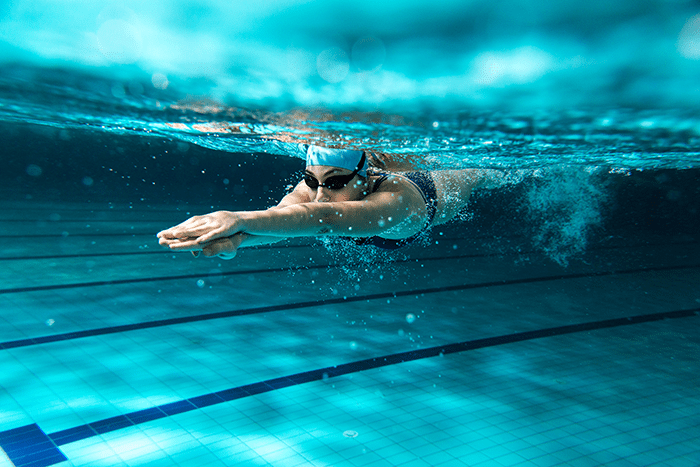 Ok, so you're somewhat convinced that attempting a triathlon this summer could be a good idea … and, we totally agree! But the lingering question that most first-timers have, and is a major reason for never getting started, is: where do I even begin? I'm out of running shape, I haven't biked since I was a teenager and swimming, well, I've never actually learned how to swim beyond lessons as a kid.
It's OK. We've created super-simple guidelines to gradually ease you into a training plan over the next few months. Basically, we'll teach you how to begin a workout/training regimen that will build a base foundation of fitness; a necessary step before you even begin to think about diving into a triathlon training plan.
You'll hear triathletes talk about "base building." In short, this means the first several weeks of triathlon training where you gradually and steadily build up your training volume and intensity. Why? Gradually jumping into aerobic activity will help you build endurance safely to avoid injury. The base training phase introduces your body to new stresses it isn't use to slowly, so that you can adjust and avoid injury or burnout prior to race-day.
Base training is about putting in the time, setting a schedule and building a routine. Be patient with yourself during this phase, and expect challenges because you're introducing your body to new activities. Regardless, start slow but stay consistent with your efforts.
Here is a very simplified way to approach building an endurance base for your first triathlon:
Days a week: Commit to working out three or four times a week, and on most days giving yourself 48 hours between workouts to recover. A sample schedule could be working out Tuesday, Thursday, Saturday, and Sunday.
Sport-specific training: Plan out your activities so that you practice each sport twice in a week (this is your goal by the end of your base building phase). Shoot for two swim sessions, two bike sessions and two runs. While this might sound like a lot, remember all of these workouts are low intensity to build up your endurance. Start slow and get adjusted to performing two different sports on one day (called a brick workout).
Workout duration: Start with a duration or amount of time you feel comfortable performing each activity; maybe that's run/walking for 10 minutes. Slowly add on a minute every few runs, and push yourself to run (rather than walk) two more minutes than you did previous. Same goes for swimming and biking; identify a starting point, even if it's just five minutes in the pool. Gradually increase your time in the pool over a few weeks. Tip: never increase your distance/time by more than 10% from one workout to the next. This will help you avoid injury and soreness that could prevent you from skipping a workout.
SAMPLE SCHEDULE:
 
Monday
Tuesday
Wednesday
Thursday
Friday
Saturday
Sunday
Activity
Rest
Bike

Rest

Run

Swim

Rest

Bike

Run

Swim
Training Tip
Focus on organizing your schedule for the week
Bike workouts can include a spin class or riding outside

Optional yoga or strength workout

Workouts can be done back to back or in the AM and PM
Focus on preparing for your weekend workouts
Try biking and transitioning straight into a short run

Focus on getting comfortable in the pool/water
Commit to building a base for eight straight weeks. This will give your body time to adjust physically and mentally. Base building is very much a learning process; this is the time to experiment, get used to the pool, familiarize yourself with biking and running routes and adjust your diet so that you feel confident on day one of your official training plan.
Now you're ready to kick-off your triathlon training journey. Read up on Selecting a Race and Following a Training Plan. You've got this!