Lynne Nieto of Augie's Quest Rises Above Discomfort to Help Find a Cure for ALS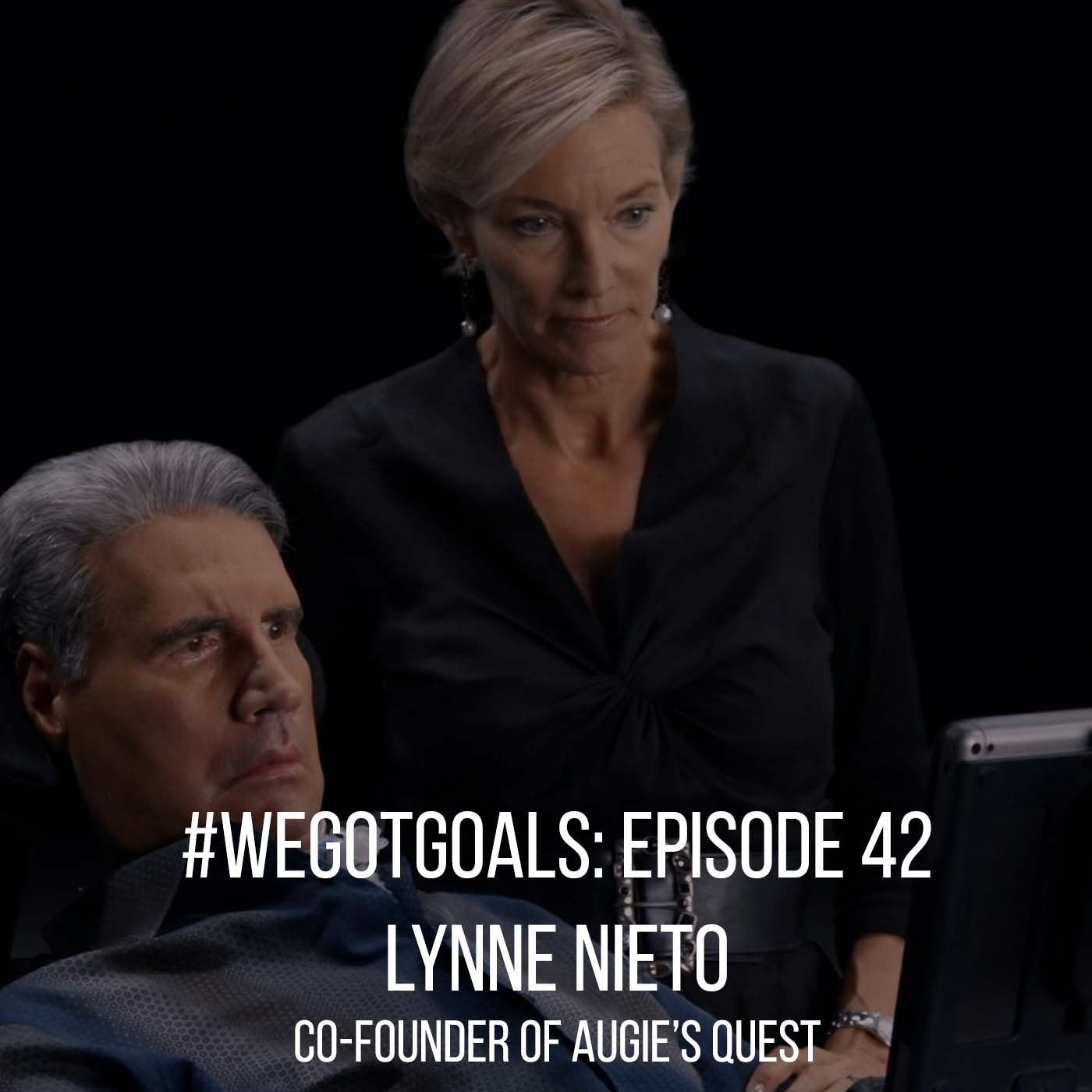 Thirteen years ago, when Augie Nieto learned he had the progressive neuromuscular disease ALS, he and his wife Lynne were told to put his affairs in order. Most people live only two to five years after diagnosis, as their brains lose touch with their bodies and their muscles atrophy.
But Augie—who founded exercise equipment company Life Fitness in 1977—wasn't one to simply accept his fate.
First, as Lynne explains on this week's episode of #WeGotGoals, the couple "tried to find somebody that would tell us we didn't have ALS," she says. "We traveled the country to the ALS specialists all over and unfortunately got the same answer six more times."
Once reality set in, Augie was devastated. Lynne became his caregiver, a role that nearly overwhelmed her. But eventually, it became clear Augie just might beat the grim statistics. Over time, Augie and Lynne found balance and a new purpose: Curing the disease that threatened to kill him.
Because ALS affects the muscles in his mouth and diaphragm, Augie can no longer speak. He breathes with a ventilator and communicates with assistive technology he controls with his feet. Still, Lynne says, he works as hard as ever.
Together, Augie and Lynne co-founded Augie's Quest, a non-profit that has raised more than $62 million. That money—and millions more—has gone to fund research at the ALS Therapy Development Institute, where Augie's chair of the board.
These efforts are beginning to pay off. Already, the institute has a drug nearing phase 1 clinical trials, and two more promising compounds in the pipeline. Considering that there are currently only two FDA-approved treatments for ALS, that's quite a feat.
"What we've really shown here is that ALS is not an incurable disease—it's just underfunded," Lynne says.
Working together "in lockstep" toward these goals has—incredibly—deepened the Nietos' partnership to the point that Lynne says their marriage is stronger than ever. Raising their four children, and showing them the true meaning of "for better or for worse," ranks as Lynne's proudest accomplishment.
"Before ALS, I think you had two of the most independent people on the face of the planet that probably in our heads thought we didn't need each other that much. And that's not always a great way to go about a relationship," she says.
Now that they've had to slow down and be more thoughtful in their communications, "I think we're better people."
Lynne has also learned to step into the spotlight, speaking in public and to the media. The self-professed introvert admits it's still a struggle. "I am not comfortable, but I have learned to be in discomfort and just lean into the discomfort," she says. "I know that if Augie could, he would be the spokesperson. But now I feel that sense of responsibility to being his voice."
On Augie's urging, the Nietos welcomed a documentary crew into their lives. Initially, Lynne resisted the idea. During filming, which proceeded on and off for a year, the lights and boom mics in their bedroom were certainly intrusive. Now that the crews have left and she's watched the resulting film, AUGIE, many times over, Lynne says she's glad they did it.
"My deal with Augie was that I would agree to go through with doing the documentary, but we weren't going to sugarcoat our lives; we were going to share the bad as well as the good. And that was very cathartic in many ways," she says.
And she's proud of the end product: "I feel like now we have something that can shed some light on ALS, on trying to find treatments and a cure, on others living with the disease and how we really can make a difference."
Hear more of their incredible story on this week's episode—and beginning March 20, watch AUGIE on Netflix and Amazon.
You'll hear Lynne mention more ways to get involved, including joining Team Quest for ALS and raising money while running a 5K, 10K, or half-marathon. You can also contribute just by working out at OrangeTheory Fitness from now through March 8, including a special 90-minute Augiethon at all Chicago and suburban locations on March 3.
Listen to this week's episode, produced by Cindy Kuzma and presented by Chicago Sport and Social Club, reminding you that summer is just around the corner. Get into a summer volleyball league now and use code "GOALS" to get 5 percent off until March 31.
And if you like what you hear, subscribe where ever you get your podcasts and leave us a rating or a review on Apple Podcasts.