Seven of the Most Incredible Athletes of 2017
One fought off a vicious attack to run again on her own terms. Others forged new paths in the wake of life-altering diagnoses. And then there's the father whose grief blended with joy as he crossed the finish line with a living reminder of the daughter he'd lost.
My job introduces me to so many amazing athletes every year, and 2017 was no exception. Here—in no particular order—are seven of the stories that have stuck with me this year.
A Goal Reversed: Justine Galloway
A rare neurological condition called runner's dystonia threatened to keep Justine from the sport she loved. Miscommunication between her muscles and mind meant she could no longer stride forward normally. So, she started running backward—and did so for the entire 26.2 miles of this year's TCS New York City Marathon. En route, she raised more than $5,000 for Parkinson's Disease research through the Michael J. Fox Foundation, and even got a hug from the actor himself at mile 23. Read more about her in Runner's World.
The Sweetest #RunSquad: Ellie Grammas and Alexi Pappas
Not every 12-year-old has the opportunity to meet her athletic idols. Ellie, a star competitor for the Zephyrs Youth Track Club in the Chicago 'burbs, first met Olympic runner, filmmaker, and social media superstar Alexi Pappas at the Shamrock Shuffle expo in 2016. Bonded by their Greek heritage, the pair kept in touch and this year ran the whole race together (after a quick warm-up with Olympic medalist Deena Kastor, natch). Alexi has also inspired Ellie to pursue a well-rounded life outside of running—including dancing, entering a poetry contest and running for student council. Read more about them in Runner's World.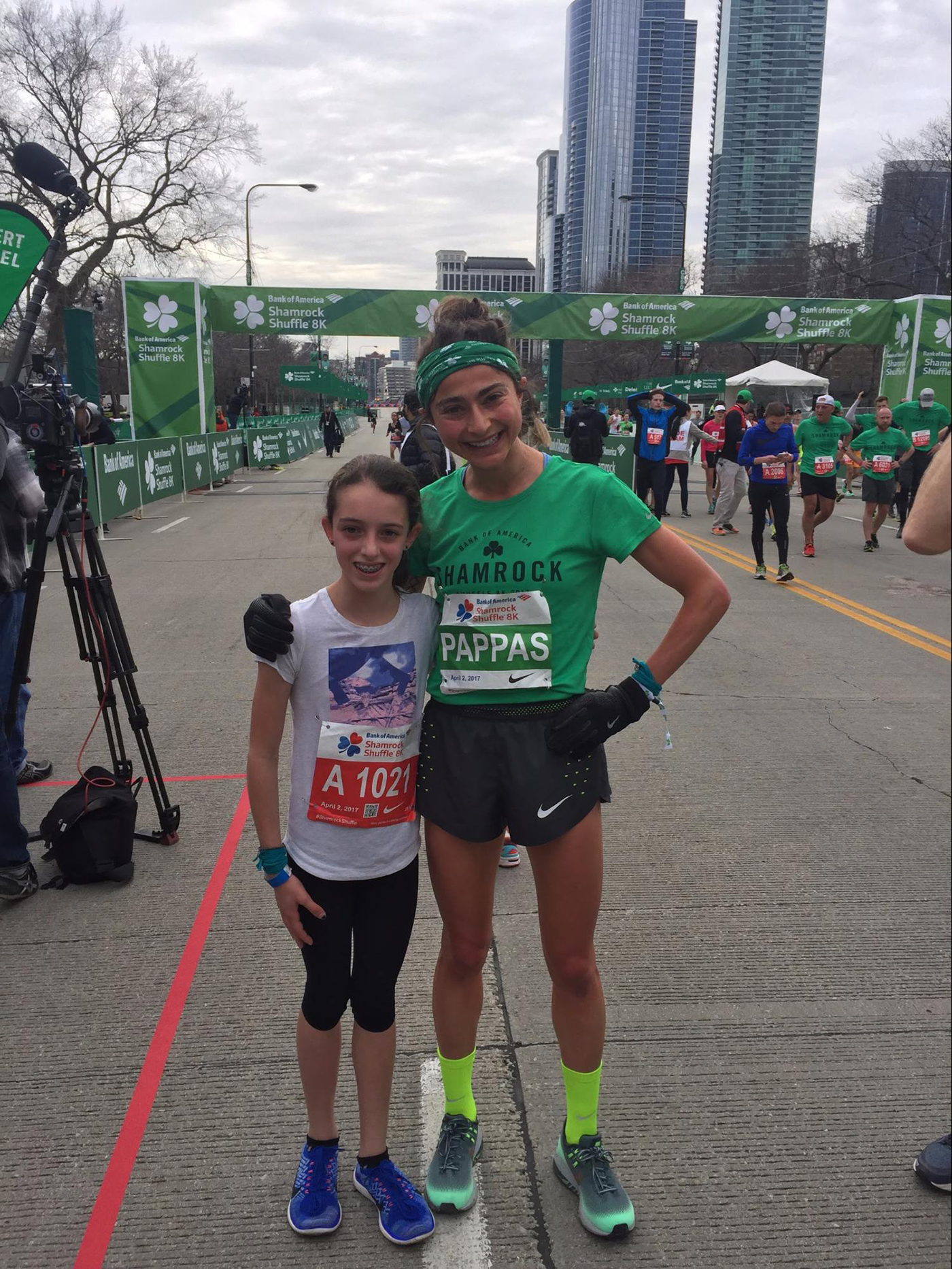 A Twist at the Finish: Brian McWilliams and Jacob Vandenberg
Jacob loves to race—and he's competitive. He can't run a marathon on foot due to his disabilities, so he rides in a racing stroller pushed by Brian. When the two realized they'd be close to a Boston-qualifying time at this year's Cellcom Green Bay Marathon, they switched places, with Jacob steering Brian over the finish line. Though Jacob doesn't speak, Brian heard his triumphant laugh the entire way—a sound he hopes to encounter again when the duo takes on the Boston Marathon this coming April. Read more about them in Runner's World.
A Warrior's Cry: Kelly Herron  
Kelly was midway through a 10-mile training run for the Rock 'n' Roll Seattle Marathon when she stopped to use the restroom at Seattle's Golden Gardens Park—and came face to face with a runner's worst nightmare. A man hiding in a stall assaulted her, but she fought him off, thanks to skills she learned in a self-defense class and the endurance she'd built through running. The phrase she yelled—"not today, motherf***er"—and the crazy lines her GPS watch recorded mid-attack propelled her story across the Internet, making her an instant if unexpected advocate. Though she put her marathon plans on hold to heal, she came to Chicago in the fall and ran her first 26.2 with her mom Nancy.
"To run a marathon is incredibly challenging; things get in your way," she says. "But you have to say to those things, not today. It's not going to get in my way today."
Read more about her in Runner's World.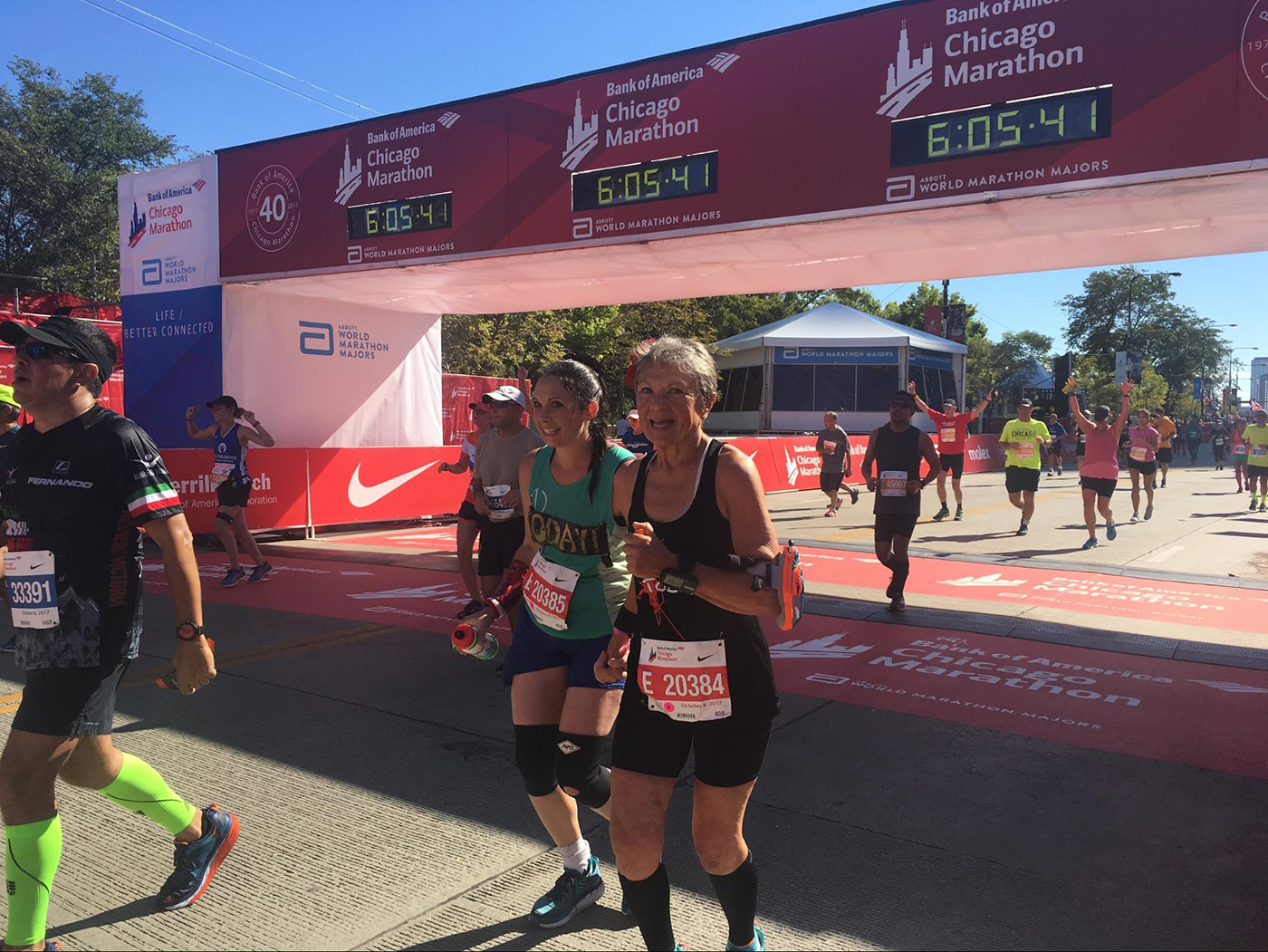 A Mother Determined: Tracy Cockerham
Tracy and her family had just landed in New York City, where she planned to run the 2013 NYC Marathon, when her son Connor said he didn't feel well. They rushed to the hospital, and doctors swiftly discovered that the melanoma he'd been treated for at age 18 had returned with a vengeance. He died just two months later. Tracy, overwhelmed with grief, went ahead with her plan to run the Boston Marathon for the Melanoma Foundation of New England that fall. Now, she serves on the board of what's currently called Impact Melanoma, has started a new non-profit called the Melanoma Coalition and is planning a 5K race in Connor's memory.
"Doing these things keeps his name alive and keeps his memory alive," she says.
Also incredible—the many other grieving runners I spoke with for the same article, including aSweatLife's own Kristen Geil. Read more about them all in VICE.
Two Lives Transformed: Bryan and Amanda Bickell
When Bryan, then a Chicago Blackhawks forward, first felt a tingling in his arm in 2015, he thought he'd just slept on it wrong. But his symptoms kept worsening, and eventually, the three-time Stanley Cup winner was diagnosed with multiple sclerosis (MS). Determined not to let the disease defeat him, he worked hard to return to the NHL on his own terms before retiring (which he did as a Carolina Hurricane in April, before resigning a one-day contract in October so he could officially retire as a Blackhawk). Now, Bryan and his wife Amanda work together to rescue pit bulls, train them as service dogs and help others with MS, including working with drug-company Biogen to further share the ways they stay optimistic in spite of the disease's challenges. Read—and hear—more about them on #WeGotGoals.
The Greatest Gift: Shae Brown and Fred Miller
"My happiness comes because of their grief," Shae Brown says of Fred Miller and his family.
Fred's daughter Alyssa died at age 24, and Brown—a childhood cancer survivor who required a transplant due to damage from chemotherapy—received her heart. Four years later, Fred and Shae crossed the finish line at the Chicago marathon together. Fred, an experienced marathon runner, coached first-timer Shae all along the way, impressed by her strength through adversity.
Alyssa would be proud, he told me; "this is all part of never forgetting her."