East Coast Versus West Coast: Pilates Edition
For some people, the big battle between the East Coast and West Coast has been rap music. But for me, it's always been Pilates. Having first started practicing on the East Coast, I became a devotee of this exercise through the classic method. But when I moved from New York City to Los Angeles, Pilates classes felt completely different. No matter what studio I went to or class I took, it felt as if I was learning an entirely new fitness program. As it turns out, I was.
Pilates originated over 100 years as a program designed by Joseph Pilates to rehabilitate soldiers during World War I in England. In 1926, the German national immigrated to the United States and opened up a fitness studio in the same building as the New York City Ballet. Hence why Pilates was and still is popular with dancers. Joseph Pilates died in 1967 at the age of 87. His protégées carried on his work and Pilates has only seemed to grow ever since. But, it has also changed a lot.
Even if you are taking a "classic Pilates" class today, it probably isn't exactly what Joseph Pilates taught. Dani Havasy, who teaches Pilates in New York as well as Core Chakra, which is a program that fuses Pilates and Yoga, explained to me that anything that isn't in the classical order or progression can't be considered classic Pilates. That being said, many classes today are a combination of both classical and contemporary Pilates, which is also known as West Coast Pilates. But she does not recommend contemporary classes to people without a solid classical foundation, "Contemporary Pilates is great for people who already have a long standing Pilates practice of at least a year, but if you don't, I don't how you can possibly do those exercises safely."
Havasy explained the two programs were created for different purposes, "Pilates was designed to rehabilitate your body, whereas contemporary Pilates does not."
So how did the terms East Coast and West Coast style come into the lexicon? Doug Riccio, who owns dr pilates in Los Angeles, set the record straight for me.
"East Coast and West Coast are styles of teaching Pilates and are a misnomer because they do not have anything to do with geography," Riccio said. "East Coast and West Coast labels originated to differentiate between teaching Pilates with an emphasis on dance technique or teaching Pilates from a fitness point of view. It was a logical development since the East Coast is associated with dance (NYC is known as the dance capital of the world) and the West Coast (Los Angeles) is known for being the fitness capital of the world."
Classes at dr pilates are generally a balanced combination of both methods because Riccio feels it's overall a better workout.
"I don't believe in having one way for every instructor to teach, as that would get boring," Riccio said. "I believe that the instructor comes up with their own way of teaching Pilates to make it fun, hard and effective."
The instructors generally work with each class and participant, so if there something particular they want to work on or something an individual wants to avoid doing due to an injury, anything goes at dr.
Then there is Lagree Fitness, created by Sebastien Lagree, which many people have dubbed "Pilates on steroids" and will make you "weird sore" like no other workout. Unlike Joseph Pilates' method, Lagree is focused on five principals, which are effective resistance, effective duration, effective tempo, effective range of motion and effective body alignment. The goal of Lagree isn't rehabilitation at all, but according to Lagree, it is to strengthen, tone and tighten the body.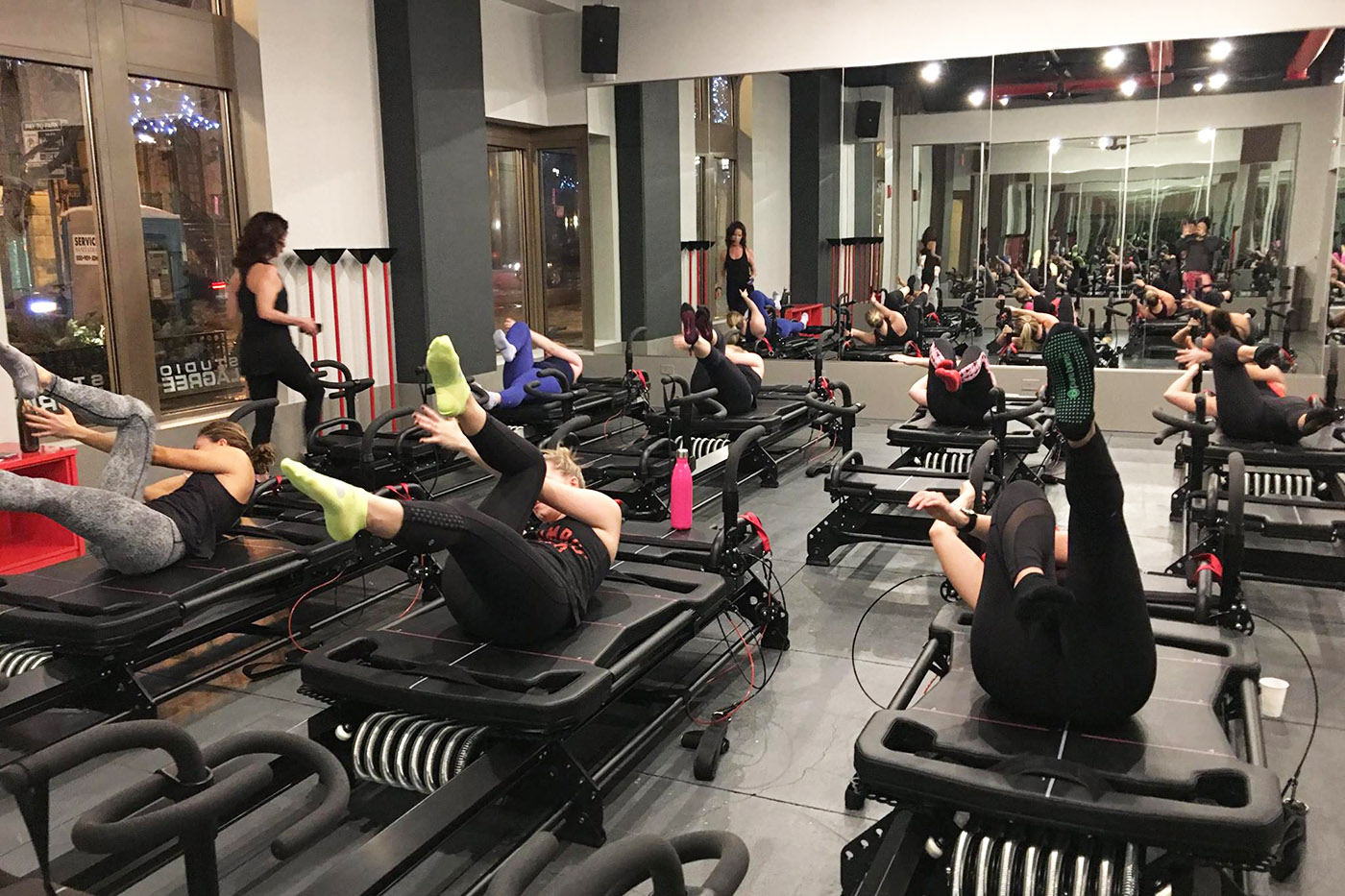 There are approximately 300 studios worldwide that are licensees of Lagree's program. Unlike other forms of contemporary Pilates, Lagree is not practiced on a reformer, but rather a Megaformer or Supra. Without shoulder blocks or a headrest, these machines are a souped up version of the original reformer that was designed over 100 years ago and an update on the Proformer designed in 2005. The exercises are also different. In Lagree, there is very minimal lying down.
I asked Sebastien Lagree what the difference is between all of the types of machines and he broke it down for me.
"Most of the exercises are standing up and/or for core exercises," Lagree said. "The Mega has evolved every year to offer more exercises and more variations while offering more options for body placement. Comparing the reformer to the Mega is like comparing a horse and carriage to a modern car."
Then there is the Supra, which Lagree calls "an entirely new beast." He also said it is the "the only machine to incorporate all planes of motion without exerting excess stress on the joint and spine."
Having taken quite a few classes at Lagree's studio, I can personally attest the Supra is like nothing else out there. One really interesting aspect of the Supra's innovation is how it uses technology. Instructors control the incline and side-tilt of the machines using an iPad. Oblique exercises are seriously no joke at Lagree. They almost feel aerodynamic.
While many people are under the impression that Lagree is Pilates, it actually isn't Pilates at all. So does this mean that Pilates is evolving into something else entirely? The answer is yes, but classic isn't going away any time soon.
All of these programs have different purposes but have evolved from the same set of movements. So no matter what studio or class you go to, some of the classic method is always there. I've even done 100's on a Supra. It isn't required to choose one style over another. There is room for everything, as long as you understand the difference and how each works to help you achieve your individual goals.