Tapping 101: How Chinese Acupressure Can Tap Away Your Stress
If you had asked me before today what tapping meant, I would have thought it was one of the following: a new way to like someone on Tinder; something referring to Soul Cycle; or, quite literally, tap dancing.
Spoiler alert: as is frequent, I was wrong. In the wellness sense, "tapping" blends modern psychology with ancient Chinese acupressure to relieve stress, overcome trauma, conquer fears and participate in self-healing.
Similar to acupuncture (but without needles, major key), tapping is pretty much what it sounds like: using your index and middle fingers to tap on each of the body's meridian points (chart here). However, unlike acupuncture, it's pretty easy to pick up and practice on yourself. Plus, you're not just tapping: you're also verbally participating by stating out loud set-up phrases focused around the specific issue you're experiencing.
Sounds kind of complicated, but in reality, it's really simple and there's no need to overthink it. But just to get started, I attended a Tapping 101 discussion at the West Loop's Breathe Bar, hosted by former Olympian and holistic wellness expert Catherine Garceau.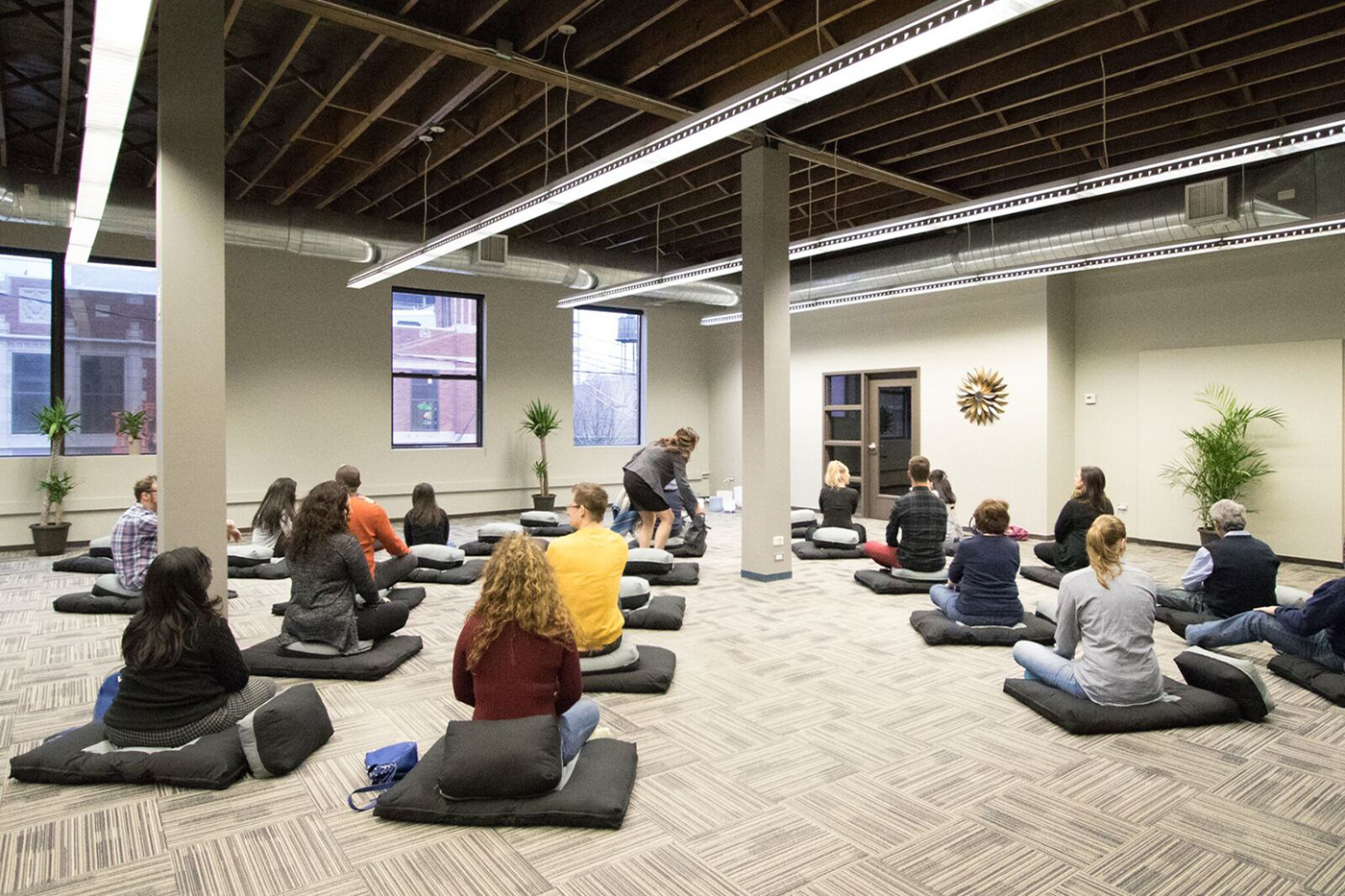 Settled onto fluffy cushions in Breathe Bar's lofty space, Catherine shared her background and what led her to discover tapping. As a former synchronized swimmer at the highest level, Catherine struggled with eating disorders, depression and autoimmune disease. She stumbled upon tapping via an optimistic YouTube video promising tapping for eliminating chocolate cravings (if only it were that easy). Her curiosity piqued, Catherine continued her wellness education and currently lives in Chicago, offering personal coaching for clients in Emotional Freedom Technique (another way to refer to tapping), Reflexive Performance Reset, Resistance Stretching and more.
Okay, so now that we've got the background info out of the way, here's the most surprising thing I learned during my hour of tapping: it actually has more to do with speaking out loud, than about tapping different pressure points.
At least, it does in my experience. While I did enjoy the new sensation of tapping different pressure points on my face (and if you ever see me at my computer tapping between my furrowed brow, you know what's up), I was actually way more intrigued by the verbal part of the exercise.
Catherine started by having us think about a particular issue that was bothering us at the moment, then doing a body scan to try and pinpoint where we felt pain or stress when we focused on that thought. For me, moving in a couple months was an easy one to pinpoint (as I had just spent a morning cleaning out my closet and trying to sell clothes on Poshmark), and as unoriginal as it is, thinking about the moving logistics gives me headaches.
After rating the intensity of the emotional or physical sensations we were feeling, as a way to have a baseline for later in the exercise, we were ready for the set-up phrase: speaking our fears and feelings out loud. As someone who can easily obsess over small lists and to-dos for hours before falling asleep, it first felt pretty goofy to get my private thoughts out through my mouth. But I found that as we kept talking, my worries felt much smaller and less pressing.
Still confused? Here's an example from Catherine of what you might say:
"Even though I feel this [specific pain or emotion], I choose to love and accept myself in this moment."
As you continue tapping, you'll continue speaking out loud, using reminder phrases to keep you tuned into your emotions. There's no specific phrase or words to use here; it's individual to every person. Catherine recommends speaking as if you're ranting to your best friend about what's bothering you, being honest and unafraid as you speak your truth about the feelings you may have been suppressing. After you've finished, you'll complete another body scan and re-rate the intensity of your feelings.
We write a lot here about the power of positive thinking, setting intentions and bringing what you want to life by saying it out loud. Tapping is just another way to do this. Sure, at first it felt kind of silly to say aloud in front of strangers that I was stressed about moving, but after I put it out there, I felt like the anxiety was off my chest and that moving wasn't as big a deal as I'd originally convinced myself it was. The tapping was, to me anyway, more of a way to distract myself from feeling self-conscious by having an activity to keep my hands occupied (although I think I've already picked up the habit of tapping my temple and my cheekbone, for better or worse).
Interested in starting tapping yourself? Catherine has plenty of YouTube videos to get you started, and Breathe Bar has several different meditation and mindfulness classes to get you in the zone. We'll double tap that.