Our Favorite Headbands for Taming Your Hair in the Gym
When a friend reached out recently and asked which headband she should get for working out, I knew it wasn't enough to just tell her what I love. Since everyone's head is shaped differently, and everyone enjoys different sports, I decided to crowdsource the answer to my amazing and fit friends. While there was huge variety in what they picked, some headbands rose to the top of the list.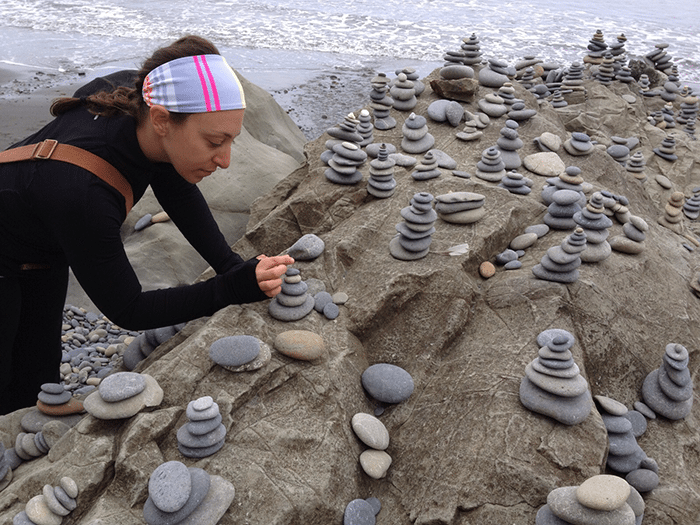 Wearing a Lululemon Bang Buster to cover up my dirty camping hair circa 2013
Lululemon
Maybe it's a Dani-thing, but Dani Muckley and I agree that the only headband we really wear is the original Bangbuster from Lululemon. Unfortunately, they don't make it right now, but Athleta's Pure Seamless Headband is really similar, and is what I've been wearing lately. These headbands are wide enough to stay on my oddly-shaped head without falling off, and are washable for when I inevitably drench them in sweat.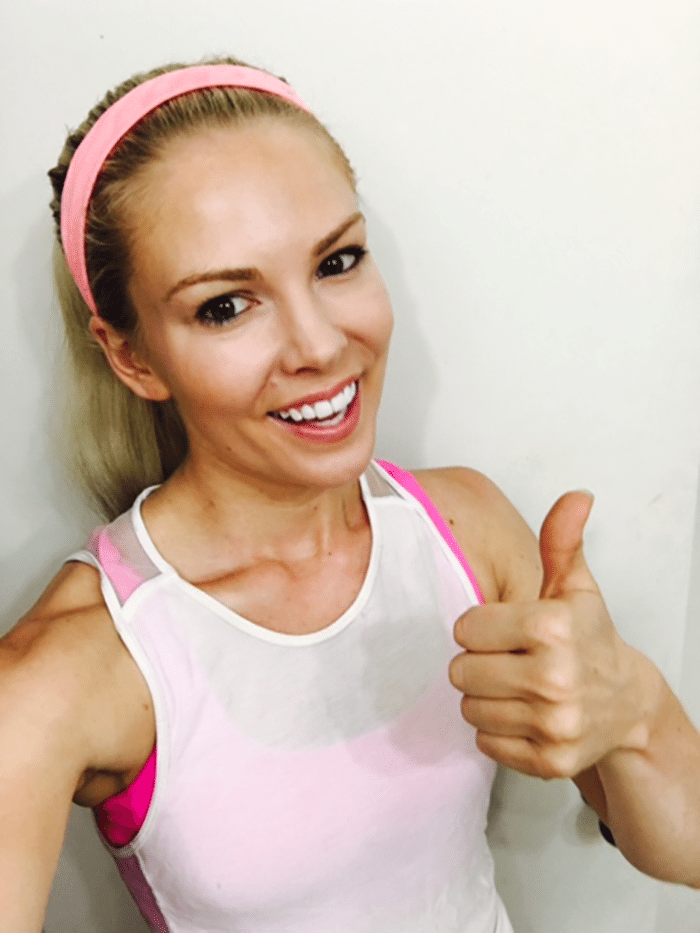 Iron & Oar's Val Rutka loves the Cardio Cross Trainer for her thick hair
Newer Lululemon headbands were a popular answer among my fitfam. A friend of my Mom who loves to hike and bike prefers the Fringe Fighter for her shorter hair, "It works great, wicks and doesn't hurt my large head. It launders well, too!"  Abbie Brewer, marathon runner and Key Leader at Lululemon in Chicago, agreed that the Fringe Fighter is her headband of choice, "especially with a messy bun or a braid." Yoga and rowing instructor Val Rutka of Iron & Oar says her current favorite is the Lululemon Cardio Cross Trainer Headband. 
"I like it because it holds all my hair back (I have super thick hair), but unlike other headbands I can wear it all day without getting a headache," she said.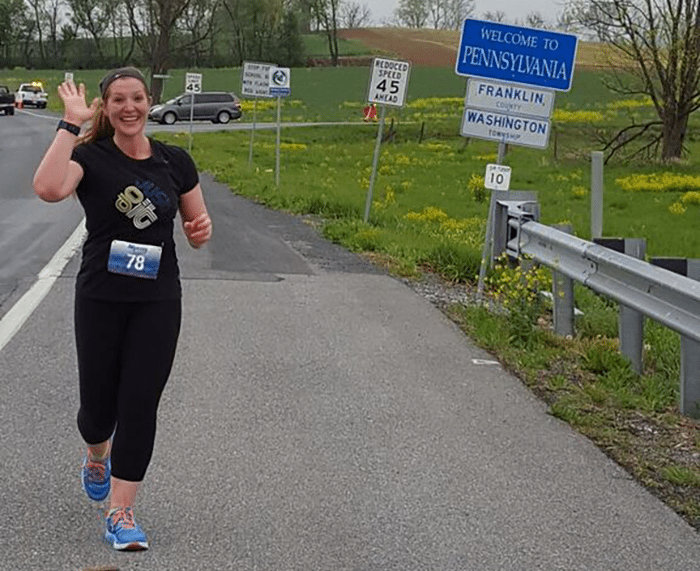 Indoor Cycling Instructor and Triathlete, Lauren Belisle, in the Lululemon Fly Away Tamer
Triathlete and indoor cycling instructor at Wired Cycling in DC, Lauren Belisle, loves  Lululemon's Fly Away Tamer.
"It has velvet on the inside so it sticks to your hair without skipping around," says Belisle. "Plus it's snug but not tight enough to give you a headache!"
This was the band I heard about from the most people, including Chicago SWEAT regular Nicole Evans. According to Lululemon's Abbie Brewer, "the Fly Away Tamer 2.0 [was] redesigned, [and the new rendition] fits your head like a glove!"
Sweaty Bands
Lululemon isn't your only choice in headbands, though. A few folks mentioned using Sweaty Bands. November Project Chicago regular Emily Rowlands said, "When I had long hair I used sweaty bands a lot, stayed in place and had lots of fun prints." Another November Project regular, Emily Thompson, said, "They don't slip off my giant head!" and Chicago Athletic Club Trainer Ashleigh Brodhead said she loved them "the most because they stay on well and have so many fun designs!"
Nike
Our very own Kelsey Schagemann likes "the Nike headbands that you tie around your head like a ninja!" The current incarnation is sold as a tennis headband, but I've seen Kelsey rock it for a wide variety of workouts (including during one of our Facebook Live workouts!).
Halo Headband
Ironwoman and 2013 Ride for World Health finisher Erika Bramlett recommends the Halo Headband. "Halo is great for running and cycling," said Bramlett. "It's the best sweat band headband ever! It's super comfortable, doesn't slip, is wide enough to hold hair in place and out of the way, and has this little plastic strip inside to wick sweat away and out of your eyes for super steamy days! I always race in one."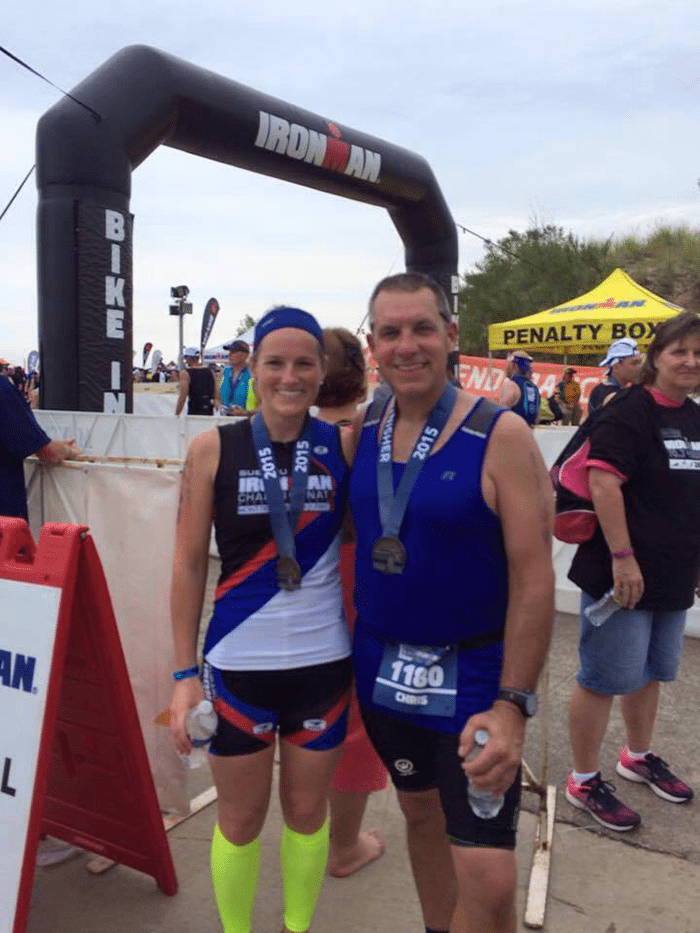 Ironwoman Erika Bramlett in a Halo Headband at the finish line of the Steelhead Ironman
Scunci
For those looking for a less expensive product, #sweatworking regular Hanna Wiesmayer and Chantelle Rateliff, Marketing Manager and Instructor at Enrgi Fitness, love Scunci's No Slip Grip headbands. "I like that I can buy a ton in LOTS of colors to truly mix and match," says Rateliff. "Also, if one fades from being worn/washed too much, no biggie it was maybe $2." Another friend swayed away from brand names, and loved headbands available from the Etsy Shop Fit Happy.
What is your favorite headband for working out?
Let us know!
Did this post help you get closer to achieving one of your goals?