Get to know Chicago Trainer Dani Muckley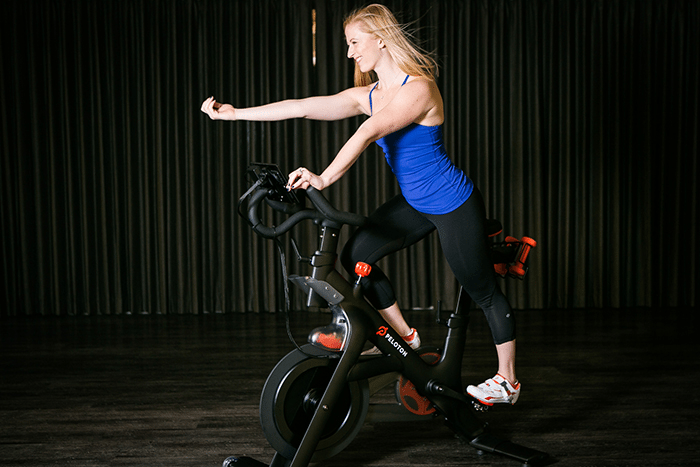 As much as I love fitness, getting through a cycling class without watching the clock the whole time has always been a challenge for me. When I recently took a Peloton Class at Studio Three and found myself completely engaged, loving the music, climbing the leaderboard and having a lot of fun, it was no surprise that the instructor was the same person who taught me the sense of accomplishment that comes with running hills on the treadmill: Dani Muckley.
I love taking Dani's classes and have for years. I was so excited to sit down with her to talk about her new role as Co-Director of the Peloton Team at Studio Three, pursuing your passion, and overcoming injury.
(Note: this interview has been edited and condensed.)
How did you first get involved in the fitness community?
DM: I was a swimmer my whole life and I kind of dabbled in running. After swimming competitively through high school, I got sick of swimming. I went to college at Penn State and they have a huge fitness program with tons of different classes. When I was a freshman in college, I took my first fitness class at Penn State: Washboard Abs. I thought it would be super easy, but it was the hardest thing I've ever done – 30 minutes of abs! Back then most of the classes were step classes and cycling. Then I took an accredited teacher training University course where I received basic Kinesiology accreditation and then trained through their apprentice program and tried out to teach classes at Penn State.
Did you always know you wanted to teach group fitness classes after college?
DM: No! I was always sure I was going to law school, so that was what I did. Fitness was my job on the side and I continued that through law school, through studying for the bar, and through practicing. I had never stopped teaching at any point. Even at the lowest point, maxing out my hours with trials, I still had one 6 am class that I refused to give up. So the transition felt natural. After two years of practicing, I was really unhappy and quit one day.
A lot of people dream about quitting their day job to pursue their passion, but it's a huge leap. How did you make the transition?
DM: It was unnerving. It took me a while to tell my friends because you spend all this time and money investing in something and then you walk away from it. Luckily at the time I was engaged to my now-husband, and he could see that I was unhappy and really supported me. But now a lot of my friends have done the same as well so it's come full circle.
A lot of the people I know – especially in the boutique world – are second-career. Our generation has that mentality about going after our passions and do what makes us happy. When you get a little older you realize this is what I'm going to be doing for the rest of my life.
You were just named co-director (with Erin Shirack) of the Peloton Cycling Team at Studio Three.
DM: Yes! Studio Three opened in mid-November, and I was approached to join so that I could teach the double format – interval in the basement studio and Peloton cycling. In mid-December I took over the basement programming. I rebranded it as TORCH and AMPED and designed the programming for those two classes. Just recently, Erin and I took over as co-directors of Peloton, and Dustin took over the interval studio.
How is Peloton different than other cycling bikes or classes?
DM: I don't think there is better technology on any bike. I think the metrics are so on point. If you're any kind of competitive person, you can click on another user in class and see what they're doing in real time. If you want to chase someone down, you can click on the name of anyone who has "opted in" to be on the board. When we did the March Madness competition, I had my opponent up the whole time to chase her down. But at the same time, if you want to ride for fun, you don't have to put yourself on the board or use the metrics. You can even turn the time off.
Riding on the bike is so smooth. It's missing that drop you get in a traditional Spin bike. It doesn't have that pedal stroke – it's just smooth. It also doesn't have pegs for the settings. Bike settings are so intricate that the quarter inch could be uncomfortable, and Peloton bikes let you really customize that. I can set it up to mirror my road bikes at home which is great for cyclists who train on these bikes.
How would you describe your teaching style across the different formats at Studio Three?
DM: Cycling and Interval are two of my favorite formats. I love music, so cycling is very special for me. I try to build an emotion in each class. The 6 am class is not going to be the same as Thursday 5:30 pm. It's a different mood. Saturdays are go all-out, crazy. I try to think about what I'm creating and try to make it athletic but also inclusive. Cycling gives you a really big opportunity to do that and appeal to a lot of people who are afraid to get on a treadmill.
I also love coaching in the basement because I like to think when I'm on the floor. Running is something I love, so I spend a lot of time developing my intervals on the tread. On the floor, my focus is lateral movement, glutes and hamstrings, and general compound movements – trying to get a good bang for your buck. I'm not going to do bicep curls or sit ups ever. Rowing: it's either you against the clock or you against everyone else.
After just taking your cycling class, I can totally understand the mood you're building in class. It felt like a theme through class was Opportunity. You talked a lot about each push being your one opportunity to do your best, and even the music echoed that theme with Eminem ("this opportunity comes once in a lifetime"). How do you see opportunity as a motivator?
DM: I like to put people in a position where they can try to better their last effort. I want to help people believe they can push a little more or pick up something a bit heavier. When I say it's an opportunity in class, it puts the responsibility back on the rider. I try to make people think.
I also teach like I would want to be taught. Some people like to dance around on the bike, but I'm not that teacher. I want everyone to feel like an athlete – whether I bring my mom, or it's a first time rider, or a cyclist or Ironman – I want you to feel like an athlete. If I talk about opportunity and bettering and how much can you push for a certain length of time at this cadence, then everyone has a tool to go after their best.

What is your vision for the future of Peloton at Studio Three?
DM: We're training new rock stars. Erin and I have a small army of people we are getting ready to put on the bike. Two of them started this week and we're super excited. I hold my breath every time they teach because I'm so proud of them. That's the most fun part of fitness that's been really fun getting to do. My goal is that they're all way better than me because then I've done a good job training them. I want our team to get along really well and support each other and hopefully open up more studios in Chicago.
I know you're a triathlete. How did you get involved in triathlons?
DM: I started doing triathlons in the past few years. I've always been an endurance athlete. I ran my first marathon my sophomore year of college which instilled the long, lone, beat-the-clock mentality. I did my first triathlon twenty days before my wedding. I think I just needed something else to focus on and then I got hooked. I remember that I could have chosen the super expensive wedding shoes you're only going to wear once, or the lesser ones and invest in the triathlon, and I chose to get triathlon gear.
For people who are interested in getting involved in triathlons, do you have any training tips?
DM: Locally, we have so many good groups to train with. It depends if you're a cyclists, a runner, a swimmer or someone who doesn't compete in any kind of races. If you had no background at all, one of the endurance racing groups is probably the best way to go because it not only gives you camaraderie but also the training tools are there.
I like doing my training by myself because I'm always in a group setting, but I also have friends who are triathletes and when you go out for a bike ride you always need someone to ride with and then you meet new people.
When weather is nice, I love to bike outside. What is your favorite long bike ride in the Chicago area?
DM: I like to go to Palos Forest Preserve out West on 55. A lot of it is protected bike trail, concrete and smooth. You can also go out on road and get some rolling hills out there and it's suburban traffic which is safer than riding in the city. I had an eye injury where I lost my peripheral vision on my left side so it's really scary for me to ride in the city, even on the Lake Path.
That's a major injury to come back from. What's your advice to people returning to training after an injury?
DM: Most importantly, I listened to my surgeon when he said, "You need to do no activity." I had issues with fluid around my surgical site building up from amount of activity. It's been a learning curve for me to actually listen to what he says to try to get better. But then I think about longevity – what are the things that can make you stronger? Maybe it's not always balls to the walls workouts. I've started doing strength training two days a week with a trainer that I trust and programmed for sustainability, because i'm teaching 10 classes on a bike a week. I also like to do pilates (at Amplified Pilates with Angie) once a week. I want to keep the whole system moving. If I want to be a good runner I need to strengthen the whole package and make sure I can be a good runner into my 40s and 50s.
This is amazing advice – especially for people like me who struggle to give our bodies what we need after injury!
Where can people go if they want to join you for class?
DM: Almost every day, you can find me in either the Cycling or Interval studio at Studio Three. I am also on Instagram @danimuckley.
Let us know!
Did this post help you get closer to achieving one of your goals?