Five Ways to Make New Friends Using Fitness
Moving to a new city, or being the last one in a city after friends move away, can be rough. When you're in college, making friends is as easy as walking down the hall and introducing yourself to people with music posters that you appreciate.
My parents' friends are all parents of people I was friends with as a little kid. But how does a 20- or 30-something without kids meet people? Focus on your interests, and join groups that meet them.
If you're like me and fitness is your jam, there are tons of places to meet and make new friends
If you've never been to a #Sweatworking event before, I highly recommend it. At the beginning of every class, everyone is encouraged to introduce themselves to two people they don't know. I recommend walking as far as possible from anyone you've met before, and chatting it up with some friendly-looking people who look like they came alone. Stick near them during class and don't let the conversation end in the first five minutes. It's how I met several people who I now consider close friends!
If you're not sure who to talk to, come and find anyone from Team aSweatLife – we'd be happy to meet you and introduce you to new friends!
2. Join a group fitness tribe.
If you're a morning person, check out November Project. In cities across the U.S., it has developed what it describes as "tribes" – people dedicated to making friends and working out for free. They are well-known for hugging newbies, which will make you feel right at home and quickly.
People who go regularly become really close friends, which is amazing for people who've just moved to a new city. Plus, if you travel or move a lot, they love to invite people from other tribes to join their workouts.
3. Find a training group
If you're competitive, check out training groups for races in your area. They're often free, and spending hours running, swimming or biking together is an amazing way to bond. Plus, as triathlete Dustin Hogue once told me, if you're new to a sport, training groups can be a great way to get tips and tricks from seasoned pros.
Fleet Feet offers both paid training programs for running and swimming, as well as free fun runs on a regular basis. Live Grit in the West Loop offers Run Club on Tuesdays, Open Swims on Saturdays, and Group Rides on Sundays for runners or triathletes. Nike Run Club is also an incredible, encouraging community that gives you free access to amazing run coaches and new best friends.
Anyone who enjoys checking out fit profiles on Instagram has run across the Tone It Up, or TIU, girls. I've met many through #Sweatworking and they often travel in groups. They're super friendly and supportive of each other. If you're new to the community, check out their events and introduce yourself to other members. They love to attend events together and are all in awesome shape!
5. Try a free brand-sponsored class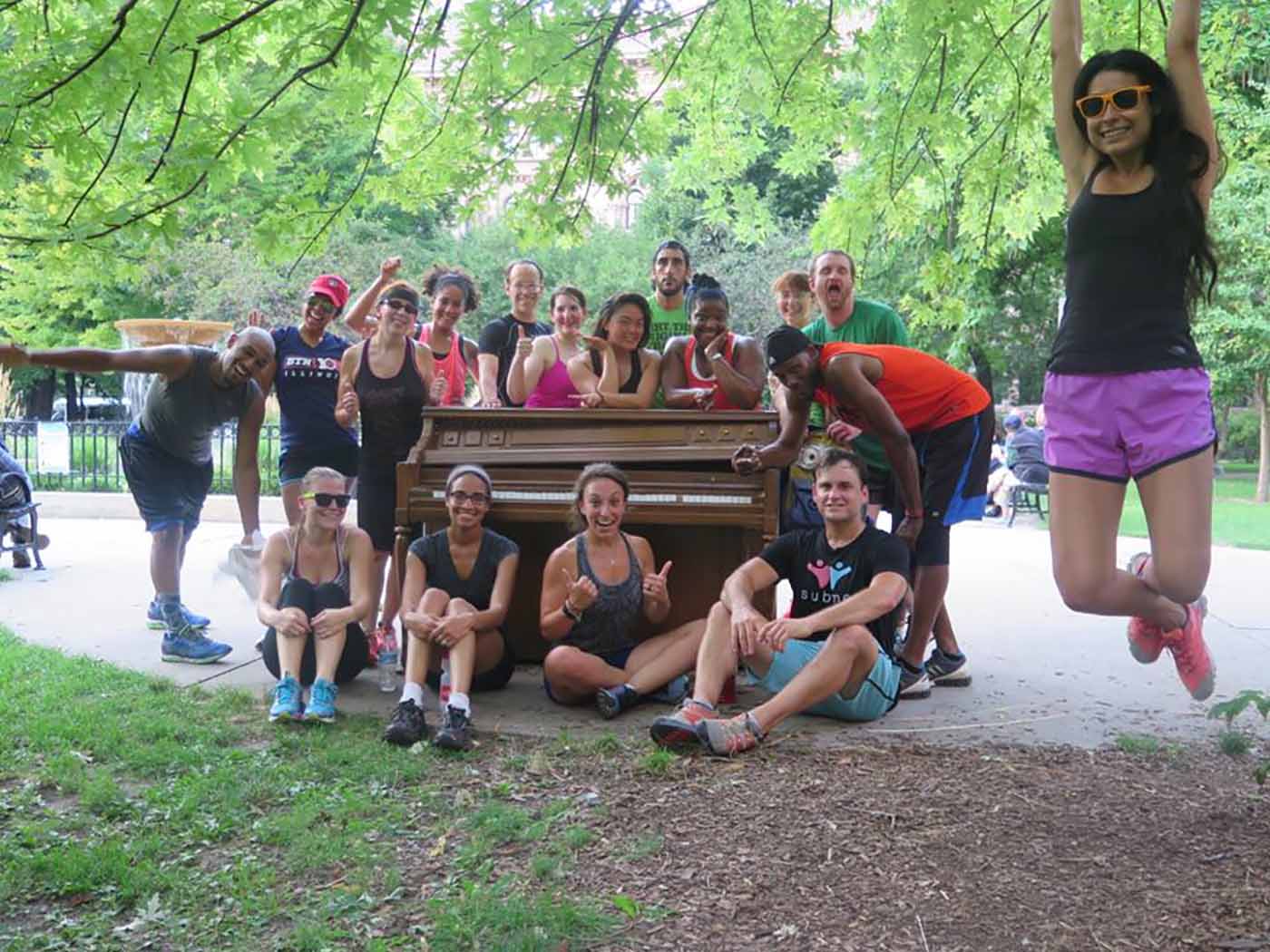 (Photo Courtesy of North Face Mountain Athletics)
Nearly every fitness brand is offering free classes lately. From the gorgeous Nike Training Club studio in downtown Chicago – with free classes with some of the best trainers in the city – to free yoga at your local Lululemon, these can be a great way to meet people. If you prefer to be outside no matter the weather, look to North Face Mountain Athletics, which meets twice weekly in parks across the city. If you attend regularly, you'll see many of the same faces and feel comfortable getting to know each other. Plus, there is often opportunity to test their latest gear!
How have you made new friends in your city?