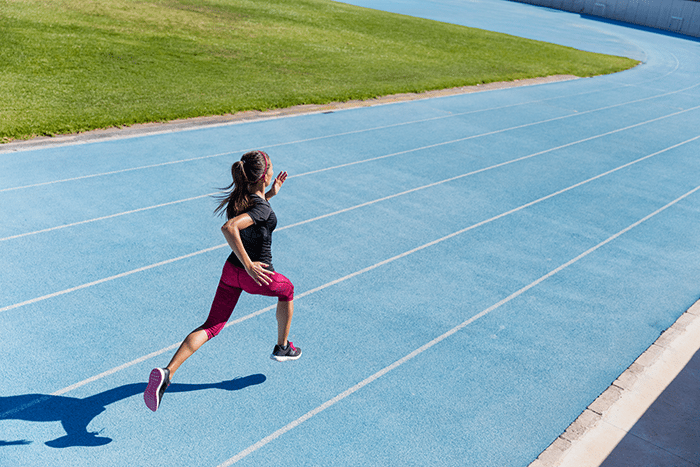 (This is the second post in a series covering sprint drills. Want to check out the first one? Read it here.)
I was drawn to sprinting because I thought it would be a fun alternative to long distance running. I was right and I'm really enjoying my workouts, but it turns out there are other benefits to the sport as well.
If you do a search on the positive effects of sprinting, you'll see a list of recurring themes including fat loss, muscle building, increased speed and improved metabolism. (Since I started sprinting and going to Fit Body Boot Camp, my clothes fit better than they have in months.)  
There are many ways to incorporate sprinting into your fitness routine. If it's the only workout I do for the day, I will add plank exercises, many of which I've gotten from videos fitness trainer Gideon Akande posts on Instagram. You can also include aSweatLife's No Equipment Workout ideas, add sprints to a longer run or do them as a stand-alone workout.
In order to keep things interesting, I went back to my dad, track coach Pat Wilson for a new set of sprint drills. Before jumping in, remember to first run two laps, stretch and go through one round of sprint warm ups.
Otherwise, try them out and have fun!
Bounding
(Take a look at bounding at 3:57 in this video)
Bounding is basically leaping, as if you're jumping over a series of big puddles one foot at a time.
Do 10 bounds in a row, alternating feet.
Repeat three times.
High Knees
Line 10 9-inch cones (or something similar) 2 feet apart.
Run over them in a high knees motion: lift up your knee and toe as you pass over each cone.
Repeat 10 times.
Play around with it by separating the cones farther apart: 3, 4 or 5 feet.
Stride
As you run, count each time you land on your right foot. Once you get to 30, drop a marker (or a repurposed cone from above).
Repeat this up to 10 times (depending on your stamina) to see where you are in terms of developing your stride. The goal is to make it to 100 yards.
Keep in mind good form: land on ball of foot, bring your heel to your butt, extend your legs, keep your hands loose.
Don't do an all-out sprint; run as if "you are chasing your dog."
After each drill, run two to three 50-yard pick ups,meaning that you gradually increase your speed up as you near the finish.
Have you added sprints to your workout? Have any good drills or tips of your own? Share them below!