Speeding up Your Runs With Sprint Drills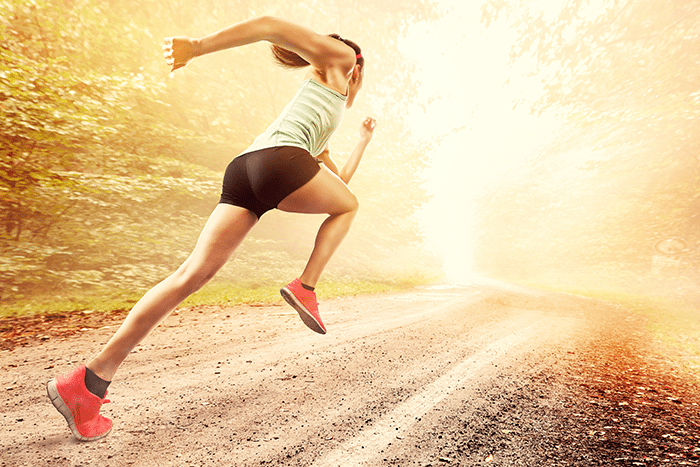 Over the past couple of years, I've run a 10k, a 15k and a half marathon. While there was a sense of accomplishment upon completing each race, I mostly just felt like I was slogging along, passing time until I got to the finish line.
I haven't run in months, but I have had the urge to. Since long distance doesn't appeal to me at the moment, I started thinking about sprints. I figured the short bursts would be a good workout, while making me feel stronger and more athletic than, say, a 5k.
My dad, a career track man, was always there with a drill (complete with DIY equipment) or advice from my t-ball to high school sports days. He was the obvious person to go to for a few sprint workouts.
These drills can be done as stand alone workouts (which make me feel like more of a runner than long distance ever has) or incorporated into longer runs.
A little background info
Pat Wilson set records and won a state championship in the half mile at his southeastern Michigan high school. Receiving a scholarship to Michigan State University, he was a Big Ten champion in the indoor 600, placed in the 600 at an indoor NCAA meet and was part of an All American mile relay outdoors team. He continued to run after college, winning 6 masters national championships in the mile and 880-yard runs.
Wilson was also a high school track and cross country coach for 40 years, as well a Junior College coach for five. He led teams to numerous league and regional championships, with individual runners winning regional titles and scoring in state meets.
Warm-up
Since I have zero experience with sprints, I was given some warm up drills to do a couple times a week for two weeks. It takes me roughly 20 – 30 minutes to complete.
Things to keep in mind:
When the knee comes up, the toe follows suit. No pointed toes, keep the foot flat.

Land on the ball of the foot, not the heel.

The foot leaving the ground should come up to the butt and pass by the knee.

Don

'

t forget arm action.

Do each drill for about 30 yards (or steps). Jog back and then stride out. Recover by walking back. Repeat each exercise. If you

'

re at a track that isn

'

t marked, eyeball it by using trees or other landmarks.
Examples of each action below is in one or both of the videos included.
March with high knees

B-skips

Skip

Butt kickers

Ankling

Stiff legs

Power skips

Run backwards

Carioca

Shuffle side to side
Drills
Run two easy laps and stretch. Do one round of the drills above and then one sprint workout below. Run two more easy laps. Each workout takes between 30 – 40 minutes.
Per Wilson: Focus on good leg turnover. Picture riding a bike, rotating the pedal in a circle. The action of the leg is similar to that in spin class, except you extend your leg when running.
Ladder
Run fast, but not a full-on sprint, for 100 yards (goal line to goal line).
Walk back and run 75 yards (increase tempo).
Walk back and run 50 yards (increase speed).
Walk back and run 25 yards (fastest).
Work your way back up, starting with 25 yards; this should be the fastest distance. Run slower as you increase distance, but each run should still be faster than the first time out.
10×30 meters
Run briskly for 30 meters, walk back and repeat 10 times.
Keep good form in mind while running; good leg turn over.
Slow down gradually.
20/30/40 Meters
Run three or four pick ups (stride out, increasing speed) for 40 meters as a warm up.
Jog up to your starting line and then sprint for 20, 30 and then 40 meters. Walk back between each sprint.
Run each distance twice.
Remember: fast sprint, be relaxed, hands not tight.