Have the Best Day Ever with Live Better Co.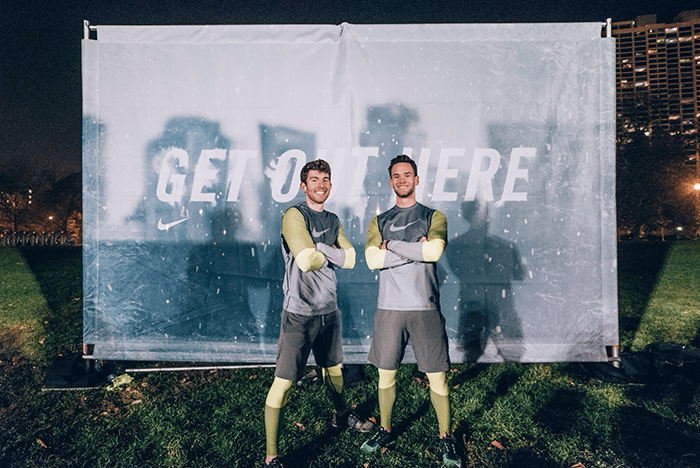 The two founders of Live Better Co., Jason Loebig and Bret Gornik, stepped away from their cubicles and said goodbye to the nine-to-five to start a company meant to answer a very real question: how do busy people create a life that is filled with professional success that still prioritizes wellness?
Before we get to that, it's hard to miss the intersection of two interesting trends here.
Trend one: Professionals are dropping out to pursue more wellness-oriented careers.
Anecdotally, it's easy to find cases of professionals in respectable jobs, making good money who dump their desk to join the hustle that is the health and wellness industry. We've talked to a few lately, like Dani Muckley, who walked away from her pursuits as a lawyer and we chatted with Luke Saunders who left his job to make eating fresh, healthy food easier with Farmer's Fridge.
Trend two: Millennials are strapped for time, but are desperate to stay healthy.
For millennials in particular, there's a struggle for time and a constant battle of priorities. According to an Ernst and Young report in 2015, Millennials' hours are on the rise and they're traveling more for work. And Goldman Sachs reported that they're prioritizing wellness and spending more on that category than ever before.
That's where Loebig and Gornik come in. They're here to help you optimize your day through lifestyle design. According to Loebig and Gornik, Lifestyle design is tweaking your routine and creating something that allows you to flourish, stay sharp and live your best life.
And it's not just working out.
"Even if you're training really hard three times a week if you go out and you're not eating good food, if you're not taking care of your mind, you're not getting good sleep, you're not managing your stress, the wheels fall off no matter what." Loebig said.
Gornik explained that they're both living proof that you can optimize your routine in a corporate job to live the best life. "We both worked for four to five years in the corporate world – Jason was doing corporate tax and I was in retail," he said.
But before there was Live Better Co., the pair sought to find a product that would allow them to pursue their passion for wellness while also using their knowledge of business.
"Our first product was actually a superfood nutrition bar. Bret had been perfecting the recipe," Loebig said. "We actually used the bar to open some really cool business relationships. We wanted to learn how business worked, so we just reached out to some of the most successful people that we could find and get access to."
Each conversation gave them fuel for their entrepreneurial flame.
"We realized – wait – we should record this, bottle this up and spread this message," Gornik said.
This is the first case, at least as far as I can see, in which a superfood nutrition bar pivoted into a podcast. But from those conversations, the pair launched the Live Better Podcast.
From these conversations, the two have been able to glean insights that they use in business and you can use to live a better life.
When pressed for the best advice they've gotten lately, they both lit up and had an answer at-the-ready.
For Gornik, it was conquering fear: Don't be afraid to be great.
This was spurred by a conversation he had with five-time reigning Mr. Olympia, Phil Heath that was fresh on his mind from the Live Better Podcast.
Gornik explained what Heath meant by that, saying, "When you're young, people are like, 'I want to be an astronaut, I want to be a firefighter. I want to change the world.' And when you're young, everyone is like, 'Yes! Do that.' But once you get older, and you said, 'I want to be an astronaut,' people say, 'You're crazy. What do you mean you want to go to the moon?'"
He continued, "But the people who do that and think that way and execute are great. Don't be afraid. If you want to do what you want to do, it doesn't matter. Age doesn't matter."
For Loebig, it's more of an operational mantra: Just don't stop.
"If you want to do something, don't stand in the way of yourself. Just go do it," he said. "There's no faster way to learn than just to try it, do it and when you're doing it, just don't stop," Loebig said.
Loebig also offered the pair's mantra as a part of your morning routine.
"Wake up and tell yourself that today is going to be the best day ever," he said. "It sounds so cliché, but we even see it from a lot of research on positivity and happiness that reaffirming you are happy or that you can do something to change that is very powerful and very important."
Want Live Better Co. to help plan your best day ever? You can fill out a service request on their website, send them an email at [email protected] and [email protected] or look to them for inspiration on Instagram at @livebetterco, @Bret_gornik and @Jasonloebig.