Qalo: The Wedding Ring for the Gym
(Disclosure: I received rings from Qalo to review for this post, but all of the opinions are my own. Honestly, I was telling everyone I knew to get one before they'd even told me they were sending them because I truly love this concept!)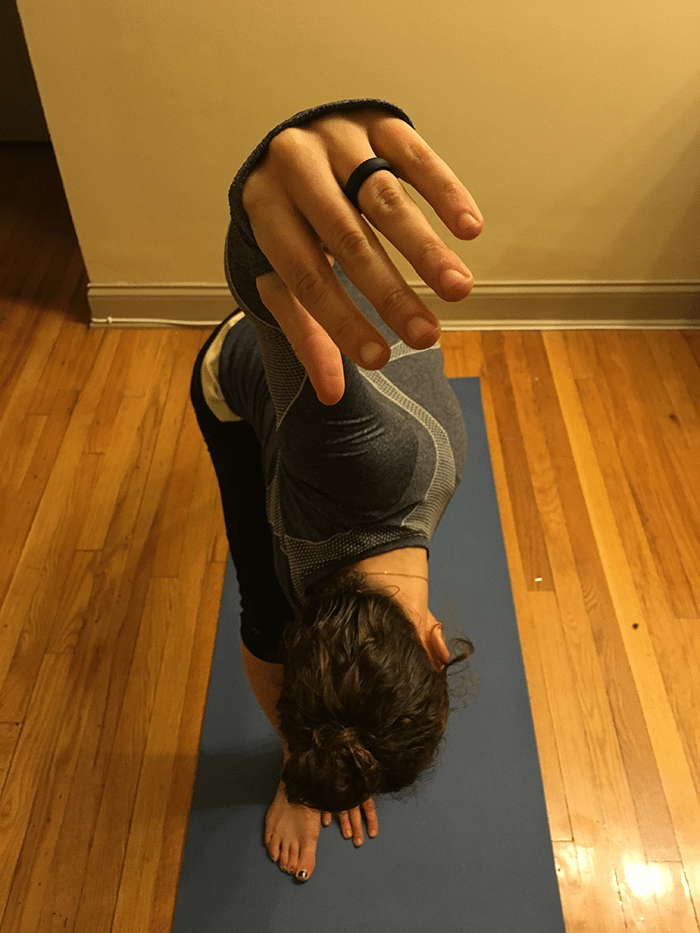 Just before Christmas, I was lying in bed before heading to the gym on a Saturday morning, reading an article about the dangers of high box jumps. (I didn't even know at the time that Jeana had hurt herself doing box jumps literally the day before.) So when the instructor called for box jumps, I thought I was being so smart by turning the box down to one level shorter than usual. For safety. And yet, about 15 seconds into my box jump set, I felt a twinge of pain, looked down, and saw my right ring finger was going about 90 degrees in the wrong direction.
My first reaction was, "Crap, I'm only on my second station in the circuit; there goes today's workout. And probably tomorrow's." My second reaction was, "I am so glad this is my right hand, since I'm wearing my engagement ring and they'd have to cut it off to get it over my L-shaped finger." (Don't you worry, my third reaction was a big "OWWWWWW!" and "Get me to urgent care stat!") Despite a long conversation with my orthopedic surgeon/best friend's dad last summer about the dangers of wearing rings at the gym, it took a serious finger injury to help me realize that I cannot continue wearing metal rings at the gym.
Don't believe me? Take a look at the injury made famous by Jimmy Fallon, ring avulsion. Google image search it. I dare you. Ring avulsion is when your ring snags on something (think, gets caught under a weight plate, or on the side of the treadmill) and the force actually rips off the skin, veins and muscle tissue along with your ring. The most common treatment for it? AMPUTATION. THEY CUT YOUR FINGER OFF. Ring avulsion is terrifying!
Now that's a worst case scenario, and it's actually pretty rare, but there are lots of injuries at the gym (like my dislocation, or a common break) that can require cutting off your ring. If it's a family heirloom, like mine, that can seem pretty devastating. If my grandmother wore this ring for 50+ years and I destroy it in the first year of wearing it, I'll get some serious family guilt. Some rings – like the titanium and tungsten rings that are becoming popular among many men – are so tough that they can't be cut off in most emergency rooms, leading to pain and infection when your finger is swollen and/or misaligned.
OK so we're not wearing our metal ring at the gym anymore, but remembering to take off your wedding band before you leave the house can be difficult and leaving it in your gym bag can lead to worries about loss or theft. We're proud of our commitment and want to be able to show we're married even at our weekend volleyball or softball game, or daily trip to the gym. We need another solution. Enter Qalo.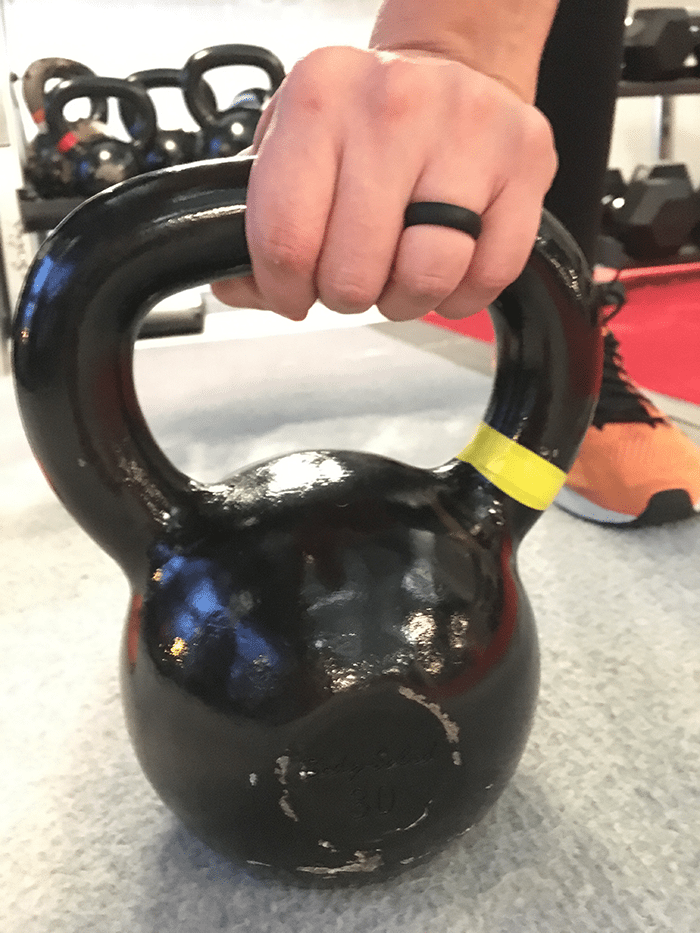 I literally haven't been able to stop talking about this product since a friend sent me the link. I think the concept is brilliant. Qalo (pronounced "kay-lo") was invented by a couple of men who love being active (and love their wives) but were tired of their wedding rings getting in the way when they were hitting the gym, playing ball, or just generally getting outdoors and moving. Qalo's rings are made of 100 percent medical grade silicon, which makes them much safer than a traditional metal ring. Not only can they be super easily cut off when needed, but they're safe from ring avulsion or pinching.
The rings come in a variety of colors and are great for the gym, sports, or any outdoor activity. They are also great for nurses, construction workers, or any job where you use your hands and could be at risk of injury. I have one friend who just thought his metal ring was uncomfortable, so he switched to wearing a Qalo ring every day. Plus, their prices are really reasonable ($15-25 per ring). They also recently added a custom engraving option for under $10 that will let you add a 12 character message to the inside of your ring, which is a pretty cool way to remind your significant other just how much they mean to you.
The team at Qalo was nice enough to send me a ring to try out, so I replaced my engagement ring for a week while I went about my everyday activities from work to the gym and yoga at home. I couldn't believe how light and comfortable it was. My engagement ring would bother me a lot when I was lifting weights (you should see the callus I formed), but with the Qalo I couldn't even tell it was there. When holding metal dumbells, it was a lot more comfortable than my metal band. As a girl, I'm not sure I'd wear it as my everyday ring (although I think a guy totally could) but I like the idea of throwing it on for a camping or hiking trip, or any day when I know I'll be super active. I also think it's good to wear to the gym, so that I remember to take my metal ring off before I work out, and put it back on after.
If you're wondering about sizing, the Qalo rings only run in whole sizes and they recommend sizing up. I'm a 6¼, so the team sent me a 7 and it fits but I wouldn't be afraid to have a size 8. Definitely go up a size or two – especially if the size you know is based on a thin band – they run a bit small.
If you can't wait to buy a Qalo ring, but can't decide which color to buy, consider the purple ring (men|women) or the white sparkle (men|women) ring. Qalo will give 10 percent of the profits from the sales of their purple rings to the Alliance for Lupus Research and 20% from the sale of the white sparkle rings to Barbells for Boobs. Now that's a win-win!