What I've Learned from Becoming a Pacer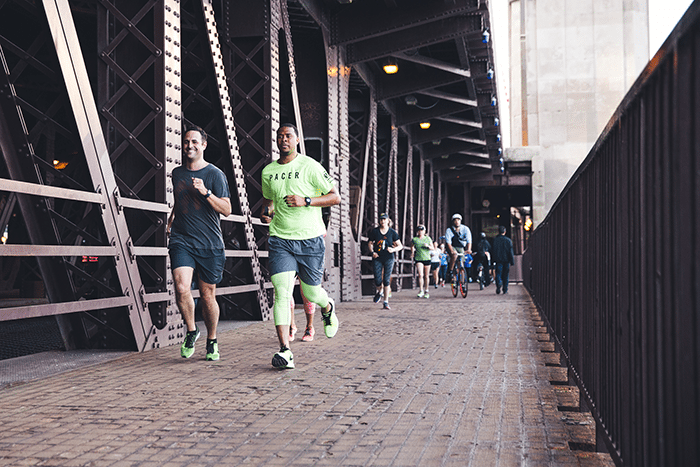 For the past eight or so months, I've added a new side hustle to blogging and babysitting: working part-time as a Nike Pacer. Because, you know, I had too much free time to fill already.
For those of you who don't know, our pals at Nike have brought Nike+ Run Club (NRC) to Chicago as a resource for anyone who wants to run their first, fastest or funnest mile. In line with Nike's famous maxim, "if you have a body, you're an athlete," NRC shows people that everyone is meant to be a runner, no matter your pace or distance.
I've been lucky enough to work part-time as a Pacer, leading runners through speed workouts, recovery runs and long runs of all paces and distances. And even though I've been running myself for a few years now, being a Pacer makes you view running through a new perspective. Here's what I've learned along the way.
Becoming a Pacer Doesn't Magically Make You Want to Run All the Time
Shocking, I'm sure. But there were some runs when I was scheduled to pace and I just. didn't. feel like it (looking at you, 6:30am Saturday long runs in the summer).
However, much like attending twice-weekly Hardpressed torture sessions, attending and leading runs you maybe weren't that excited about is good training in mental toughness. Not only are you completing a run you didn't want to do in the first place, but you have to muster the enthusiasm to inspire the group of athletes running alongside you.
And more often than not, faking that enthusiasm actually tricks my mind and body into being excited about the run. Even more importantly, I never regret actually completing the run- whereas I'd definitely regret calling in sick.
So sure, being a pacer doesn't mean that I wake up in the morning singing a little song while magical bluebirds lace up my sneakers for me. But it does mean that I've developed the mental grit to stick with what I've committed to, and I end up enjoying it and being proud of myself afterwards.
Every Run Has a Purpose
For too long in my running career, I ran every run at the same speed and roughly the same distance. Once I started signing up for half marathons, I added long runs on the weekends to my repertoire, but again, those were all at my comfortable pace.
After pacing and learning from the awesome NRC coaches, I've learned that every run has a purpose. Sure, many runs are recovery runs – a comfortable pace, comfortable distance to loosen your legs. But in order to get faster, you also have to incorporate speed runs, long runs with negative splits, and my new favorite, tempo runs (read my tips about how to add tempo runs to your training here).
Running is for everybody, but not every run is one-size-fits-all. To impact your training, you have to switch up your routine and make sure you're training to become a well-rounded runner. You'll end up faster for it.
Being Responsible for a Pace Group Pushes You to be Better, and Runners Coach Me Just As Much As I Coach Them
Of course, there have been runs when I've gotten to lead runners at what I'd consider an easy pace. I love those runs. I cherish them. Because every now and then, I get scheduled to pace a time and a distance that's within my abilities, but still difficult.
Here's an example. After taking two solid months off of running, one of my first runs back with NRC had me pacing a group at 9 min/mile for 12 miles. Once upon a time, that was cake. However, two months and lots of strength training later, running 12 miles was not necessarily something I could just pick up and do at a 9 min pace. I was nervous – kind of terrified, actually. But with the distraction and encouragement of the three great runners with me, I made it through a mentally challenging workout.
A week or so later, I was scheduled to run 8 miles at an 8:30 min/mile pace. Again, something that would have been normal for me in the past, just not something I'd done for awhile- especially with the pressure to hit certain paces at each mile. Luckily, I was in the same group as NRC Pacer Legend Matthew Champa, who set our group on a perfect pace for the first four miles, then handing it off to me to bring it home. We ended up finishing our last few miles at sub 8:30s, and our group burst through the doors of the Nike+ Studio simultaneously elated and exhausted.
I may technically be the "leader" of any pacing group I'm in, but our runners inspire me to be better and to push myself harder. These first few weeks of getting back into running have also hammered home one of Coach Robyn's favorite pieces of advice: respect the run, but never fear it. 
Becoming a Pacer Doesn't Make You Immune to Needing to Stretch, Warm Up, and Recover
Dynamic stretching, easing into the workout, and recovering properly are all just as important when you're a pacer – probably even more so, since you're running more often and other runners are looking to you to set an example.
Chicago Has a Lot of Badass Runners
I leave every NRC run feeling inspired by the runners around me and honored to be considered part of their crew. Sure, we have plenty of regulars with several marathons under their belt or who consider a sub-8-minute mile to be easy, and running alongside them pushes me to be better.
However, I'm just as inspired by the self-proclaimed newbies, the people who maybe didn't consider themselves runners a few weeks ago. The people who show up week after week, and whose paces I've seen drop from 12 minutes per mile to 9. The people who may not be the fastest or run the farthest, but who are just as dedicated to running and improving as the four-time Boston Marathon qualifier. Those people are why I continue to show up to pace week after week- because they make me remember why I love running and why I set certain goals for myself.
We were all meant to be runners. Sign up at nike.com/chicago to come run with us!