The Benefits of Healthy Competition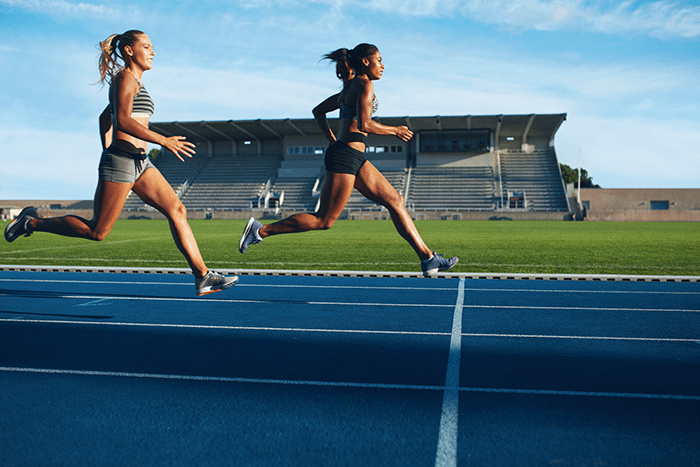 "Anything you can do I can do better, I can do anything better than you."
As a hard-core tomboy in the '90s I was obsessed with Michael Jordan and Mia Hamm. So when they made an epic commercial about competition (and Gatorade) it was permanently etched in my mind and solidified their roles as my idols.
Though never on the level of MJ or Mia, competition has always been a part of my life. A few weeks ago I went on a ski trip with my family and I found myself whispering, "anything you can do I can do better" to myself as I pushed off the edge of "Lover's Leap" in Vail and did a few quick turns to beat my brother down the run (it's OK if you're thinking to yourself that I sound crazy).
Unfortunately for me (and maybe some of you), with the rise of girl gangs and #squadgoals competitive women have started to get a bad rep. Some sources associate competition with negative attributes such as insecurity and need for acceptance and make it seem that if you compete, you then also have to tear-down others. But I have to argue (oh wow that sounds feisty and competitive) that we don't have to be linemen that pound down the people around us – competing can actually bring out the best in ourselves and others.
Even though entirely unnecessary, a sense of competition always has and did motivate me to be a better skier while with my brother. If I had been by myself the entire time, I probably would have taken more breaks, gone down fewer black diamonds and had a much longer lunch with strong Bloody Mary's.
I've found this same sentiment has pushed me to do my best within group workouts too. I consistently do more squats when I am surrounded by people in a HIIT class killing it than I would ever do on my own. Psychology Today also breached the topic of competition, noting that even though it gets a bad rep, competitive feelings are totally natural. The article states, "Our competitive feelings are an indication of what we want, and acknowledging what we want is key to getting to know ourselves."
Ok, so you likely won't put "Aggressive Flywheel Participant" on your resume, but what does it say about you? You are willing to push yourself to a point that may be a little uncomfortable to succeed. You want to reach a goal and are willing to sacrifice to get there. These are attributes are important to know about ourselves in all areas of our lives, whether in athletic, personal or professional endeavors. If you can kick ass in a workout class for 60 minutes, you likely have the confidence and drive to be a strong performer at work too.
What "Aggressive Flywheel participant" doesn't say is; you don't support those around you, or you aren't a positive person. Often times, competitive people don't want to blow away the competition easily, what makes it fun is the challenge. So we can still have our girl gangs and boost each other up to do the best as possible while maintaining the inner motivation to succeed. Sure, you may sing, "anything you can do I can do better" (hopefully I'm not the only one with these thoughts …) and race by them on the track, but that doesn't mean you can't congratulate each other at the end for pushing through.