Join us for #Sweatworking at SHRED415 with a stretch at YogaSix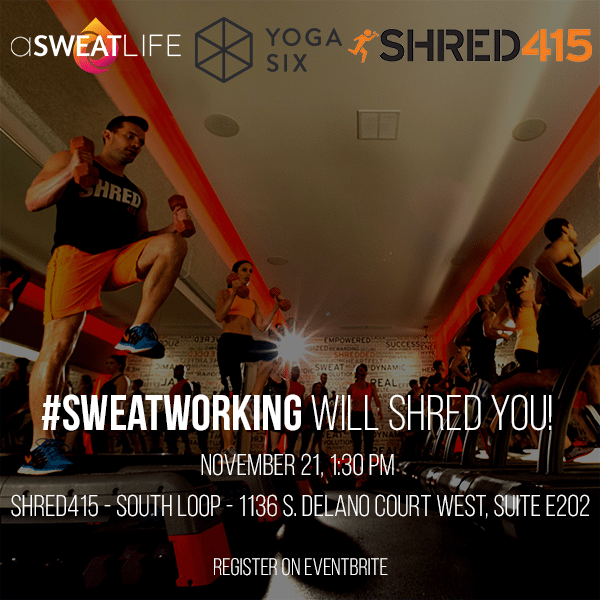 Every time we throw a #Sweatworking event, we give everyone in attendance a chance to tell us where they want to go next. We've gotten a lot of feedback from attendees who told us that they want to take a Shred415 class together.
We heard you loud and clear, sweatworkers. We're in the business of making dreams come true.
We worked with Shred415 to put together a Saturday that you won't forget and here's a bonus: after we're done with our workout, we'll walk a few doors down to YogaSix in the South Loop where we'll stretch, grab a snack and hang out.
Shred415 is known for its tread and shred formats, which splits the class into intervals on treadmills and intervals on the floor using props like steps, boxes, weights, body bars and more. You'll get your heart rate way up on the treadmills climbing some killer hills and you'll sprint faster than you thought possible on those Woodway treadmills.
Shred415 breaks its workouts into classes titled for the part of the body they work, "arms and abs," "butt and legs," "total body," and "shredded abs." The first time I took a Shred415 class more than three years ago, I walked into a butt and legs class and as former runner with a not-so-great knee and I worried that the running would be too much.
But after an hour-long class and two different running intervals, here's what I had to say, "I made it through the class with little to no pain and I credit that to the quickly changing focus and variety of exercises done in this class. The class uses interval training to tone, sculpt and burn fat quickly. Each class moves through four 15-minute routines (thus the name, Shred 415) and each routine is non-stop action. My class started on the treadmills with 15 minutes of speed alternating with hills (and some speedy hills)."
That's why I still include Shred415 in my routine. Will we see you there?
When: November 21 at 1:30 pm
Where: SHRED415 S. Loop
Why: You're going to tread and shred harder than you've ever tread or shred before.
How do I register? Click right here!