Butt and Legs at Shred 415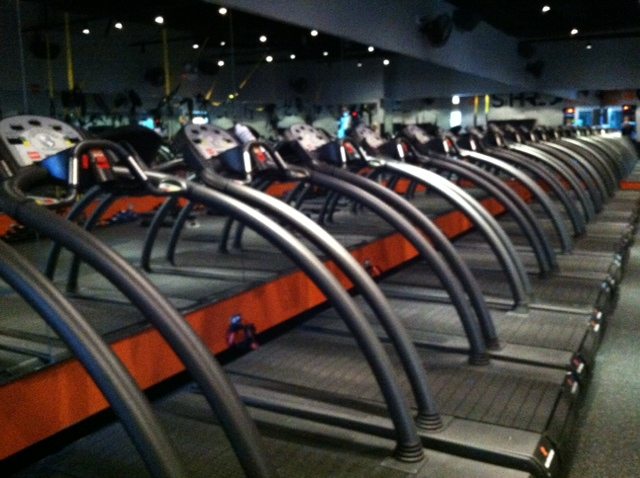 Class title: Butt and Thighs
Studio: Shred 415, 230 W. Division, Chicago, IL
Other Chicago locations:
Lincoln Park: 2156 N. Clybourn
Wicker Park: 1444 N, Milwaukee
Class Focus: This class works to spike and lower your heart rate repeatedly with  interval training. This class specifically had heavy doses of cardio layered between toning moves. A lot of toning focused on the lower half of the body, but upper body and core weren't neglected.
Cost per class: $24 for a single class
Money saving offers:

Who should take the class: Anyone looking for an intense personal training experience without paying personal trainer rates or anyone having a hard time deciding on doing cardio or toning. This is also a great place for moms/dads to get a workout in, with a child center on site as well as reduced price class packages for new moms.
The Fab Fit take:
I must admit that I was worried about taking this class. I don't have the world's most awesome knees, so the prospect of a workout that takes place on a treadmill made me nervous for my barely-holding-on meniscus. I made it through the class with little to no pain and I credit that to the quickly changing focus and variety of exercises done in this class. The class uses interval training to tone, sculpt and burn fat quickly. Each class moves through four 15 minute routines (thus the name, Shred 415) and each routine is non-stop action. My class started on the treadmills with 15 minutes of speed alternating with hills (and some speedy hills).
We moved off of the treadmills and into two groups – benches (step class steps) and TRX straps. The instructor had to lead the two groups through two different sets of rapidly changing exercises and didn't miss a beat. I started on the TRX straps. As this was my first experience with these gravity defying props, it took a couple of balance checks to get used to them. We worked on a lot of core and legs. We did a few planks with our feet in the TRX straps, pulling knees to chest and knees to elbows as well as the TRX equivalent of the ab wheel.  After moving through about 8 exercises (and about 7.5 minutes), the two groups switched. On the benches we worked a lot of butt and legs, staying true to the class name. We also threw in some jumps and steps, which spiked the heart rate back up.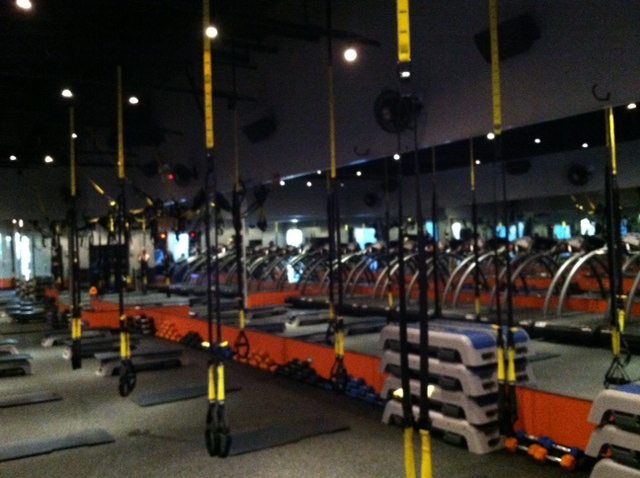 Hopping back onto the treadmills, we did a second 15 minute running/hill/fast hill routine ending with a sprint to the finish line. After completing the run. We split back into two groups to finish the classes on the TRX straps and benches.  The TRX straps were higher and were used for arms, chest and some leg work, with all exercises using body weight as resistance. Maybe it was me, but the last set on the benches had me counting the minutes until the end as the instructor threw in burpees. Regardless, I felt super accomplished finishing the workout.
Jeremy, the instructor, had to work as hard as the class to keep it going, keeping time and calling out the changing exercises. He also had to adjust the TRX straps'  height between sets. It didn't look easy, but he did a great job.
Tips:

Sign up early. The classes are limited by the number of treadmills (15) so they fill up quickly
Bring water. You will sweat. I'm a sweaty human being, but everyone was sweating.
There are showers and locker room facilities on site, so if it's easier for you to get ready where you work out, pack a bag.
The verdict: I will definitely go back. I'm already looking for the right day to schedule a class.

Date/time taken: 9/11/2012, 4:15 pm