Running for Maintenance in the Winter
When it comes to running, I've discovered that I'm a little competitive. For challenges like Nike Chicago's Chiberia Challenge, that's a great thing. But when it comes to running through injury, exhaustion, or inclement weather, not such a great thing. I'm addicted to checking my Nike+ Running stats after every run to see if I beat my average pace, and as winter has struck and I've picked up running for the Challenge, I've had the misfortune of seeing times that aren't really what I'm used to. What gives?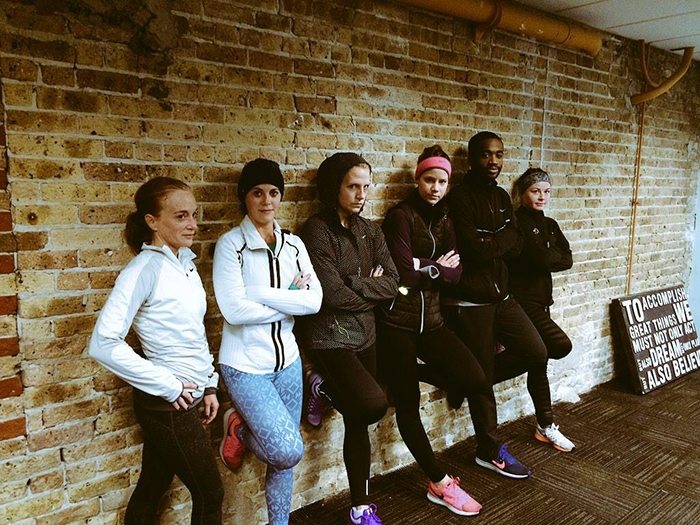 Well, it turns out that just like you run slower during humid, muggy summer weather, you also run slower in the winter. Research has shown that as the temperature hits freezing, your pace typically slows by 1-2%, and when it hits 20 degrees, your pace slows by 3-4%. Here's why:
1. Reduced muscle contractions: When it's colder, your muscles don't contract with the same intensity that they do in warmer temperatures, and you slow down as a result. The cold also reduces the blood flow to cold areas of your body, and cold muscles don't work as well as warm muscles.
2.  Change in energy source: At lower temperatures, your body increases carb consumption as a fuel source and lessens its reliance on fat consumption. Carbs are typically used as fuel in distance running, so you use your carb fuel faster than when it's warmer. You also become less efficient at using oxygen as fuel in the cold.
3. Increased lactate production: Since your body uses carbs faster at lower temperature, it creates more lactic acid to support your running; eventually, the lactic acid builds up and slows your pace because of too many hydrogen byproducts. And when carbs are burned faster, your sustainable pace per mile increases. Hence, slower times on your Garmin.
With these things in mind (plus the fact that you naturally run slower when it's snowy or icy so that you don't wipe out), it's not always possible to go for a PR during a cold weather run. Of course, the more you run in the cold, the more your body can get used to it and adapt accordingly (but stay inside if the wind chill drops below -20 degrees- no one benefits from being out in that).
Instead, many runners choose to use winter as a time to maintain their fitness rather than trying to crush records. Runner's World's coach Susan Paul recommends three miles as a minimum distance for maintaining your fitness as a beginner runner, while also using the time to focus on muscular strength, endurance, and flexibility. That way, in the spring, you'll have a solid base and you'll be ready to focus on speed work as you approach races.
Hal Higdon also has a winter training program that I love for its focus on time rather than miles. Instead of having ten miles scheduled as your long run, Higdon prescribes long runs of 60 minutes, 75 minutes, or 90 minutes, plus other timed runs and cross-training throughout the week. This program, he notes, isn't for anyone training for a marathon or any other race- it's to help runners maintain a high level of fitness during the winter.
Winter is no excuse for letting your running fall off the wagon. But it is something that you have to make adjustments for. With these winter running maintenance tips, you can survive whatever Chiberia and the Polar Vortex throw at you can come back stronger and ready to hit the pavement.
How do you train differently during the winter?
Let us know!
Did this post help you get closer to achieving one of your goals?