Lincoln Park Shop Hop at Pilates ProWorks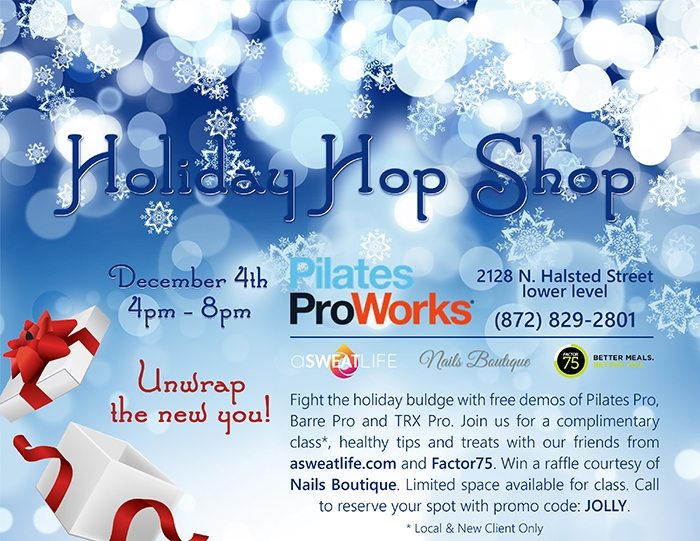 I'm not big on holiday shopping normally – the stores are crowded and the people in these crowded stores are decidedly not in the holiday spirit, climbing over each other for a (insert whatever Elmo is doing now) Elmo.
That's why the Lincoln Park Merchants Association is hosting the Lincoln Park Shop Hop December 4 from 4-8 pm, which will bring together shoppers to stores around the Halsted and Armitage area for a night of relaxed, local shopping. You'll spend a night getting a little help from Chicago bloggers as you choose gifts for friends and loved ones.
More information on participating locations can be found here, but you can find Chicago bloggers and some special promos at these store:
I'll be at Pilates ProWorks, where we'll be doing demos of the studio's signature classes including the reformer class as well as Barre and TRX Barre. You'll also be able to snag a chair massage or have your makeup done by a pro all while dining on snacks courtesy of Factor 75. To top it all off, one lucky winner will take home a raffle prize.
Obviously, we have some major love for Pilates ProWorks – we're hosting #Sweatworking there 12/18 – but if you've never stopped in to try a class, you can get a taste in one of the mini workout if you call 872-829-2801 to let them know that you're coming 12/4.
If you happened to pull my name in the Internet's Secret Santa, I'll gladly take a class pack to get more of these lengthening workouts.