Join us 12/18 for #Sweatworking at Pilates ProWorks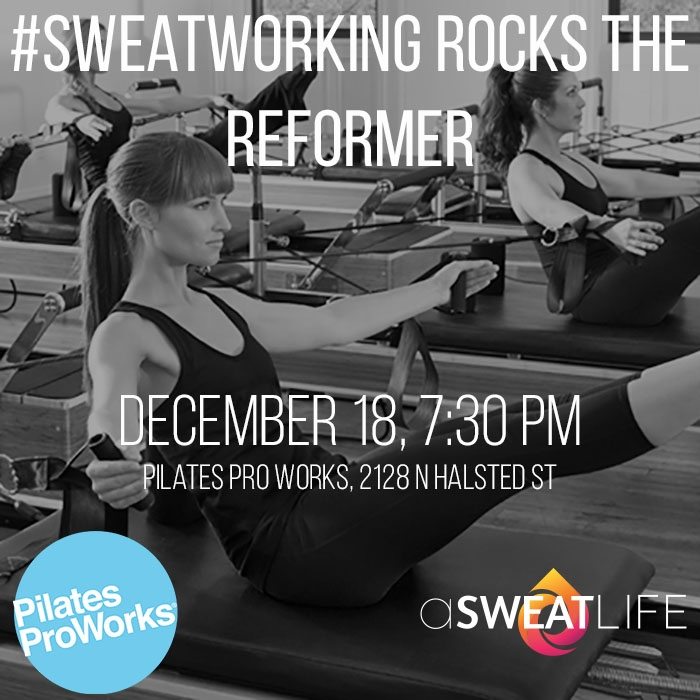 Each month, we get so excited to reveal exactly where the next #Sweatworking event will land and December is no different. We know with holiday parties and the general merriment that surrounds this month, it's hard to get those workouts in. Don't worry sweat-lifer, we're here for you.
We're inviting you to take a night away from that to join us for #Sweatworking at Pilate ProWorks. In just 90 minutes, you'll get to try the studio's signature Pilates class as well as take it to the barre for some more toning action.
When we plan #Sweatworking, we pick studios at which we truly enjoy getting our butts kicked. Pilates ProWorks uses its proprietary FitFormer reformer to take Pilates to fun and challenging new places.
When we first tried the class, here's what we thought:
We started the class with an intense leg series that worked through every variation of lunge possible, using the carriage (or the large, moving piece on the top of the reformer) to slide the back lunging leg out and in, similar to a move you may have done in a TRX class. We used a similar variation to add an extra challenge move to a side lunge. In short, legs and glutes were the primary target of this torture device.
Because the reformer has a slew of straps and handles, you can use your bodyweight against yourself to do things like biceps curls, triceps extensions and anything else you can dream up. We finished an I'm-going-to-feel-this-tomorrow arm circuit with a killer combination: an inner thigh move sandwiched nicely between some high rows.
So obviously, we're in love.
When: December 18, 7:30 pm
Where: Pilates ProWorks, 2128 N Halsted
How to sign up: Head over to Eventbrite to get signed up!
Who can answer my questions: You can email jeana (at) asweatlife dot com