Pilates Pro at Pilates ProWorks in Chicago
Pilates ProWorks in Chicago opened its doors just over two months ago with the goal of taking what you know about Pilates and turning it on its head. The studio's signature class, Pilates Pro, takes reformer Pilates to more intense places than what you may have come to expect. As the studio manager said when I walked in, "This isn't your mom's Pilates."
Pilates ProWorks features an interesting mix of classes that infuse favorites like barre, TRX and reformer Pilates with an athletic spirit.
I took the the Pilates Pro class, the studio's signature. Used throughout was the Fitformer, a machine that is proprietary to Pilates ProWorks. Why did they create their own reformer? They say, "We created a customized reformer because, well, we didn't like other reformers. Hey, we might be opinionated, but it's more about wanting you to have the best Pilates experience. Our reformer is bigger, more comfortable, easier to use, and more versatile. Looks great, too."
Let this be a lesson to you: if you don't like your options, create something you DO like. This is what that big beautiful machine looks like.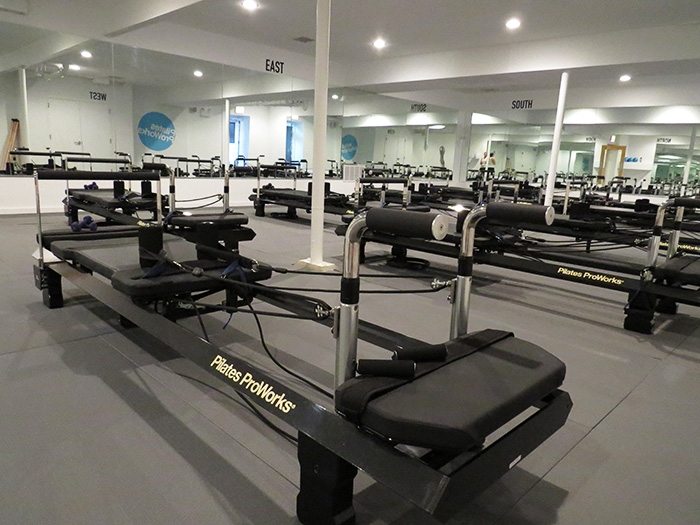 The FitFormer lives up to the promises of the web site. The instructor, Sarah, used the FitFormer push some favorite exercise to a new challenging place, including lunges, side lunges, planks and even burpees. Yes, you just read the word "burpees" in a post about Pilates.
Take what you know about reformers and multiply those possibilities by ten.
We started the class with an intense leg series that worked through every variation of lunge possible, using the carriage (or the large, moving piece on the top of the reformer) to slide the back lunging leg out and in, similar to a move you may have done in a TRX class. We used a similar variation to add an extra challenge move to a side lunge. In short, legs and glutes were the primary target of this torture device.
Because the reformer has a slew of straps and handles, you can use your bodyweight against yourself to do things like biceps curls, triceps extensions and anything else you can dream up. We finished an I'm-going-to-feel-this-tomorrow arm circuit with a killer combination: an inner thigh move sandwiched nicely between some high rows.
 We started with straight legs about 2.5-3 feet apart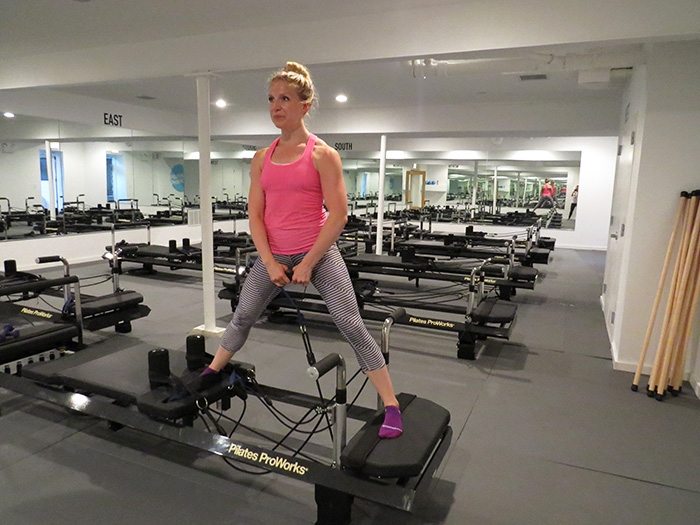 While squeezing the legs together, we pulled our elbows up into a high row. Holy inner thighs.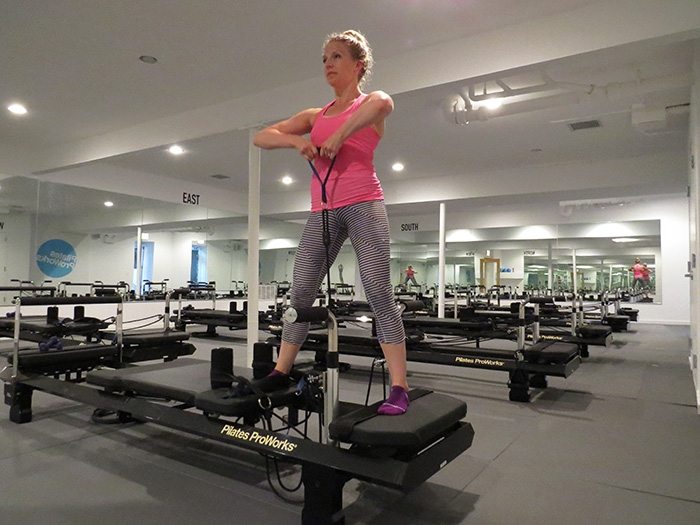 A Pilates class is not complete without a great core finisher, and this was no exception. we spent a hard 5 minutes entirely focused on core, although it should be noted that the core was working and engaged for the duration of class.
Want to try a class for yourself? Try one of everything with the studio's free week promotion using the promo code SWEATLIFE.
Gym: Pilates ProWorks, 2128 N Halsted St
Class focus: Our signature reformer class-combines resistance, lengthening, strength training and cardio into a high-energy, music fueled complete workout.
Cost per class: $30
Money saving offers: