Lunch Bunch: Baked Turkey Meatballs with Quinoa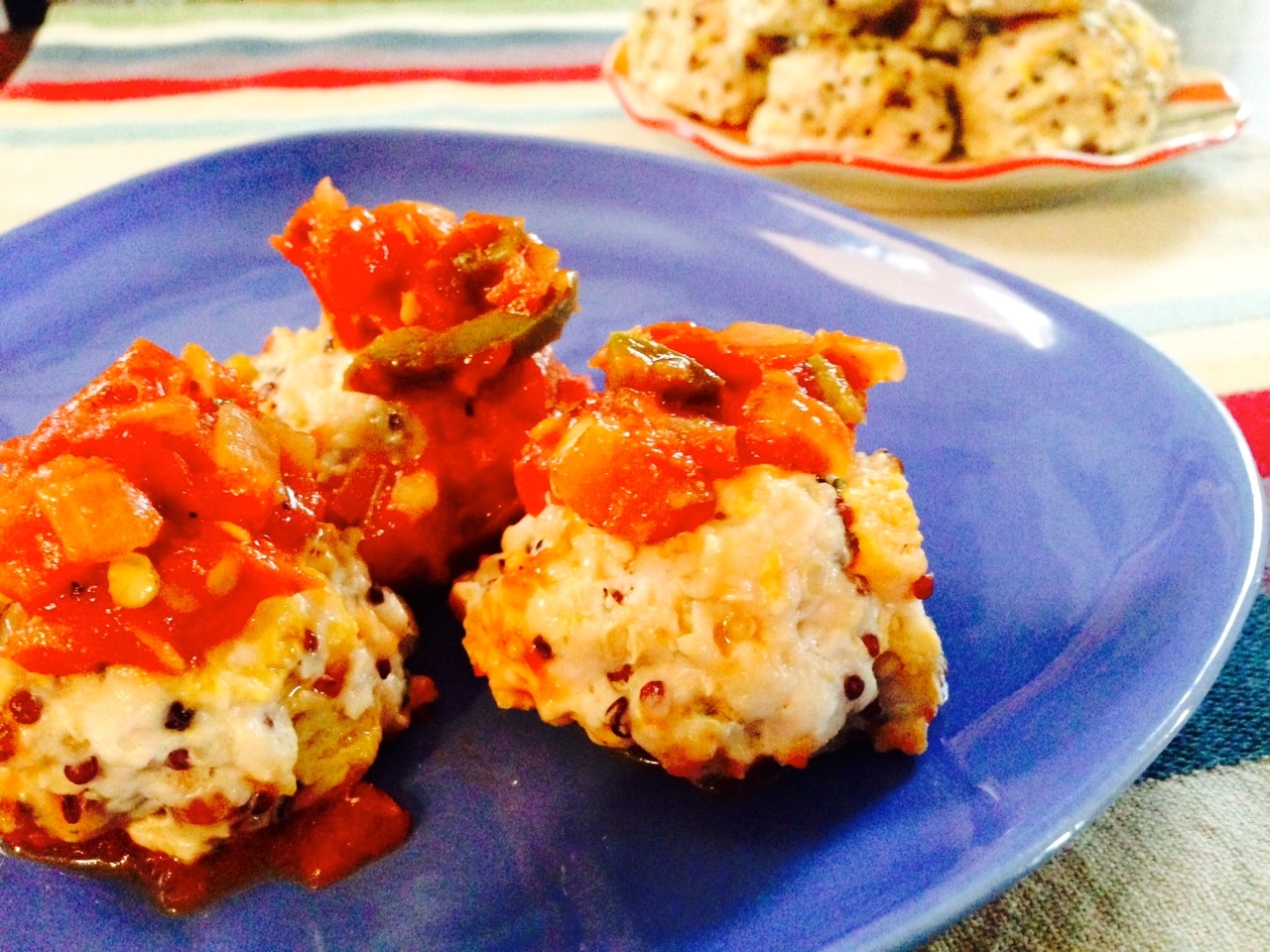 There are some days that I crave a creamy almond milk latte to warm me up, so I go running to the café next door during a quick work break to get just that. The inspiration for these meatballs comes from a simple side dish at this particular café. One afternoon, I decided to splurge on a quinoa/squash salad to supplement my lunch – the crunchy, salty almonds when paired with the sweet squash were a perfect and addicting combination.
This past weekend marked fall backwards – time to turn back those clocks and launch the beginning of shorter, wintery days! It may just be me, but when it gets darker by 5pm, I tend to get a bit lazier earlier in the evening as well…. which means cooking late in the evening just isn't as appealing. For this very reason, I turn to freezer friendly recipes and batch cooking in the wintertime.
This, of course, also makes a great fit for Lunch Bunch. These turkey quinoa meatballs will not only get you through the work week, but are an easy freezer-friendly option if you would rather put the rest away for a later evening.
I played around with my own turkey meatball recipe combined with the idea of the quinoa and squash salad to create this masterpiece. I love it! The crunchy almonds give a crunchy texture and the squash adds a fun fall flavor. Since we are baking these meatballs, the fat (literally) cooks right off. Seriously, don't be grossed out by the fat left behind – at least you're not eating it! I chose 95% lean ground turkey to leave some juiciness and to help prevent the meat from drying out. This is well worth the cleanup and a very healthy substitute to beef.
These lean, mean turkey meatballs will provide you an abundant amount of protein that you need throughout your day with hardly any fat. Protein is critical in maintenance of lean body mass. Those who focus on calories alone, without the sufficient protein, can find themselves at a lower body weight, BUT with a higher body fat percentage. Thus, in order to maintain a healthy body composition, tone up and keep our metabolisms buzzing…think protein, protein, protein!
I've included my recipe for a homemade tomato sauce to pair with the meatballs. This is simple to whip up in a sauté pan during the 30 minutes the meatballs are baking away. Pair these protein-packed meatballs with a green vegetable and a carbohydrate to complete your well-rounded lunch.
Print your guide to packing your lunch and bring it to the grocery store with you.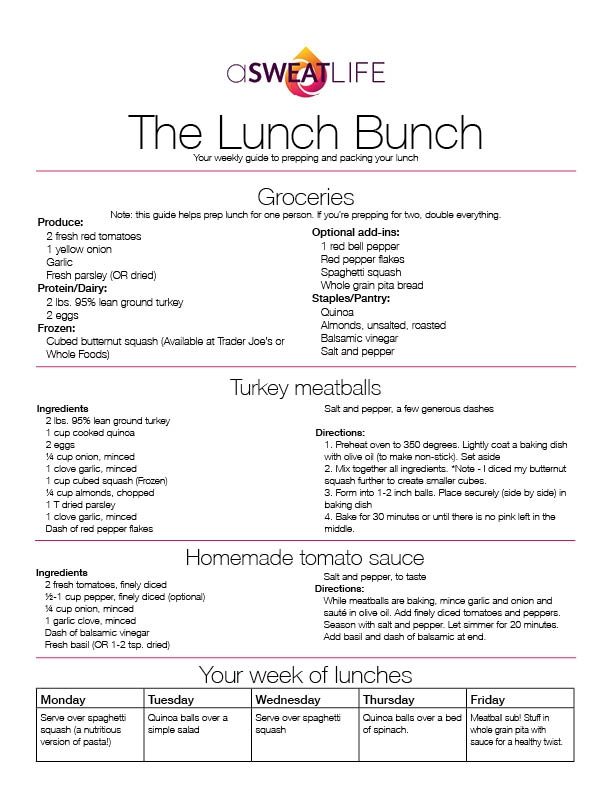 Grocery List:
Produce:

2 fresh red tomatoes
1 yellow onion
Garlic
Fresh parsley (OR dried)

Protein/Dairy:

2 lbs. 95% lean ground turkey
2 eggs

Pantry:

Quinoa
Almonds, unsalted, roasted
Balsamic vinegar
Salt and pepper

Frozen/other:

Cubed butternut squash (Available at Trader Joes or Whole Foods)

Optional add-ins:

1 red bell pepper
Red pepper flakes
Spaghetti squash
Whole grain pita bread
Turkey meatballs recipe:
2 lbs. 95% lean ground turkey
1 cup cooked quinoa
2 eggs
¼ cup onion, minced
1 clove garlic, minced
1 cup cubed squash (Frozen)
¼ cup almonds, chopped
1 T dried parsley
1 clove garlic, minced
Dash of red pepper flakes
Salt and pepper, a few generous dashes
Directions:

Preheat oven to 350 degrees. Lightly coat a baking dish with olive oil (to make non-stick). Set aside
Mix together all ingredients. *Note – I diced my butternut squash further to create smaller cubes.
Form into 1-2 inch balls. Place securely (side by side) in baking dish
Bake for 30 minutes or until there is no pink left in the middle.
Homemade tomato sauce recipe:
2 fresh tomatoes, finely diced
½-1 cup pepper, finely diced (optional)
¼ cup onion, minced
1 garlic clove, minced
Dash of balsamic vinegar
Fresh basil (OR 1-2 tsp. dried)
Salt and pepper, to taste
Directions:
While meatballs are baking, mince garlic and onion and sauté in olive oil. Add finely diced tomatoes and peppers. Season with salt and pepper.
Let simmer for 20 minutes. Add basil and dash of balsamic at end.
Week of Lunches:
Monday – Serve over spaghetti squash (a nutritious version of pasta!)
Tuesday – Quinoa balls over a simple salad
Wednesday – Serve over spaghetti squash
Thursday – Quinoa balls over a bed of spinach. (In a microwave – warm up the meatballs over a bed of spinach so that it wilts)
Friday – Meatball sub! Stuff in whole grain pita with sauce for a healthy twist.