Flipping Out for the FlipBelt [Review]
Ever since I started running, I've been an armband girl. It's always gone on my right side, it's held my ID and a credit card or Ventra, and it's never been an issue. Until I started marathon training.
After a few long runs, my armband started chafing- like, seriously chafing, to the extent that I was fairly sure that my inner arm was going to get a hole rubbed in it. Plus, all the sweat from running in heat and humidity was starting to affect my phone and I was afraid that it was going to start getting water damaged. Glamorous, I know.
A few runner friends had recommended the FlipBelt, but honestly, the idea of running with something around my waist has always made me a little wary. I've just never seen how it would be comfortable- it seemed like it would be like running with a fanny pack, and that's not something I thought I could sustain for a long run. However, when I was sent a FlipBelt as a BibRave Pro, I saw it as a sign that I needed to take this thing out for a test run (pun intended).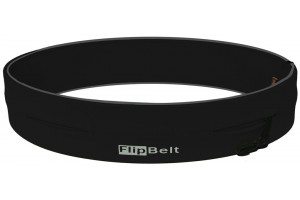 The FlipBelt is a tubular waistband with slits to hold your belongings close to your body while you run or work out. Then, after you've loaded everything in, you flip the belt against your skin so that the slits are against your body- however, on my runs I never found that necessary since everything felt so secure. It comes in a variety of sizes and you can decide what size to get based on if you'll wear it around your hips or your natural waistline; I ordered a small to wear around my hips and I think it fits perfectly (I'm usually a size small, so it's pretty true to size). You have a little bit of give since the waistband is elastic, and they come in a ton of colors.
On my test runs, I've been able to hold a full set of keys, Ventra, my ID/credit cards and my phone/earbuds comfortably. It's been so much more convenient than trying to hold these things while I run, and it's so easy to slip the FlipBelt on and off over my shorts or leggings. I was most impressed by how everything stayed in place so well; I never felt like my items were insecure or that they were at risk of falling out, and I was able to run easily and hands-free.
Plus, it's so much quicker and easier to grab my phone from around my waist in case I want to change a song, check a text, or see my pace, whereas with my previous armband I would have to take the armband off, slide the phone out of the armband, adjust, and then put it all back on again.
And finally, I've loved that there's absolutely no chafing and that I can just throw the FlipBelt in the wash after a few runs. It's been the perfect solution to my war with my armband, and I've loved using it.
You can find out more about FlipBelt online or at a Fleet Feet retail store. I'm completely sold on adding it to my everyday running gear. Have you guys used the FlipBelt, or something similar? What did you like about it?
[Disclosure: I was given a FlipBelt as a part of my relationship with BibRave as a BibRave Pro. As always, I only talk about the products and services that I have tried and enjoyed]