Healthy Thai Recipe: Salmon Cakes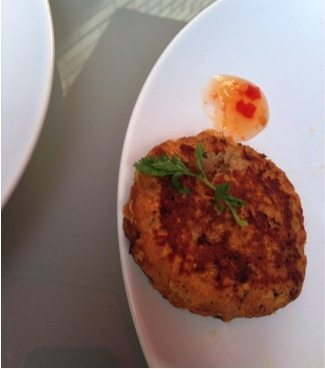 Commonly known as Tod Mun or Thai Fish Cakes, this recipe has been modified. I proudly proclaim this version as a healthier alternative to its original counterpart. Traditionally made with fish paste (a base mixture of blended raw white fish, eggs and cornstarch), this recipe is cleaner and much easier to make. The prep time is down to under 5 mins – BOOM, healthy Thai food!
Sold as a popular street snack, skewered on bamboo sticks and accompanied by Ajaard (Thai Cucumber Salad), these Thai Salmon Cakes are skewer-less and can be served as a main course, eaten with a fork and knife. Add a salad. Add a healthy carb. You've got a meal.
Ingredients:
2 cans of premium salmon (drain water)
1 cup of rolled oats (flavorless oatmeal)
½ cup of egg whites
3 regularly-sized shallots (or half of one ginormous shallot)
2 kefir lime leaves (or ½ tsp of lime zest)
1 tbs red curry (can be found at any major grocery store)
5 tbs of coconut oil
Cooking:
Wash, peel and thinly slice shallots
Wash, roll, and thinly slice kefir lime leaves (by rolling the leaves like a cigar, you're able to easily cut them just mini knife strokes)
In a large bowl, combine shallots, kefir lime leaves (or lime zest), red curry, two cans of salmon, oatmeal and egg whites
Mix until all ingredients are evenly combined, roll into palm-sized patties and set aside (while the others are all rolled out) This should make about 10 patties
In a non-stick pan or cast-iron skillet (my preference), wait until pan it super hot, add enough coconut oil to coat the surface. Add 4-5 patties (do not overcrowd them)
Add more coconut oil as needed, but leave the patties on each side until golden brown (approximately 2 mins per side) Turn over when ready.
Repeat until all patties are done – placing them on top of plated paper towels to absorbed any extra oils
It's really that simple. When you bite into it, you can taste the fish, the citrus, and the shallots. You can add a dollop of greek yogurt or store-bought sweet and sour sauce on top. At a later time in a later post, I'll teach you how to make your own sweet and sour sauce. But, you can also do what my husband does. He drenches the patties in ketchup. SMH.