Marathon Monday: Don't Drop It When It's Hot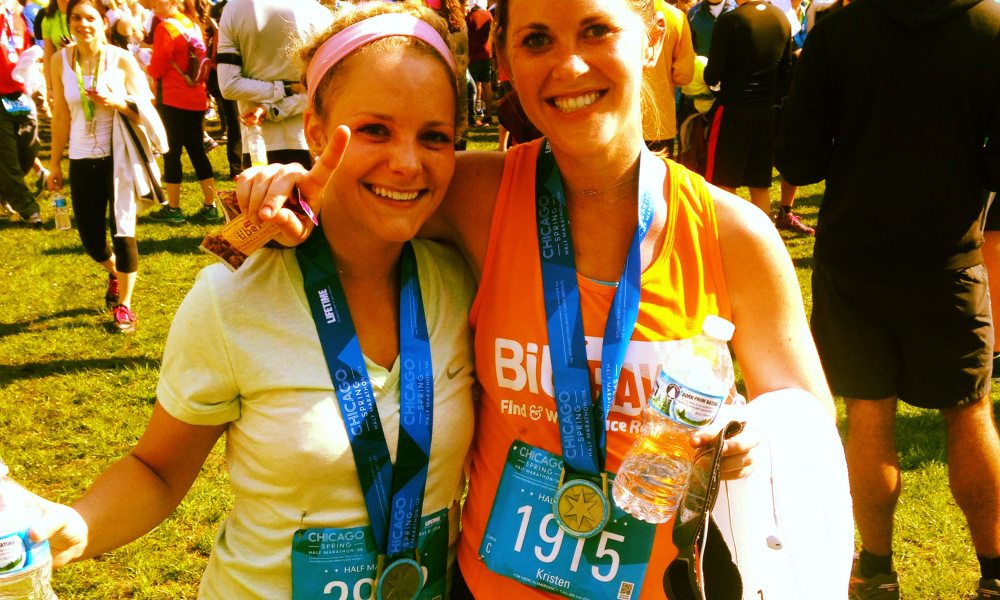 While we were in the midst of the polar vortex and I was somewhere around hour 32 of the 48 hours I spent indoors, I vaguely remember making a promise to myself while in the throes of a particularly body-wracking shiver, "When summer comes, I will never complain about the heat! Not once! I will forever cherish every moment of sunlight, every bead of sweat, every awkward tan line and pit-stained white t-shirt. I will embrace summer and everything that comes with it!"
Fast forward to this Wednesday morning around 7:20am, mile five out of ten, when I looked down at my formerly-light blue running shorts and realized that my copious sweat made it look like I had wet my pants. I was not as warmed up to summer (ha! pun!) as I thought I would be.
When it comes to marathon training in Chicago, you pick your battle when you pick the race you sign up for. Either you sign up for a spring marathon, praying that winter won't be that bad or resigning yourself to a 20-miler on a treadmill, or you sign up for a fall marathon and hope for a pleasant summer and low humidity. Me, I've always believed that my years of lifeguarding experience have made me somewhat tougher when it comes to heat, which was part of my reasoning for signing up for the Chicago Marathon.
But, as the reality of summer has set in, I've had to adjust my running expectations. In my mind, I'm bounding gracefully along the lakefront path in a sports bra and shorts, a single drop of sweat on my face as a breeze blows my hair back. In reality, I'm lurching toward the next water fountain, unable to get my iPhone out of my armband to take a picture because it (my iPhone, my armband, and my hand) is too slick with sweat, and yes, my shorts look like I jumped in the lake before I ran. It ain't pretty.
The scariest part of running in the heat isn't what I look like after an hour and a half, however- it's the risk of getting dehydrated and suffering from heat exhaustion. By staying smart, you can get your long run in OUTSIDE without the danger of making yourself sick. Here's the breakdown:
Before Your Run:
-Give yourself about two weeks to get used to running in the heat. During that time, if your pace slows or you have a tougher time running, don't panic – your body just has to acclimate.
–Hydrate. In addition to drinking water regularly before your run, add in 16oz of a sports drink one hour before you head out there.
–Plan your route. Stick to shady, dirt or grass paths if possible, and run early in the morning or later in the evening.
–Dress the part. Lightweight, light-colored clothes that won't cling to your body are ideal (avoid plain cotton t-shirts), and cover your head – a hat or a visor will keep you cool and protect your eyes from the sun. Don't forget sunscreen!
During Your Run:
–Hold up, drank. Drink often – if your workout is 45 minutes or less, water is just fine, but for longer runs, chug 5-8 ounces of a sports drink every 15-20 minutes to help replace electrolytes. Personally, I stick close to the lakefront path to have access to the frequent water fountains (even though there's no shade and the path is asphalt) – but if you carry bottles of water/sports drink while you run, you have a little more freedom.
–Take it slow. According to Runner's World, "every 5°F rise in temperature above 60°F can slow your pace by as much as 20 to 30 seconds per mile." So, don't freak out if you're a little slower than usual- it's normal, and healthier not to push yourself too hard. And don't be afraid to take a walk break- you'll feel much stronger after.
–Start running with the wind, and do the second half of your run against the wind. This will help cool you off when you really need it.
After the Run:
-Rehyrdate with both water and a drink with electrolytes, like a sports drink or coconut water.
-Eat pretzels or other foods with sodium to replenish your body.
-And take it easy and stay inside in the air-conditioning for the rest of your day – you deserve it!
Above all, listen to your body – if you're just not feeling your long run in 100% humidity, it's totally fine to cross-train or hit the treadmill instead. For more tips, check out our previous post on the subject. What tips do you all have for running in the heat?
Let us know!
Did this post help you get closer to achieving one of your goals?