Pound Fitness with Saran Dunmore

Studio: Saran Dunmore teaches at Lacuna Fitness (a trainer's Gym), 645 S Clark St – REGISTER HERE

Class Focus: This class is rhythmic, total-body toning and cardio. Ever wonder why you always have the hots for the drummers in the band? You'll learn quickly in this 30 minute class.

Cost per class: $10

Class offering: Saran teaches the class Saturdays at 10:30 and and Wednesdays at 6 pm. Register here.
Nike+ Fuel Points Earned: 1,200
The Fab Fit take:
If you haven't fallen in love with Saran Dunmore as one of NBC Chicago's Fitness Club coaches or as a trainer on MTV's I Used to be Fat, you will totally develop a trainer crush on her as the leader of this class.
Pound Fitness is a super effective, total body workout that uses weighted drum sticks – or ripstix – to incorporate every extremity into heart-pounding, body-sculpting exercise. The workout is part art and part science. Each song is choreographed to include full-body movement and to marry the rhythm of the song to the pounding of the drumstick. It's pretty amazing to see, hear and be a part of.
During the 30-ish (it was more like 35) minute class, we worked different muscle groups depending on the song. We'd spend two songs working legs and arms together, then we'd follow it up with a track that focused on abs (there were two ab tracks), arms (one arm track) or butt (one butt track).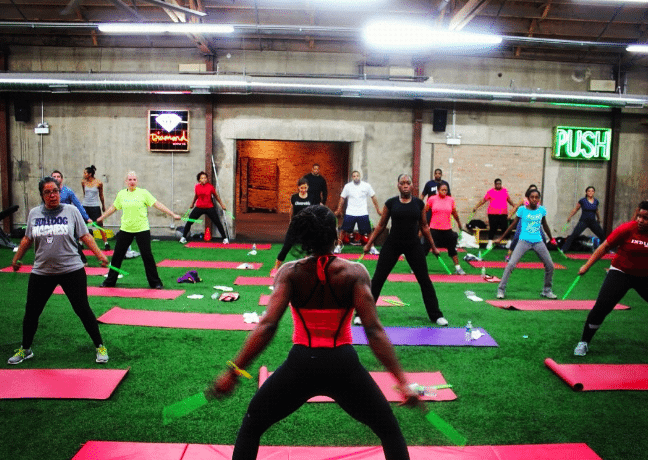 A lot of the 30 minutes was spent in a plie squat or in a lunge, and with the added motion of hitting the drumsticks on the floor, your entire torso will feel the burn from alternating between standing and bending.
The beauty of the workout is its brevity and it's effectiveness. In just 30 minutes, my arms and core muscles were shot and my legs had enough left to walk to the el. We spiked our heart rate once on every single track and we worked at least two major muscle groups at all times with the use of the drumsticks.
Following the class, I was sore from my ribs to my knees, but the kind of soreness that makes you realize that you had a tough workout, not crippling soreness. It's one of the most entertaining and effective workouts I've tried in Chicago and I recommend experiencing it for yourself, especially with Saran leading it.
Date/time taken: 4/10/2013
Upcoming events:
Pound Parties: Saran hosts larger classes during which she takes over the entire 10,000 square foot Lacuna Fitness space with about 50 people, all sweating and drumming. There are a few upcoming parties:

Thursday April 25, 7 pm
Monday Mary 20, 7 pm

Pound Fitness workouts at North Avenue Beach: Watch for more info on taking Pound Fitness classes with Saran at the beach here.
Let us know!
Did this post help you get closer to achieving one of your goals?