Fit tips with Chicago Trainer Lisa Payne (Part 1)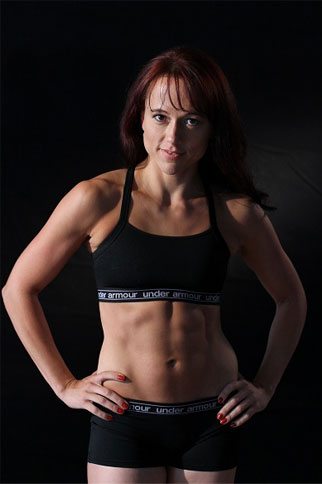 (Image courtesy of Lisa Payne)
I sat down with Chicago trainer Lisa Payne and one of my favorite resources for fit tips on Twitter (follow here here). She let me pick her brain about fitness, dieting and taking days off from getting after it in the weight room.
We covered so much, that I'm breaking it into two posts. Lisa spilled some tips that will help you find your next yoga crush and keep focused on fitness on the road. My biggest takeaway: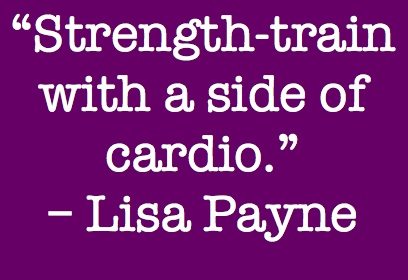 Jeana Anderson: Where can people work out with you?
Lisa Payne: I work out at the Trainer's Gym. Most of my clients are there. I rent space basically. I pay them a certain fee, so I pay an overhead every month. I usually do hour sessions, but I sometimes do half hours. I do partners or group sessions with three or four people. It really depends on the client and what they need. I do some home gyms, but I do charge extra for parking and things like that. Also for time because I don't have enough time … it's basically blocking off 2 hours instead of 1 hour for travel time. It's a little more difficult, but I try to keep everyone at the Trainer's Gym.
I teach at Equinox and Fitness Formula Clubs. The Equinox I teach at is at 900 N. Michigan, the gold coast location. I teach cycling there. I've been teaching at Equinox for seven years now. And fitness formula was formerly Crunch and I was there and that's where I started. I teach at South Loop, Union Station and Lincoln Park.
JA: What's your favorite new fitness trend? Something you've added to your routine recently?
LP: I always do balance in everybody's workout, including my own, whether they like it or not. Most people come to the gym and they're like, "I don't work out for balance!" And that's why I put it in, always.
I'm trying to encourage people lately to go heavier than they think they can. I personally do two heavy days per week where I lift as much as I can and go to failure. I encourage my clients to go to failure, which is really hard mentally for people to do because they're like, "Well I need to finish this. I need to finish my 15." If they don't finish 15, it's not the end of the world, it just means that this is your limit and you've finally found your limit and we're going to keep at it, once you get to 15 easily, that's when we'll move on and go higher.
Fit tip: lift to failure and work on balance.
JA: Do you have a favorite or secret Chicago gym/trainer/studio?
LP: One of my favorite yoga instructors actually is at Equinox, her name is Allison English, she's phenomenal … I used to hate yoga, I couldn't sit still, I was always like, "I have somewhere else to be. Where's my phone?" and then I took a beginning yoga class with her. She swears sometimes, she's goofy, but she remembers everyone's name in the class, everyone's injury or issue and what side it's on. I love her to death and she's very observant. I've been taking class with her for almost three years now and she's one of my favorites. She just developed an app  – a travel app for yoga. That's my favorite day of the week, Sunday, when I go see her.
I also take a class with Lauren S. at CorePower Yoga and she's really great. Those are the only places I go for myself.
Fit tip: Learn more about Allison's  FREE iPad App, Travel+Yoga in the iTunes store now
JA: Do you encourage your clients to do yoga as well
LP: I try to get them all to do yoga. Most of my clients have been with me for a minimum of a year .. but they still don't do yoga… so I brought in Allison [English] to teach a workshop. I brought in two moms who are like always smiling and they didn't think that they could go up-side down and Allison got them to go upside down. They were talking about it for weeks.
Fit tip: yoga is for everyone. Even you.
JA: What's your feeling about rest days? How many per week? How many off at a time?
LP: At least one day off. At least. If not two. If you're working hard enough during the week, then two. I used to take two days off together, back-to-back so I could fully restore my muscles and now just because of time, I have to split it, so I'm still a little bit sore on my off days, I don't get full recovery. You have to make sure that on your rest day, you can get full recovery so that you can get stronger. If you keep doing chronic exercise seven days a week, sometimes even six days a week, what you're doing is just causing more damage to your body than good. Muscles actually have to tear a little bit to restore themselves and get stronger, but if you keep tearing them and tearing them and you never restore them, they're never going to get stronger, they're just going to hurt.
Fit tip: Take one or two days off per week. Let your body repair itself.
JA: What's one thing women do wrong when it comes to fitness?
LP: Women do more cardio, thinking, "I've got to burn off some calories." Girls always think cardio and burning calories. Intake, outtake, but they don't realize is that muscle is what's really going to help them keep that fire burning. If you do too much cardio, not enough strength, what cardio is going to do is burn off the muscle. It's as if you're not even strength training. You're just burning off everything and you don't retain the tone…
"Strength-train with a side of cardio," is how I like to say it. No more than 45 minutes of cardio at a time. You don't need to more than that. No. Go lift something.
Fit Tip: Ladies, get off the treadmill and lift something.
Lisa Payne does private, small group and corporate training. Want to get in touch with her? Contact her here.