Stamina at The Mercury Method

Studio: The Mercury Method, 1444 N Milwaukee Ave. 

This location is now closed.
Class Focus: This class is a mix of some yoga poses mixed with toning moves to create a unique and purposeful flow to strengthen from head-to-toe.

Cost per class: $17
Money saving offers: 
Who should take the class: Anyone seeking to spice up the zen in their workouts. This isn't just yoga, it's fast-paced flow that is constantly challenging the body. The instructor offers a variety of modifications for every move making this class work for all fitness levels. 
The Fab Fit take:
The Mercury Method is new to the Wicker Park fitness scene, opening its doors for its first class mid-November.  The studio is unlike anything I've seen in Chicago – everything about it is hot, from the heated tile floors outside of the studio to the "hot box" (aka studio) that's held at a steady 98.6 degrees and is bathed in red accent lights.  It's obvious that everything about this space is purposeful and is the result of the owner and founder of the Mercury Method Lara Hudson's seriously impressive background in fitness.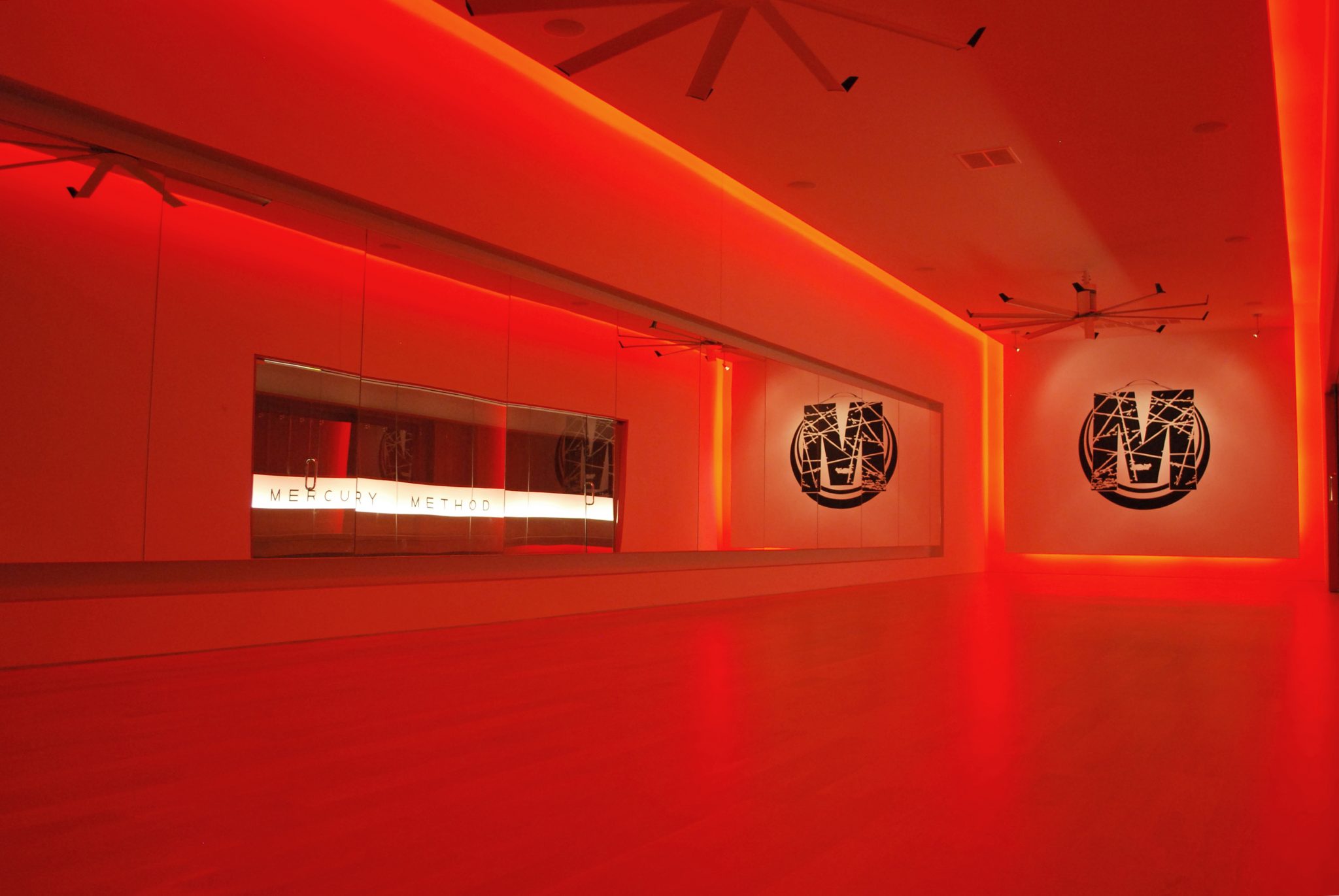 (image courtesy of The Mercury Method)
The Mercury Method is founded around the idea that performing exercises in a room heated to exactly 98.6° "challenges your heart, lungs and mind to work harder while your muscles develop power, flexibility and stamina."
I took "Stamina," with Lara, which she said was closest to a yoga class, but the studio offers two other types of classes. Lara termed the "Strength" class the "boy workout"  as it focuses on building strong, powerful shoulders, back, abdominals and legs – but ladies are more than welcome and I'm looking forward to going back for that. "Control"  focuses mostly on the core with Pilates-like stabilization and balance moves.
During the class, there was rarely a break aside from downward dog poses between strength moves. Using only our own body weight, we went through a total body workout. My abs and thighs were hit the hardest by this class. A go-to move was the plank, with variations peppered through the routine including piking planks ( a go-to move for Cindy Crawford according to this month's Shape Magazine), side planks and planks alternating from hands to forearms.
With some powered-up yoga poses, we lengthened and strengthened our legs. We spent what felt like 15 minutes in horse pose (I always feel like I'm working my legs at least 3x longer than I actually am) alternating between pulsing and holding the pose. We finished off with a low lunge pose, with a kickback variation that absolutely killed.
For good measure, we worked abs on the floor starting with a v-up (or low boat to high boat) moving onto crunches with our legs in table top. When my stomach could take no more, we did one more set of abs with straight legs in the air working low abs and obliques. My abs were not left wanting more.
Finishing off the class and counter balancing the planks and pushups we did throughout the class, we worked triceps and our backs with variations of shalabasana (I've always just called this "swimming pose"), pulsing  our arms and legs to tone both muscles groups.
I left the class feeling great and was surprise by a little soreness in my legs the next day.
Tips: Take advantage of the $6 class and try out the three variations of the mercury method!
Date/time taken: 12/15/12