Yoga Sculpt at Core Power Yoga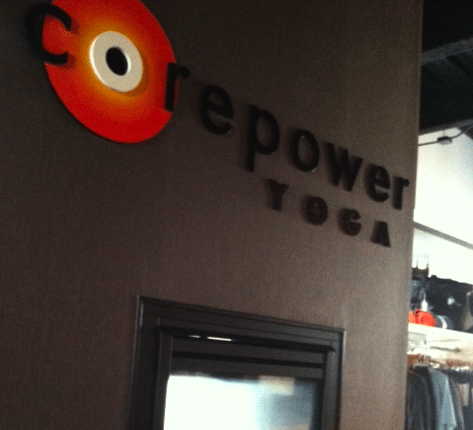 (I apologize – the studio was so dark, my photos didn't turn out. But I assure you, it's large and clean)

Class title: Yoga Sculpt
Studio: Core Power Yoga, 12 West Maple Street  Chicago, IL 60610
Other Chicago locations:
Bucktown Studio: 704 N. Milwaukee, Chicago, IL 60647
Lakeview Studio: 945 W. George Street, Chicago, IL 60657
Lincoln Park Studio: 959 W. Webster Ave., Chicago, IL 60614
Lincoln Square Studio: 2301 W. Lawrence, Chicago, IL 60625
Roscoe Village (Lakeview) Studio: 3232 North Lincoln Ave., Chicago, IL 60657
South Loop Studio: 555 W. Roosevelt Rd., Chicago, IL 60607
Uptown Studio: 4428 N. Broadway, Chicago, IL 60640
Class Focus: Toning with weights through Vinyasa flows. It's a little bit yoga, and a little bit bootcamp.
Cost per class: $20 for a single class
Money saving offers:
Trial week: $0. Just walk in with this coupon and you can try all of the classes that you want for a week at any location
Membership: $135/month with no enrollment fee
I month unlimited: $175 month-to-month membership
Class packages bring the price down to $19-$15.50/class
Who should take the class: Yogis looking get stronger in their flow, anyone trying to get those hot yoga arms
The Fab Fit take:
Sweating makes me feel like I've accomplished something. I did a lot of that in this class. I took it 3 times during my free week and felt a little bit zen and a little bit exhausted each time. It's not difficult because the you're doing too many reps, it's difficult because it's a sculpt class in a 90+ degree room. The heat and the weights take the challenge up a notch, but yogis know that your practices is your own and there are always ways to fit the class to your body.
The class takes you through two sun salutations, each using different yoga poses as a base for simultaneous arm and leg toning exercises. The flow keeps the keeps the class moving quickly from downward dog to warrior 2 to the sculpting moves to a random cardio burst. There are still quite a few elements of yoga that are strong throughout the class like the balance series, which is purely posed, and for the most part without weights. BUT there are some portions of class that are purely strength building – granted a little extra strength can help any yoga practice. The ab moves in this class were tough each time I took it – each included a longish plank hold as well as some crunches on the mat.
While the toning series aren't "say uncle" challenging – they're tough and each class offers something that takes you to your max. Again, in the 90+ degree room, cardio bursts were thrown in via mountain climbers, which was the closest I've been to throwing up in a while. Actually since my ride at Flywheel …
Tips:
These classes are strictly drop-in: Come early. I didn't see anyone get turned away, but I did take one class that was at capacity.
Use the coupon for a free week: but when you do, get there at least 15 minutes early.
Watch for group offers: they just ran a Groupon for a month unlimited, so my assumption is that they'll run more
Bring a towel: first because they charge for towels and second because of the sweat factor. Also bring a mat towel (like Yogitoes) because if you sweat like I sweat, you will slip and slide around on your mat.
The verdict: I love a good yoga sculpt class, and this was up there with some that I've taken. I will definitely take it again.
Date/time taken: week of 8/20/2012