What to Expect From Your First Mountain Biking Experience
In the true spirit of aSweatLife's way of doing things, this past October I tried something new while meeting new people at a mountain biking retreat in central Oregon. Although I wasn't a first-timer at a retreat experience, it was my first time mountain biking. 
These are the lessons I learned the hard way so you don't have to.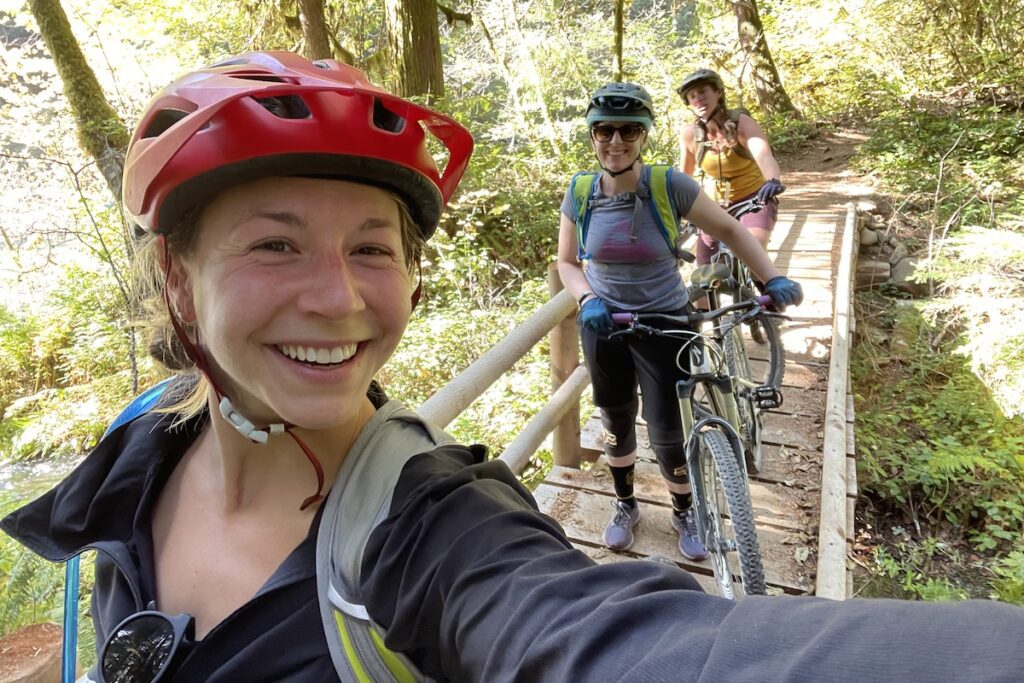 Get a lesson (at least to learn the parts of your bike)
Even though I was nervous to try out the sport, I anticipated that it would be relatively easy to pick up since I've ridden a bike to get around the city for a decade. For the most part, that was true — but I was surprised by how different the bike felt from the hybrid/road bikes I was used to. 
When I picked up my mountain bike rental from a local spot in town, I decided to ride it home to get a sense of how it rode before we were actually out on the trails. It took me a while to figure out where all the gear changes were (at one point I activated my dropper seat instead of switching to a higher gear, which resulted in my seat dropping about six inches immediately mid-city block). And the dual suspension — which makes the bike basically feel like you're riding on hydraulics — made for a much more animated first experience than I was anticipating. 
If you're thinking about picking up mountain biking and have ridden on the road plenty in the past, I would recommend familiarizing yourself with a mountain bike and its terminology from a local expert rather than assuming you'll figure it out. You eventually will — but once I got to the retreat, I learned the parts of the bike and where my body should be positioned on it at all times and it helped me immensely when I was thinking about what to do on the trail. 
Many new bikes have hydraulic dropper seats installed and can be activated by the flick of a switch on the left-hand side of the bike (like the one I found accidentally). This is super helpful when riding downhill over rocks and roots. When you're upright out of the seat in an "attack" position (think: a squat with knees wide over your bike and with elbows bent like a push-up), your body is lower to maintain stability and it helps to have the seat out of the way. 
And speaking of body position, a thorough understanding of the parts of your bike will help provide you spatial awareness when you're on challenging routes so you can quickly position your body more optimally to tackle whatever lies ahead. For example, when you're going up a steeper hill, your tendency may be to lean back — but you're going to want to lean forward, keeping your hips over your seat while getting your chest over the stem of your bike. This will keep your front tire weighted and give you more power as you ascend up that hill. 
Wear all the gear
I learned this piece of advice the hard way. If someone recommends you wear knee and elbow pads, wear them. Definitely don't skip out on the gloves. Get shorts or pants with padding in the seat. After two small falls and 27+ miles of bumpy terrain, I was beyond grateful that other retreat attendees brought extra gear; my bruises could have been a whole lot worse.  
Bonus points if your gear list includes a backpack instead of a belt bag. (It will better protect your spine if you fall!) Plus, if you use a backpack you can fill it with a bladder of water — and there's no such thing as having too much water when you're riding for hours on end.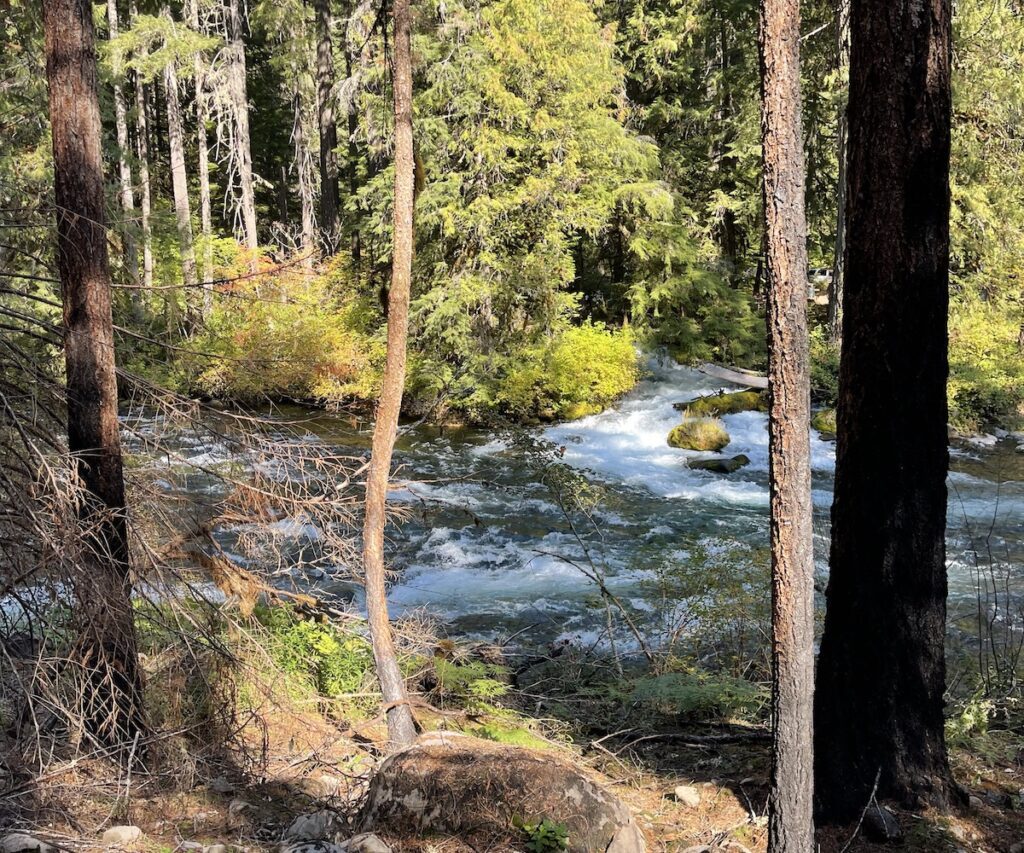 Make it easy
Coming from someone who enjoys a hard workout, this was hard for me to let sink in — but the coach I was with just kept saying, "make it easier, make it easier," and after two long days of riding, I understood why. 
Had I made each hill into a goal to accomplish like in a lot of my workouts, I would've quit after a couple of hours. But we rode for six+ hours a day, and I didn't want to miss out on the fun. We stopped to cold plunge in the crystal blue river next to our trail. We stopped for hot springs. We paused to enjoy lunch in a quiet spot with no one else around. 
It became less about the workout very quickly and so much more about the experience.
My advice, if this sounds fun to you, is to make it easy! That's why you have so many gears to work with. Switch them often to make the terrain as accessible as possible. You have a unique opportunity on a bike to get further out on trails than you can by hiking or running. Take advantage of that and pause to look around, enjoy the scenery, the company, or simply the peace and quiet.
Pack the snacks
The most important advice of all? Don't go hungry! Pack extra snacks, too. Unlike a trail run, you can stop and eat and hop right back on your bike. Don't skimp on the snack real estate in your backpack…you'll thank yourself later when you have the fuel and energy you need to stay out longer and catch the sunset!