Reflections After A Week-Long Hiking Trip
I'm sure I'm not alone in feeling like 2019 has been pretty non-stop. So far for me it's included a major move across the country, a huge career change, a shock to the schedule I'd been used to for two years, and new friends, but also a lot of stress, some loneliness, and the ups and downs that come with being a twenty something just trying to figure out adulthood.
Last month I got to take a step back from everything, get out of the city, and really slow down for the first time all year. I headed to Utah with my best friend in tow for a hiking trip through some of America's great national parks. After a week of hiking and getting away from my every day life, here's what I learned.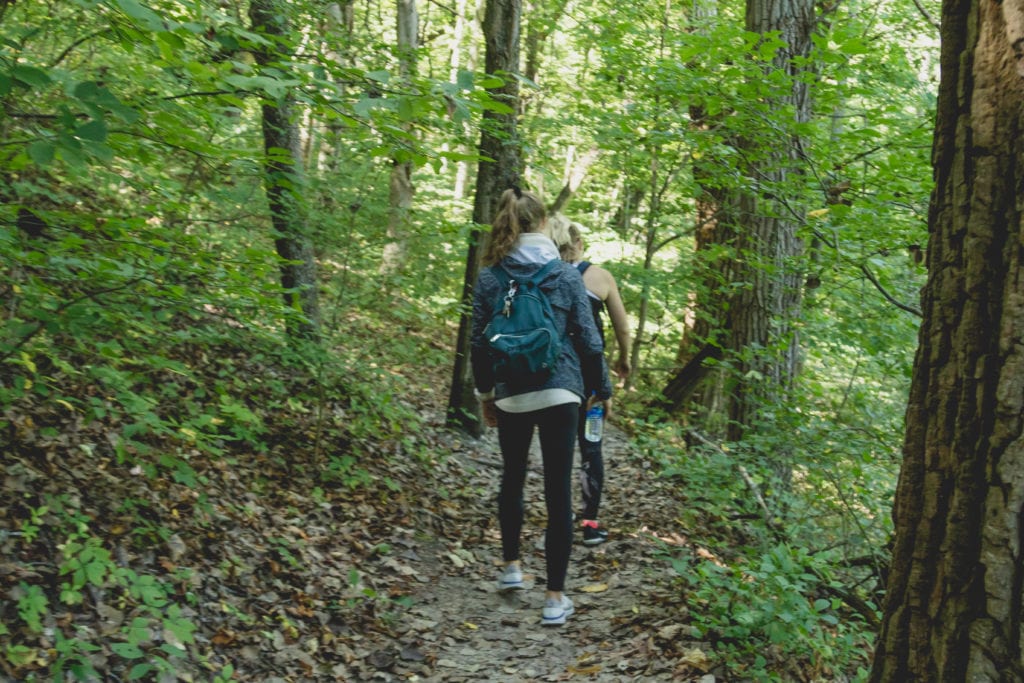 When you unplug, the world doesn't stop turning
Ever open your email app and see that it was last updated six minutes ago or wonder why you don't have 17 new texts when you can't put your phone down for more than 45 seconds? Same with Instagram, Twitter, Facebook, and Snapchat? Ever do this, realize you spend too much time on your phone, put it down, and repeat the cycle five minutes later? Yeah, me too.
On an eight mile trail deep in a canyon in rural Utah with no service, there was no reason to dig my phone out from under the pile of protein bars burying it in my backpack. I found that when I did check my phone post hike, cell service restored, I wasn't mindlessly scrolling through Instagram stories of people I haven't seen since college, but actually catching up with people I wanted to hear from and enjoying my time on my phone much more. And I was more than capable of responding to all of my emails without checking my phone 15 times every hour.
Mix up your workouts to challenge yourself differently
While some light yoga or post-hike stretching may have been advised, on my hiking trip, hiking was my only form of exercise—that's more than okay.
But when I got home and headed to my usual spin class, I figured I was ready to crush it after what I'd put my legs through the previous week. Turns out my body was no longer used to that type of cardio and it was a lot harder to get through than I expected.
[5 Mistakes You're Making on a Spin Bike]
In general, it reminded me that as much as I might love one form of fitness, it's important to mix things up a bit and give my body a healthy dose of different workouts.
[5 Signs You're in a Fitness Rut—And How to Shake Up Your Routine]
You have to put time and effort into your friendships
Everything is better with friends, right? I went to college in a different city than where I grew up and then made another big move after college, so my friends are pretty spread out across the country. Some have even had the audacity to make international moves. And while they're all living their best lives and I couldn't be happier for them, it would be really great if someone could just invent teleportation already.
Long distance friendships come with a lot of quick visits, extended layovers, and rushed happy hours on business trips. It's been a minute since I've gotten so much uninterrupted time with a friend who doesn't live in the same city as I do. And really, nothing tests a relationship like camping and road tripping.
A major takeaway for me after this trip is to always prioritize and maintain friendships no matter how far away your friends are or how long it's been. I'm also feeling re-inspired to make the most of the time you have with those friends who you can't see quite as often, even if you do have to squeeze them into a 48 hour visit to your hometown.
Go with the flow (literally)
Anyone who's made the trip out to Zion National Park has heard of The Narrows, supposedly an incredibly beautiful hike through a canyon. It's listed in the park guide as a must-do trail. When I told friends and family I was headed to Zion, they asked if I planned to do The Narrows. Sign me up.
Well, according to the National Park Service, "during storms, runoff is funneled rapidly into the Narrows. During a flash flood the water level rises almost instantly – within seconds or minutes. Flash floods are common in Zion and hikers have been stranded, injured, and even killed by venturing into narrow, flood prone canyons." Yikes.
With the flash flood potential listed as "probable" every day we were in Zion, we had to opt out of the trail I was most excited to hike. At another park, thunderstorms threatened (and to a degree, succeeded) to cancel every afternoon.
Just like in life, things on vacation go wrong. We could have cursed Mother Nature for ruining our plans, expressed our frustrations to some innocent park ranger, or sat in our Airbnb sulking about how we weren't hiking on our hiking trip. Instead, we made the most of our vacation.
Whether it was choosing another trail with high ground in the event of a flash flood or ordering a pizza at 1pm on a Tuesday and then hanging out in an indoor hot tub and playing ping pong, we had fun. While some of those activities weren't quite what I had in mind when I booked a week of hiking, they were fun and spontaneous ways to make the most of a literal rainy day.