10 Fun Ways to Celebrate National Girls' Night In Day
I think we can all agree there's nothing better than that warm and fuzzy feeling of hanging with your girlfriends on a night in. "National Girls' Night In Day" was founded by Ketel One Botanical in 2018 and is celebrated each year on the 22nd of September. 
This day is meant for women to spend time bonding and developing their friendships through having fun in the most comfortable setting. It's intended to be a judgment-free gathering with your most loyal and loving crew. So gather your besties and determine where the festivities will take place this year.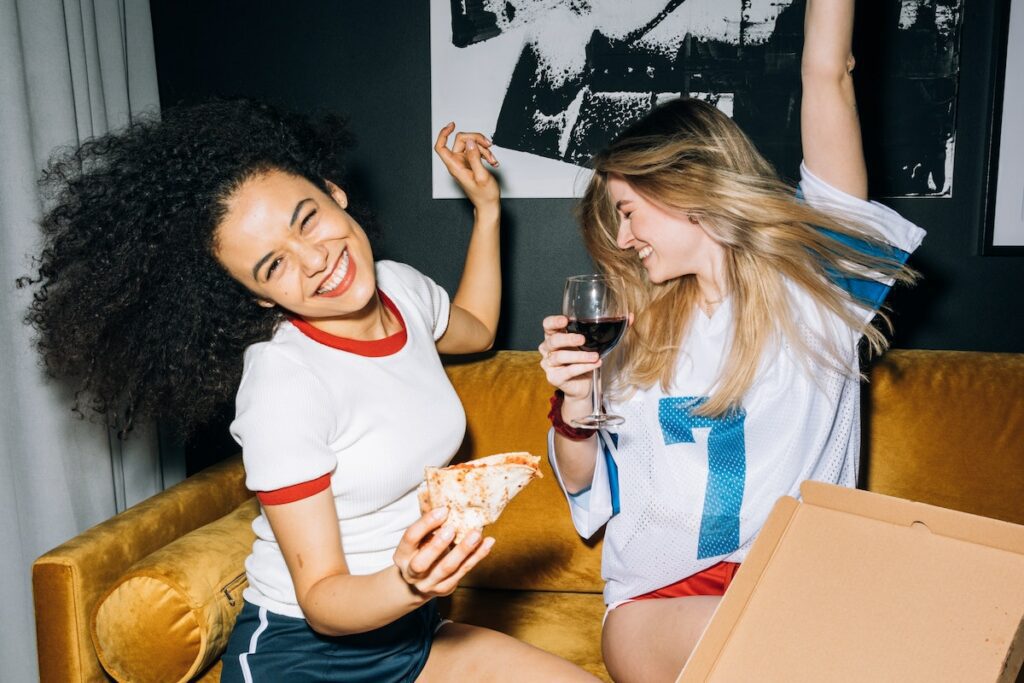 How to celebrate National Girls' Night In
Below is a combination of my tried-and-true girl gang activities and a few new ones I'd love to explore. While you don't have to spend the night in, these fun activities will help ensure you and the girls are having the best time all night.
1. Workout
It's never a bad time for a little exercise, am I right? Well, if not a full HIIT workout, maybe you can kick the night off with a relaxing yoga flow or even a group meditation. Adding a little physical activity to the night can help everyone shake off their work woes and relationship hardships and focus their attention on being present with the ladies they love.
2. Drinks and snacks
Would it be a hangout without them? One of the only requirements for a girls' night in is food and beverages. Whether you're opting for charcuterie boards and wine, pizza and beer, or a full buffet and craft mocktails, this fuels the night and sets the tone for the evening. 
3. Crafts
Is creativity through art not really your thing? That's not a problem with crafts like creating floral arrangements or succulent gardens. You could also integrate dessert into your crafting by decorating cookies or chocolate-dipped strawberries. That way any failures will still be delicious.
4. Tarot card reading
Mercury retrograde got you down? Time to move forward with positivity. Give each other tarot card readings to see what great things are on the horizon and determine where you should point your energy in the coming weeks and months. Now is a great opportunity to lean on your support system if there's anything more serious you're dealing with that you want to share with them.
5. Dream boards
Your closest girlfriends know everything about you, so who better to envision your future with than your squad? They can help you feel comfortable sharing your innermost hopes and keep you focused on the things life is really all about. If it's time for a reinvention, they've got you covered there too. This is the time to be yourself and map out your dreams and vision for the future, in an aesthetically pleasing way, of course.
6. Manicures and pedicures
Could there be a more quintessential sleepover activity? I think not! I've recently been on a press-on nail kick because they're so affordable and easy. This article lists 12 of the best nail sets this year, where you'll be sure to find a design, shape, and length that suits everyone's different styles. 
7. Makeovers
Which friend of the group is ready for a little refresh? You could do something big like dying someone's hair or you could try something small-scale like waxing eyebrows. Whatever confidence boost is needed, your friends have you covered. No matter what, it's sure to be fun because you're doing it together!
8. Games
Remember having the most fun taking magazine quizzes to find out definitely false things about yourself? Bring that back! Look for some silly online quizzes or you could try a few of the outrageous TikTok filters. You could even round up your favorite classic board games or do a couple of rounds of karaoke. The only thing more fun than games is capturing cute content while playing them.
9. Movies
Are you the friend who falls asleep halfway through the movie? There's no shame in that during a girls' night in, especially if you schedule the movie at the end of the night when things are winding down. You can always opt for a Netflix show binge instead.
10. Skincare/spa routine
Really, how good are your friends if they don't remind you to hydrate? Whether it's a night in or a night out, hydration is vital — and on a night in, so is moisturizing. You can feed your soul and your skin with a face steam, a fun mask, or some deep exfoliation. Set the mood with essential oils in an oil diffuser and let the relaxation commence. 
The bottom line: Whichever activities you choose, know that the fun you have on a girls' night in is unparalleled! Enjoy celebrating on this day designed for social self-care.
*Writers note: "Girls" in this article refers to all girls, gurls, gays, guys, and anyone looking forward to celebrating a fun night in with their closest friends!