Studio Three's Co-founder Talks Expansion, Culture and His Own Fitness Journey
This episode of #WeGotGoals marks the start of our seventh season of the podcast. Because we're celebrating the 10th anniversary of aSweatLife, we made sure to include goodies from the studios we're chatting with for you, so make sure to listen, share with a friend and try something new.
And also, make sure you don't miss a single episode by subscribing wherever you get your podcasts including Apple Podcasts and Spotify.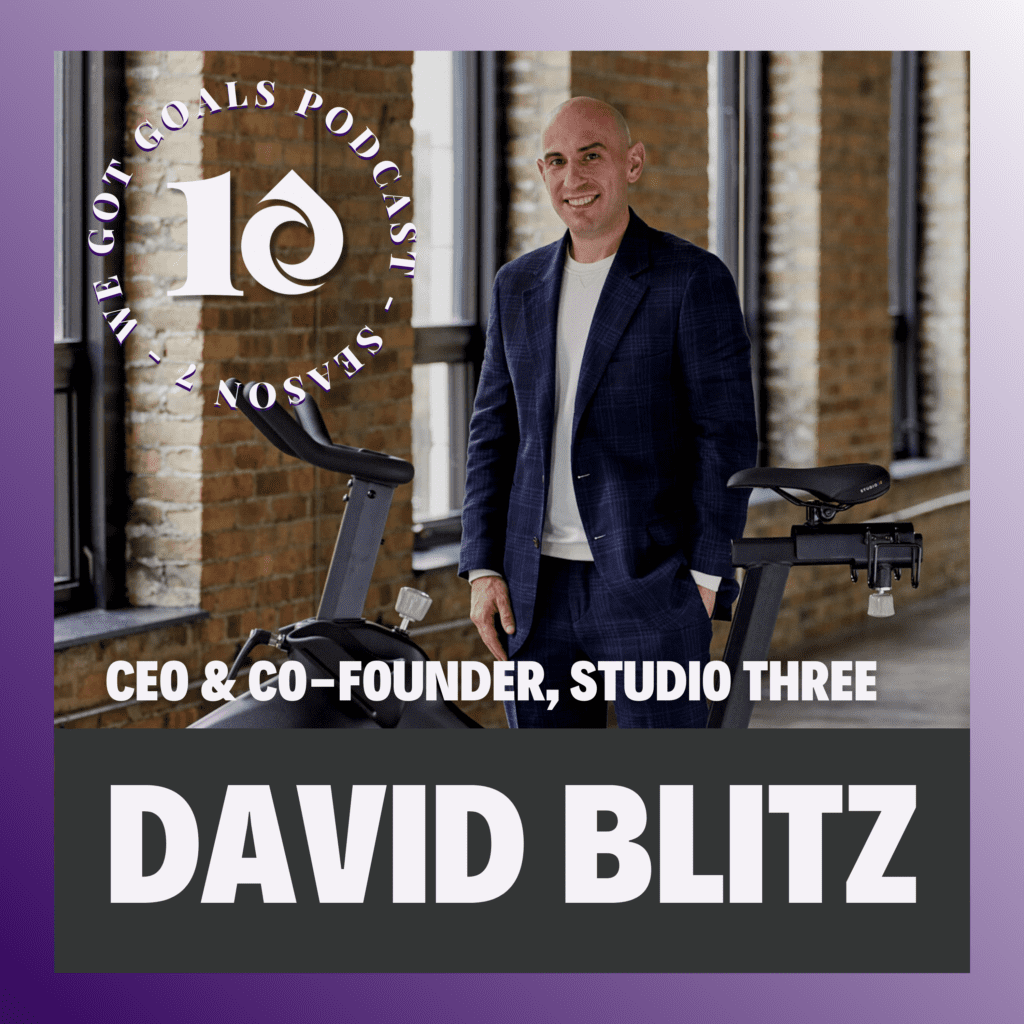 When I started aSweatLife, I felt like I was constantly doing research. I would walk down the streets of Chicago with my head on a swivel, exploring new studios opening their first location or expanding to the market. If you remember, 5 to 10 years ago, it was an insane time for studio fitness. New concepts, new hybrids, and star instructors were building brands with no end in sight. 
I remember walking down Erie street in Chicago's River North neighborhood in 2015, and seeing this beautiful, old brick building wrapped in billboards that told us Studio Three was "coming soon." After an extensive rehab of the building and buildout, it opened with three different fitness offerings in its walls. The interval studio had strength, rowers, and treadmills for all sorts of heart-racing workouts. The yoga studio was light, airy and heated. And the cycle studio was an arena of bikes, so everyone had the best seat in the house.
This week on the podcast, we're speaking to David Blitz, co-founder and CEO of Studio Three. You'll hear from David about what led him to become obsessed with studio fitness and inevitably to open the first location.
And that first location is where I discovered Studio Three, taking classes as a general participant and hosting events with aSweatLife. I have memories of incredible, restorative yoga, intervals on a rower with some of my favorite instructors and workouts on the bike – both back when Studio Three was a Peloton production studio and after it broke away and created its own unique technology. 
For aSweatLife, Studio Three was a dream location for events. It was the perfect place to do our favorite kind of event: the crawl – or three 30-minute versions of classes, generally strength, cardio and yoga. We specifically loved that we didn't have to worry about concocting a rain-plan there. 
And this balance that we sought for a crawl was the same balance David and team wanted to create for athletes like you and me (yes, we're all athletes) to cross train for whatever goals we're chasing.
From that first location in Chicago's River North, Studio Three expanded to Lincoln Park, Fulton Market and has locations planned for Austin, Texas and Miami, Florida.
And, you'll hear us speak to the way Studio Three pivoted during the ongoing global pandemic to keep its staff employed and its community moving. You'll also hear about the launch of the Studio Three app (on both iOS and Android) as well as some exciting new features coming soon.
Resources:
Listen to the episode to get access to the studio's offer!
Find Studio Three online and check when its coming to you
Follow David Blitz on Instagram
Follow Priya Shah on Instagram