7 Ways to Protect Your Hair While Working Out
Exercise has proven mood-boosting benefits. But it turns out working up a sweat can have some negative consequences when it comes to your hair. 
"Sweat has a high salt content and can make the hair dry and frizzy," explains Ghamina Abdullah, hair expert with TheRightHairstyles.com. "If you wash out the sweat with shampoo every time, you risk more dryness and frizziness." 
Washing your hair too frequently can also cause your color to fade faster, notes Dani Everson, hairstylist and owner of Clementine's Salon in Denver.
Luckily, there are a few easy steps you can take to mitigate these downsides and swap in the best protective styles for working out. Here are the best ways to protect your hair before, during, and after a workout.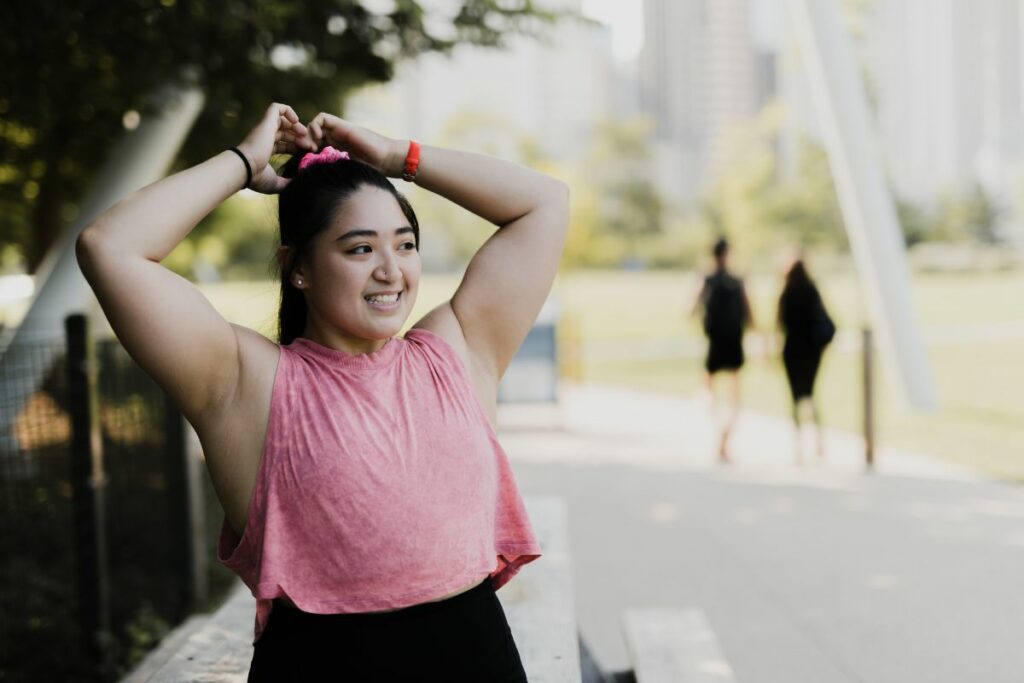 1. Apply conditioner before exercising
"Applying a mask to your hair, or even just a leave-in conditioner, prior to working out can leave your hair glossy, soft, and smelling great," says Abdullah. Use enough conditioner or hair mask to coat your hair, then pull your hair up into a bun or ponytail.
"When you're ready to shower, rinse the conditioner out along with all the sweat and bacteria that cleansed itself from your hair follicles," suggests Abdullah. "Leave your hair to air dry, brushing it midway, and it will be gorgeous."
As for what leave-in conditioner or hair mask to use pre-workout, Abdullah is a fan of the following options:
Verb Ghost Hair Mask ($20, sephora.com) for lightweight conditioning 
Davine Nounou Hair Mask ($36, amazon.com) for deep nourishment 
Noughty to the Rescue Intense Moisture Treatment ($12.99, amazon.com) for dry, curly hair
2. Wear your hair in a high bun
"You definitely want to keep your hair out of your face so that you can avoid an acne breakout," says Abdullah. "It's also good to keep your hair tied up so that it's not whipping around or getting under you."
She adds that when you leave your hair out, you also leave it exposed to damage, so wearing a high bun can help keep your hair protected.
"High buns on textured and curly hair work well too," says Abdullah. "They also help keep your curls in shape in case you don't want to go through a wash routine on the day of your workout." So, consider a high bun one of the best protective styles for working out.
3. Choose the right hair elastic
"The best way to prevent damage while working out is to wear a scrunchie—silk preferred— and keep your hair pulled up," says Everson. "Scrunchies help avoid any creases and gently keep your hair pulled back and out of your face." We're fans of Slip Large Silk Scrunchies ($39 for six, sephora.com).
Allyson Carter, hairstylist and editor-in-chief at Hair Spies, meanwhile, recommends spiral hair ties, like the Invisibobble Power ($10 for five, ulta.com).
"Regular hair ties can apply too much pressure on the roots of your hair and can ruin the general shape of the hair," she says. "If you move around when working out, your hair can get uprooted."
4. Reach for a sweatband
An easy hack to prevent sweat from wreaking havoc on your hair? "A tip I love is to wear a sweatband during a workout to help absorb some of the sweat," says Everson.
We like the Lululemon Fly Away Tamer Headband ($12, lululemon.com) because it wicks away moisture and has velvet on the underside to help keep it in place without damaging your hair. 
5. Braids are some of the best protective styles for working out
Some of the best protective styles for working out if you have natural hair just so happen to be braids, says Carter.
"This is because your scalp will be able to breathe, minimizing sweat and buildup in the hair," she explains. "These styles will also keep hair out of your face, which is also great."
6. Use dry shampoo strategically
"Find a good dry shampoo that you can use in between washes to absorb any sweat and oils that will keep you feeling fresh and clean without having to wash," says Everson.
However, keep in mind that dry shampoo can be drying (hence the name!), says Abdullah. It can also mix with sweat when used too often and irritate your scalp or clog the hair follicles, leading to folliculitis, she adds.
So it's best to use dry shampoo sparingly. For example, if you work out three times a week, use dry shampoo for one of those three workouts, suggests Abdullah.
When it comes to finding the right dry shampoo, Abdullah recommends using a non-aerosol version as these formulas will be gentler on your scalp. She likes Rahua Voluminous Dry Shampoo ($32, net-a-porter.com), which contains minerals and clay to absorb excess sweat, oil, and dirt. 
You can even apply dry shampoo before a workout.
"Use it prior to your workout to help keep the sweat from damaging your hair," says Abdullah. "After you release your hair from your high bun, just brush and go."  
7. Refresh your hair with a post-workout mist
"Post-work-out, be sure to spritz some product in your hair to revive and refresh," says Everson. She likes post-workout mists, such as Ouidad No Sweat Post-Workout Mist ($29, macys.com) and SWAIR Showerless Shampoo ($13.30, amazon.com). 
These post-workout mists work differently than dry shampoo. They have wet formulas that gently cleanse your hair and get rid of sweat, dirt, and oil without leaving behind any residue. (Your hair will be slightly damp when you use one of these sprays.) All you have to do is spray onto dry, dirty hair and tousle with a towel to activate the formula.