A New Snack Brand (Finally) Makes Veggies a Must Have For Your Summer Adventures
Your summer calendar is filled to the brim with your weekly kickball league, post-work happy hours on the days you're back in office, mornings spent reading in the park, and longer weekend adventures like hikes, beach days, and road trips. One thing's for sure: you're going to need a lot of snacks to keep up.
You're probably already resigned to the fact that you'll be relying on the same ol' pre-packaged snacks for these kinds of situations. After all, you need something easy to throw in your bag that won't leak or make a mess if it happens to get crushed by a rogue kombucha bottle. And even if you're pretty good about snacking on veggies at home, the work of washing them, cutting them, and searching for a plastic bag to pack them in doesn't really fit with a spontaneous summer lifestyle. But what if you could have something new, different, delicious – and they were REAL veggies?
Here's your new solution: air-dried veggie snacks that are made to go anywhere you go! Dirt Kitchen Snacks believes that the best things in life come from the dirt – so they snackify real, recognizable veggies to enjoy anytime, anywhere. 
Let's dig into what these summer savers are all about!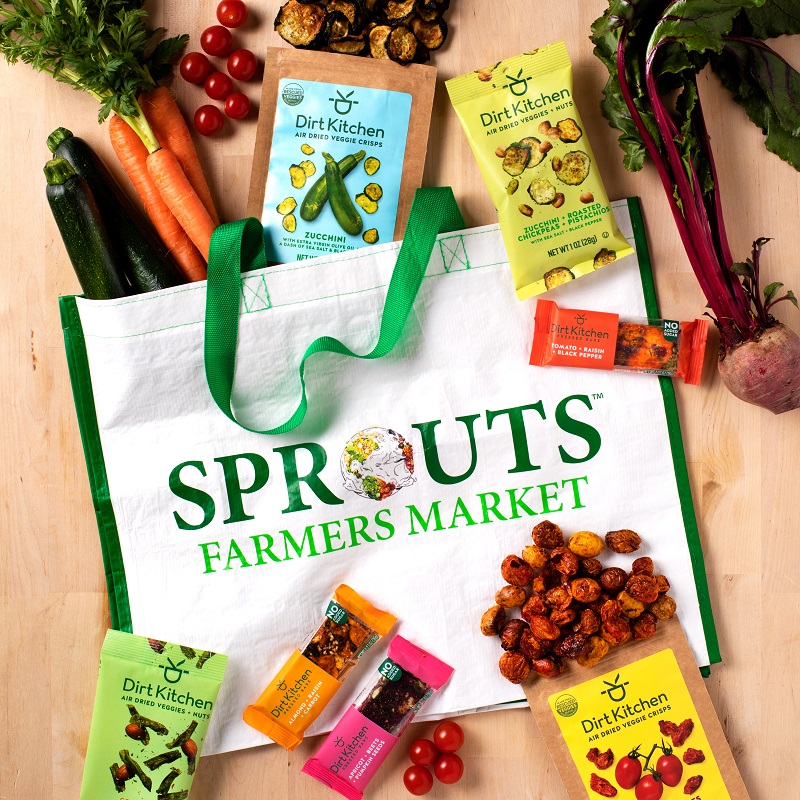 What are air-dried veggies?
Air-dried veggies, as you may have guessed from the name, are veggies that have been dried to crispy perfection using a rapid, low-temperature method. This maintains the authentic flavor and goodness of the veggies.
Air Dried Veggies + Nuts from Dirt Kitchen Snacks take real veggies and nuts and toss them with herbs, spices (think lemon, garlic, sea salt) and nuts and come in two delicious varieties.
What are the benefits of air-dried vegetables?
First and most importantly, air drying maintains the authentic flavor, goodness and crunchiness of real veggies. Dirt Kitchen Snacks are minimally processed, simply seasoned, and made with real food ingredients whose names you recognize.
And while you're munching away, you can feel confident knowing that air-dried veggies are helping you stick to your health goals. Because air-drying only removes the water content of vegetables, you get all the same nutrients that you'd find in raw veggies – just in a more concentrated (and convenient) form. Plus, all of Dirt Kitchen's products are non-GMO, vegan, gluten-free, and have no added sugar.
Air Dried Veggie Crisps are not only good for you, they're also good for the planet because they help reduce food waste (talk about multi-tasking). Dirt Kitchen works with a partner to find veggies that were deemed "unsellable" in regular retail stores – maybe because they were too small, too ripe, or in a wonky shape, and rescues them from being thrown out. Then, these perfectly usable veggies are transformed into deliciously crispy snacks.
Want your veggies delivered to you in different (but just as delicious) form? Dirt Kitchen Pressed Bars are made from real veggies, fruits, nuts and seeds simply pressed together into a beautiful bar of bold flavors. Because the ingredients are simply pressed, there are no added sugars, binders or fillers. Basically, what you see is what you get!
So, how can you add Dirt Kitchen Snacks to your next adventure?
Oh, we've got a few ideas. Try planning a picnic and pairing Blushed Bell Pepper Crisps with a new flavor of hummus. Be the hero of your next hike with Zucchini + Roasted Chickpeas + Pistachios (the pistachios will pack in extra protein to fuel that climb). Dedicated to the convenience of a bar? Try the Almond + Raisin + Carrot Pressed Bar for a surprisingly sweet take on veggies. Not sure where to start? Lucky you, there's a variety pack for that.
This summer, give your snacks a nutritious upgrade with Dirt Kitchen Snacks – because the best things in life come from the dirt.