Are Blue Eggs Better for You?
I'm not totally sure when it happened, but sometime over the last ten years, I began gravitating towards light brown eggs at the grocery store, passing over their white-shelled counterparts. Somehow, my brain had reasoned that just like brown rice had more nutrients than white rice, brown eggs must have more nutrients than white eggs. Anyone else relate?
But following that line of logic sent me into a tailspin when Vital Farms launched True Blues, their pasture-raised heirloom eggs with that undeniable robin's egg blue color. Sure, they're beautiful to look at and I can easily imagine them gently nestled in my fridge – but are blue chicken eggs any better for you than other types of eggs?
This clearly calls for a deeper investigation. Here's what to know about chickens that lay blue eggs, whether blue eggs are better for you, and how Vital Farms is keeping their hens (and customers) happy with responsible pasture-raising practices.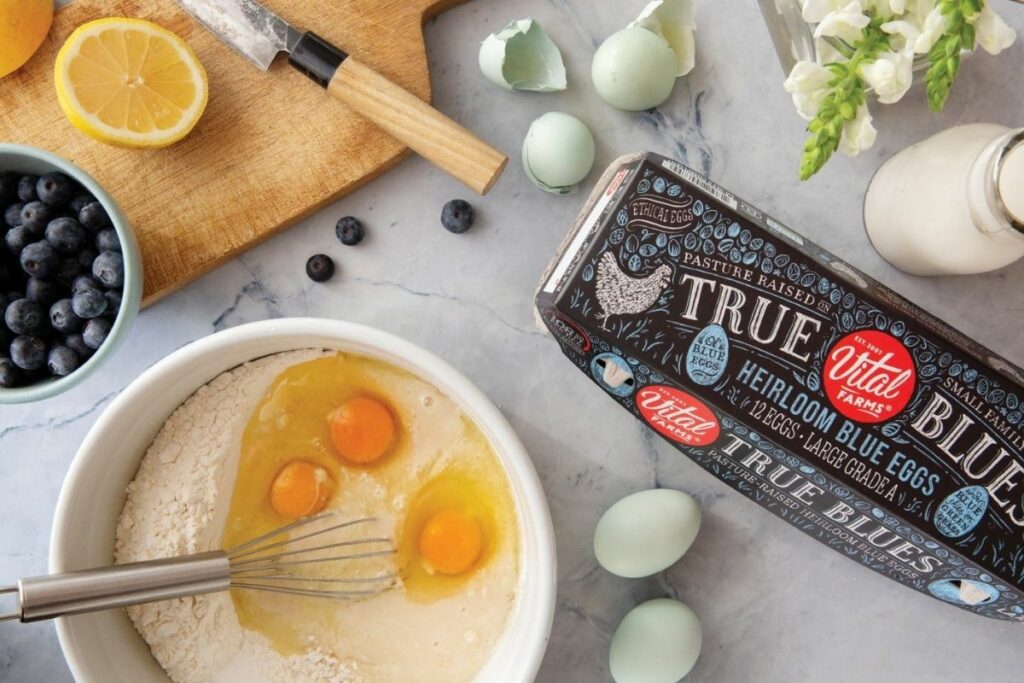 What does the color of your eggs mean?
A quick game of two truths and a lie:
You can tell what color a hen will lay by the color of her earlobes.
The color of an egg is determined by what the hen eats.
There's no nutritional difference between eggs that have different color shells.
"Trick question," you might be thinking. "Hens don't have earlobes!" Reader, as someone who just Googled "what do hen earlobes look like?," I'm compelled to inform you that hens do, in fact, have earlobes – and their color gives you a clue as to what color eggs they'll lay. Mind, blown.
So, we know choice one is true. Choice two, meanwhile, is false. The color of the egg is strictly a genetic thing, determined by the breed of the hen that's laying. For example, most of Vital Farms' hens are Hy-line Browns, which lay brown eggs. Meanwhile, their Azur girls lay the gorgeous blue eggs in the True Blues line.
And rest easy: no matter what color the eggshell is, you're getting the same nutrition benefits of eggs. 
What sets True Blues apart from other eggs
While their signature color might be what catches your eye in the grocery store aisle, what really sets True Blues apart is the ethical, transparent practices Vital Farms follows when raising their hens.
Like all Vital Farms hens, the hens that lay True Blues are pasture-raised (meaning they have over a hundred square feet to roam and graze on a natural buffet of grass). In addition to whatever food they forage, the hens get a little supplemental feed to round out their diets. Finally, Vital Farms also partners with small family farms who prioritize the health and lifestyle of "the girls" (as the hens are known), which they believe is an essential part to a great-tasting egg. 
Ambassador Amy Potter, who recently tried the True Blue eggs for the first time, has noticed the Vital Farms difference when buying her eggs.
"Vital Farms eggs have a much better taste, texture, flavor and quality than generic eggs. I trust them as a brand and how they treat their animals, which is why I always buy them," she explains.
Two True Blue recipes to try
Ready to put those blue chicken eggs to work? Try these two recipes, one from our Ambassadors Amy and Katrina, and one from Vital Farms.
Ambassador-Approved Cookie Monster Cookies
Recipe by Katrina Kuss & Amy Potter
Ingredients
2 sticks (1 cup) of Vital Farms butter (call us crazy, but we like to use salted)
1 tsp of vanilla
3/4 cup sugar
3/4 cup light brown sugar
2 cup all-purpose flour
1/2 cup wheat flour
1 tsp salt
1 tsp baking soda
1 tsp (overflowing) corn starch
1 tbsp Butterfly Pea Flower Powder
1 box vanilla pudding mix
1 sleeve Oreo cookie pieces  (remove the cream and crush cookies into dust)
1 sleeve Oreo cookie pieces (smashed into chunks)
White chocolate chips
Instructions
Using an electric stand mixer, cream the butter until it is a little bit fluffy.
To the mixer, add sugar, brown sugar, vanilla, and eggs and cream together.
In a separate bowl, mix together the flour, pudding mix, cookie dust, butterfly pea flower powder, salt, baking soda, and cornstarch
Slowly add the dry ingredients into your fluffy sugar butter mixture.
Once incorporated, grab a sturdy spoon ( because the batter is real thick) and stir in the white chocolate chips and Oreo cookie chunks.
Portion out some BIG cookie balls – think the size of a nice big scoop of ice cream or the size of a lacrosse ball. Once formed, chill the dough balls for at least 1 hour.
When you're ready to bake, preheat the oven to 400 degrees (this is not a typo), and give the dough balls a very gentle smush onto the cookie tray and pop them in the oven for 10 min.
Mini Lemon Blueberry Muffins
Ingredients
1 2⁄3 cups whole wheat pastry flour
1 tablespoon baking powder
1⁄2 teaspoon sea salt
1⁄2 cup plus 1 tablespoon organic granulated cane sugar, divided
1 tablespoon grated lemon zest
1⁄3 cup avocado oil or sunflower oil
Juice of 1 small lemon (about 2 tablespoons)
1⁄2 cup plain 2% fat Greek yogurt or plant-based Greek-style yogurt
2 large eggs, lightly beaten
1 teaspoon pure vanilla extract
1⁄2 teaspoon pure almond extract
1 cup fresh or frozen blueberries
OPTIONAL: 2 tablespoons white chia seeds