Everything You Want To Know About Your Fertility But Were Afraid To Ask With Dr. Shahin Ghadir
Fertility isn't a taboo topic, but it's one of those things that feels uncomfortable to talk about. Worst of all, individual fertility is also something that remains a major mystery to many of us. But that doesn't mean it should be. Fortunately, Dr. Shahin Ghadir, one of the top and most respected fertility doctors in the world, is not just helping people grow their families. He's also helping women understand fertility better through his podcast The Fertile Life, social media, and webinars.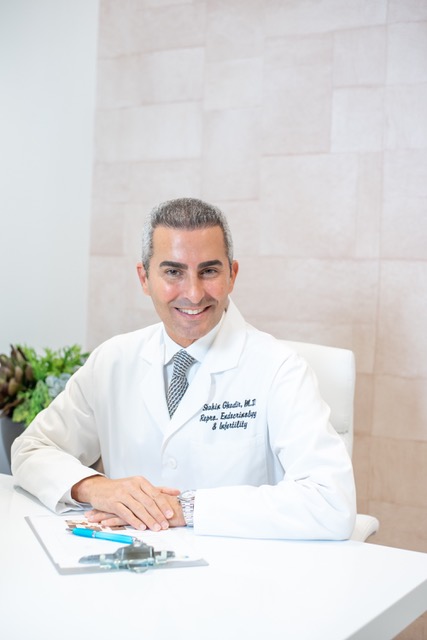 A founding partner of Southern California Reproductive Center, he is double board-certified in Obstetrics and Gynecology and Reproductive Endocrinology and Infertility. He is currently an assistant clinical professor in the department of Obstetrics and Gynecology at the David Geffen School of Medicine at UCLA and at The Keck School of Medicine at USC. He has been continuously voted as one of the Top Doctors in the USA by Los Angeles Magazine's national poll and Super Doctors of Southern California. 
I recently spoke with Dr. Ghadir to learn what all women need to understand about their fertility, what you can do to improve your fertility as well as what to look for when finding a fertility specialist.
Why did you decide to become an OBGYN and then a fertility specialist?
I've always had this innate thing in me about helping people. When I went to medical school though, I thought I was going to be a surgeon, possibly a plastic surgeon. And then I realized that OBGYN was definitely the area I wanted to specialize in because it was a more pleasant area of medicine. It was something that brought life into the world.
Then, I had the fortune of doing a rotation in fertility. And I realized that that was really the area I wanted to go into. It was technologically advancing every second and you were participating in one of the most beautiful acts in the world.
Can you define what fertility is?
If someone can't get pregnant after six months, and they are over the age of 35, by textbook definition, they are diagnosed with infertility.
What does a fertility specialist do?
We not only help people get pregnant, but we're also helping any woman that wants to preserve her fertility for the future. Egg freezing is incredibly important for any female that is approaching 30 (or even between the ages of 25 and 30), but strongly recommended even through the early 40s. Sperm freezing is another key element for men to engage in.
[I also serve] the LGBTQIA community. They must have fertility treatment in order to grow their families.
What are the most important things that women should know about their fertility?
I think that people should be completely aware of the AMH test. It's a blood test that if it's high, you've got a lot of eggs. And if it's low, you have low eggs. I think it should become a routine part of everyone's annual exam. Your OBGYN should be talking about it, but a lot don't. People just do not know and you have to be proactive. 
Is there anything that can be done to improve fertility?
The healthier you are, the better you'll do. But there are definitely unhealthy people that just get pregnant quickly, so there are just so many factors involved. If having a child is something you want, it is better to be proactive and take the measures to give your body the best opportunity to do so.
Your genetics play a big role. I've had a 32-year-old patient who had to use an egg donor because her eggs were no longer viable. I've also had a patient at the age of 48 get pregnant on her own, even after using an egg donor.
Your health has a lot to do with it as well. So abusing and hurting your body with alcohol and excessive amounts of smoking and drugs are things that really can harm fertility. So I think it's important that everyone take good care of themselves, not just for their fertility, but for overall health. But at the same time, it's important to learn to have a good balance of everything. 
Are there any signs to look for that could indicate you might have issues with fertility?
Irregular periods are the biggest signal. A history of STDs decreases your chances of getting pregnant. So it's a variety of different, little things. And I think it involves a discussion with a physician.
What is the process of IVF?
The IVF process in a nutshell involves having great communication with your doctor and explaining everything that's going on. When you get your period, you call the clinic, you go in for blood tests and an ultrasound on day two, three, or even four. 
If everything looks good, we put someone on a birth control pill to stop their natural ovulation cycle. And a week or two later, we put them on injections that trigger your pituitary gland to then trigger your ovary to make its own fuel, which is the estrogen to make eggs. During those 10 to 12 days of injections, the patient will come into the office about three or four times for ultrasounds and blood tests.
Then we're ready for the egg retrieval. It's about a three to 10 minute procedure in our surgery center under light sedation.
We put the egg and the sperm together to make embryos, we let them grow. All the ones that grow nicely get genetically tested. Within a week or two, we get the genetic testing results as well.
We do the second process called the frozen embryo transfer where we prepare your body again with birth control and then some estrogen pills to build the lining. And then the embryo gets placed inside the patient.
What should someone look for in a fertility specialist?
Many patients tell me that they found me because of reviews. And I sometimes look at the reviews and I know exactly who wrote what. But then once in a while, I think, "Who in the world is this?" We have people that used to write reviews that weren't even our patients. So I think getting a general idea of reviews [can be helpful]. And when you read a review, you can tell who's real and not, when people name a nurse and talk about the clinic.
You also can look at the Society For Assisted Reproductive Technologies for success rates of fertility clinics. Sadly, many clinics fudge their results. We're all computerized. So it just automatically gets generated and gets in there. So what you see isn't [always] what you get.
Ultimately, you have to trust your doctor and have a good bond with them, because you're going to be with this person for a few months. If you don't have good communication, they don't return your phone calls on time, or if their staff is not taking good care of you— you're in the wrong place.