The Best Non-Alcoholic Drinks to Add to Your Bar Cart
I've never been a huge drinker. But ever since I hit my 30s, even just downing one or two cocktails at happy hour makes me feel pretty crappy the next day. So for the last couple of years, I've done a Dry January and reaped the health benefits. For those 31 days, I sleep better, I feel more energized, I'm less bloated, and I even enjoy clearer skin.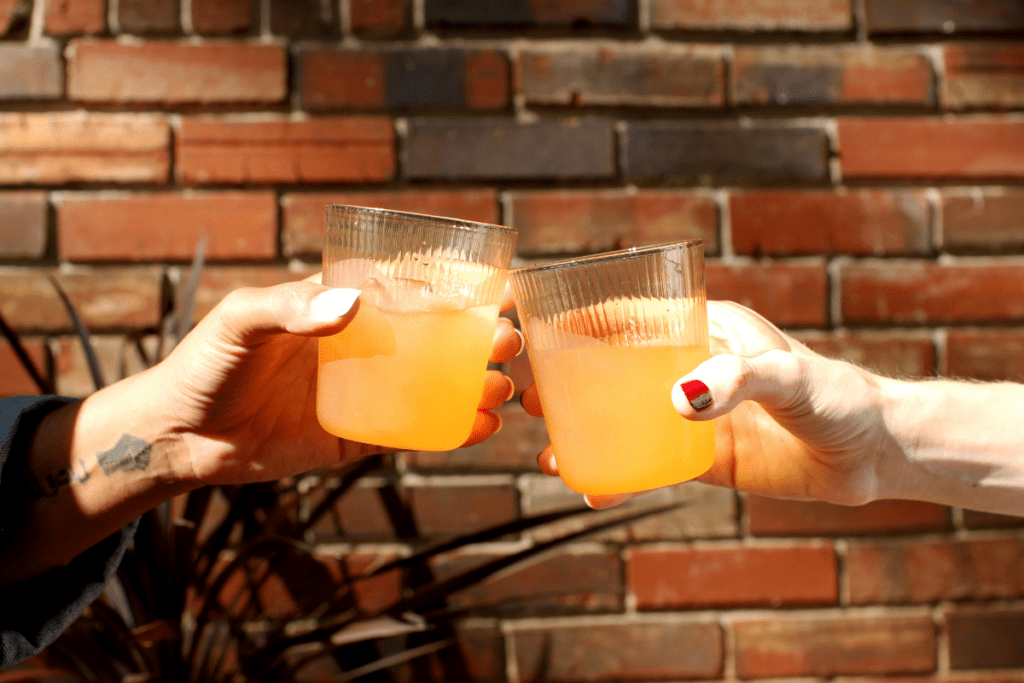 If you're sober curious and thinking about participating in Dry January this year, you're in luck. You don't have to sip boring seltzer for a month. There's been an explosion of non-alcoholic beverages on the market in recent years, and many of them are quite delicious. You can find everything from beer to wine to spirits to pre-made cocktails to satisfy you (without a nasty hangover).
Which ones are worth your money? I scoured through reviews, taste-tested many popular options, and chatted with Hilary Sheinbaum, author of The Dry Challenge, to find the best nonalcoholic drinks in every category. Trust me: These are so good you won't miss the booze.
Go ahead and stock your bar cart, and fridge, with the best of the best nonalcoholic drinks.
Best non-alcoholic beer
Watching a sports game wouldn't be complete without a can in your hand. Sheinbaum is a fan of Gruvi, which offers a variety of non-alcoholic beers that taste like the real deal. Gruvi's IPA is hop-forward and flavorful, while their stout is full-bodied and nutty.
Another popular non-alcoholic beer brand is Athletic Brewing Company, which makes everything from IPAs to sour beers to lagers. Finally, Partake Brewing uses all-natural ingredients for their beers and sells five styles, including the bestselling pale, blonde, and IPA varieties.
Best non-alcoholic wine
Pair your pasta dinner or cheese plate with a can or bottle of non-alcoholic wine. Sheinbaum has two recommendations in this category. The first is Sovi, founded by a husband and wife team. The wife, Julia, is a sommelier and really knows her stuff. "The cans are small enough that it makes them easy to transport, so you can stick them in a day bag for an afternoon at the beach or a picnic," says Sheinbaum. Choose from a red blend or sparkling rosé.
Sheinbaum's other pick is Starla Wines. "The word 'chic' comes to mind immediately," she says. "These non-alcoholic wines — white, red, and sparkling rosé — are perfect for a girls' night or if you're hosting a fashionable soiree."
Best non-alcoholic sparkling beverage
Toast a special occasion with a bubbly non-alcoholic bev. TÖST Non-Alcoholic Sparkling Beverage is the perfect champagne alternative. Made with white tea, white cranberry, and ginger, it's dry, refreshing, and looks so pretty in a flute.
Best non-alcoholic tequila
Serve chips and guac with a side of non-alcoholic margarita. Ritual Tequila Alternative is one of the highest-rated non-alcoholic spirits in the world, and for good reason. With notes of blue agave, lime, and guava and a smoky, mesquite finish, it has the taste you come to expect from tequila without the side effects.
Best non-alcoholic gin
Mix yourself a classic gin and tonic with Monday Zero Alcohol Gin. Made from natural ingredients, it can be used as a 1:1 alternative in cocktails and has the flavors you come to expect from real gin: juniper, citrus, and spices.
Best non-alcoholic bourbon
For bourbon cocktails, turn your attention to Free Spirits The Spirit of Bourbon. It's rich, oaky, and velvety-smooth and can be used to make everything from old-fashioneds to mint juleps.
Free Spirits also offers premium non-alcoholic gin and tequila. "I love this brand because there are three varieties, so I can make any drink typically made with tequila, bourbon, or gin without sacrificing taste," says Sheinbaum. "Also, the bottle and branding are elevated, not cheesy, so you can take it to parties as a hostess gift."
Best non-alcoholic rum
Transport yourself to the beach with a booze-free tropical cocktail made with Sexy AF Spiced Yum, a versatile rum alternative. It's made with botanicals including vanilla, ginger, and nutmeg for that spiced rum flavor that tastes so good in pina coladas, daiquiris, and mojitos.
Best non-alcoholic vodka
Whether you want a simple vodka soda or something more complicated, ArKay Alcohol-Free Vodka is your best bet. It has a subtle taste that blends beautifully into mixed drinks, with none of the bite that comes with alcohol.
Best non-alcoholic aperitif
Create fancy-looking, Mediterranean-inspired spritzes and aperitivo cocktails with Ghia Non-Alcoholic Aperitif. This cult-favorite booze-free liquor (one of my go-tos!) is made with botanical extracts and herbs that help calm the mind. For a no-fail recipe, pair it with sparkling water, a rosemary sprig, and orange zest.
Best non-alcoholic cocktails
Of course, if you'd prefer to not have to make a drink yourself, there are plenty of pre-made non-alcoholic cocktails out there, from Moscow mules to Italian spritzes and beyond. Some of the best brands to try include:
Three Spirit: "Not only are all three variations delicious for mixing beverages, it's pretty cool that these alcohol-free drinks are designed by plant scientists and bartenders," says Sheinbaum. "They provide a buzz without the booze, and each is meant to be consumed at different points of the night — at the beginning, middle, and end."
Curious Elixirs: My personal favorite, Curious Elixirs makes non-alcoholic cocktails infused with adaptogens to help you relax. Drinks include the No.1 (pomegranate cocktail inspired by the negroni), No. 2 (a spicy pineapple margarita), No. 3 (a refreshing cucumber beverage), and No. 4 (a booze-free blood orange spritz).
SPIRITY Cocktails: "If you love cocktails but want to avoid a hangover and mixing them from scratch, SPIRITY offers classics including the Moscow mule, negroni, margarita, and more, sans alcohol," says Sheinbaum. "No mixing, muddling, or shaking needed — just pour and sip."