The Best Workout For You Based on Your Favorite Taylor Swift Album
As Taylor Swift continues to release Taylor's Version of her first six LP's, fans are reminded that her catalogue contains an album to match any mood they may be feeling, from the "sad girl autumn" vibes of Red to the pure euphoria of 1989 to the angst of Reputation. The unique sound of each Swift era also means you can turn to her library to soundtrack a variety of workouts, from yoga to running to boxing.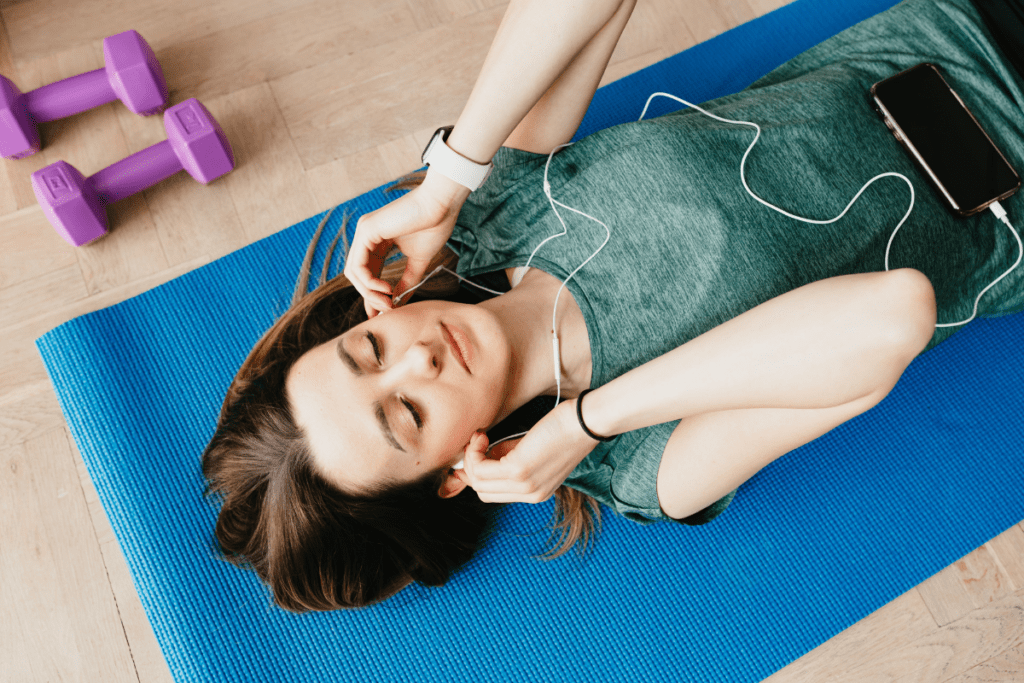 As a longtime Swiftie and fitness professional, I wanted to help you identify the best workout to do based on your favorite Taylor Swift album, or whichever album is speaking to you most at a given moment in time. Keep reading below to find the workout of your "Wildest Dreams."
Taylor Swift and Fearless > Walking
The acoustic country flavor of Taylor Swift's self-titled debut and its follow-up are well-suited for a leisurely walk outside. The bouncy guitar accompaniments of "Our Song," "Teardrops on My Guitar," "Hey Stephen" and "You Belong with Me" will put a little pep in your step, but probably aren't quite high-energy or gritty enough to make you sprint.
Speak Now > Barre
Speak Now contains several country-pop hybrids that make for a great barre playlist. Sculpt your seat or abs with non-stop pulses to the beat of up-tempo tracks "Mine," "Sparks Fly," "The Story of Us" and "Better than Revenge." Then stretch out your muscles to ballads like "Dear John" and "Enchanted" between those intense blocks of work.
Red > Running or Jogging
Taylor Swift's most recent re-release encapsulates the feeling of running down an open country road covered in autumn leaves. Get lost in the driving beat of country-tinged hits like "State of Grace," "Red," "We Are Never Ever Getting Back Together" and "Starlight," and you'll log a few miles with ease. Then bust out a final sprint on the beat drops of "I Knew You Were Trouble" to empty the tank. And of course, don't forget your cool down stretch to the 10-minute version of "All Too Well."
1989 > Dance
With a lead single like "Shake It Off," 1989 is undoubtedly the album to put on when you're ready to dance. Shimmery, 80's-inspired production across tracks such as "Out of the Woods," "I Wish You Would," and "New Romantics" will make you feel like royalty on the dancefloor. Plus, the hard-hitting remix of "Bad Blood" featuring Kendrick Lamar wouldn't sound out of place during a hip-hop dance class.
Reputation > Boxing or Weight Training
Swift came to set the record straight with Reputation, and I can't think of a better energy to carry into the boxing ring or weight room. Fiery production on bangers like "Ready for It," "I Did Something Bad" and "Look What You Made Me Do" will have you throwing knockout punches and pumping iron heavier than ever before. While the album features some softer numbers including "Call It What You Want," the overall essence of Reputation will leave you feeling far from "Delicate."
Lover > Indoor Cycling
Lover offers listeners a variety of up-tempo songs with different beats per minute that make for a fun indoor cycling workout. Challenge yourself out of the saddle on jogs such as "You Need to Calm Down" and "Cruel Summer," and sprint as hard as you can in the saddle on the likes of "The Man" and "Paper Rings" for a well-rounded sweat session.
folklore > Yoga
The soothing sounds and masterful storytelling on folklore will put you in the right headspace for a relaxing yoga flow. Build some heat in the quads with a vinyasa flow to "the last great american dynasty," or find peace in reclining bound angle pose to "the 1." There's a track on this album to accompany whatever type of yoga speaks to you most.
evermore > Pilates
While still boasting a folky, acoustic sound, evermore packs a little more punch than folklore (see "no body, no crime" and "willow"), suiting it well to Pilates. Like yoga, Pilates is great for strengthening the mind-body connection, but involves a little more intensity with precise, controlled movements and a heavy focus on core work on the Reformer.