What to Do If Your Marathon Training Didn't Go to Plan, According to Peloton's Becs Gentry
As fall marathon season winds down, runners may be stressing if their training didn't go perfectly. Whether it was an unexpected injury, a family vacation that fell during your peak week, or simply struggling with motivation, it's totally normal to have to adjust your marathon training plan. Life happens, after all.
But if that's the case, how should you adjust your race day goals? We asked Peloton Tread and Strength Instructor Becs Gentry for her best advice. Here's what to do if your marathon training didn't go exactly as planned.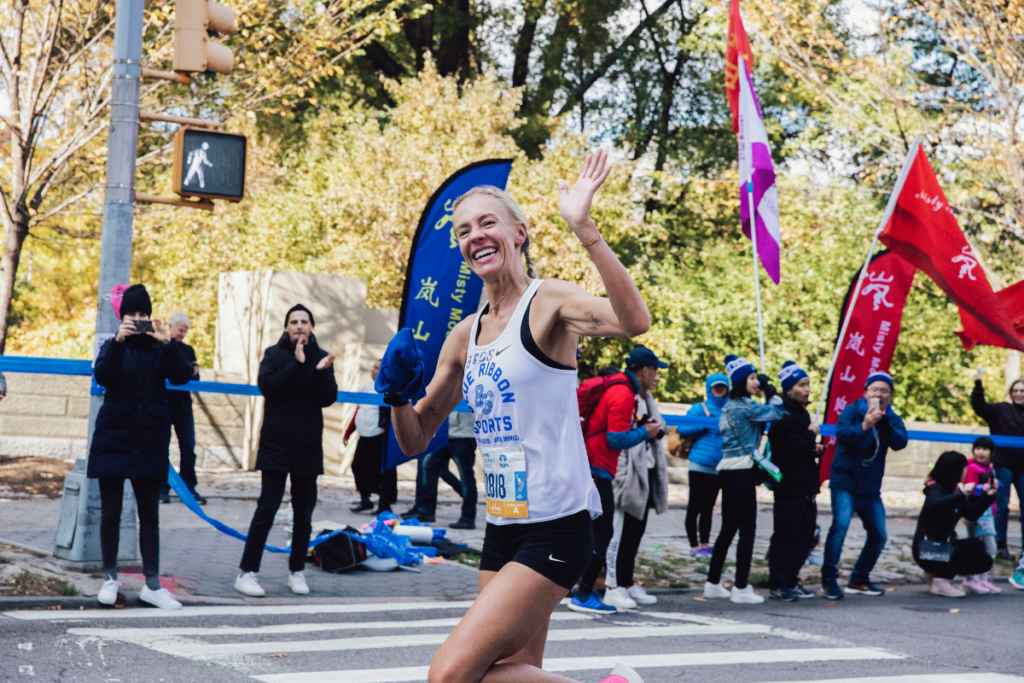 First, know what parts of your training to prioritize
When you're staring down a marathon training schedule, it's easy to get overwhelmed. Between speed work, recovery runs, cross-training, and long runs, marathon training is a major endeavor. Often, runners find themselves working out 5-6 days a week for 1-3 hours at a time. In that sense, marathon training is basically a part-time job.
But what if there are weeks where you simply don't have the hours to hit every training run? In that case, know what parts of your marathon training you should prioritize and which you can drop.
"The long run is the absolute most important run of a marathon training schedule every single week," stresses Gentry. "This run is the bread and butter of your endurance training and allows you to gradually increase your long distance duration and understand how this affects your body." So, keep that one if at all possible—even if that means moving the run from a weekend to a weekday.
As for the other building blocks, it depends on your goals, says Gentry. For example, if you're not trying to hit a certain time, you can probably skip a speed training session. Gentry, as an elite runner with lofty goals, tends to skip her cycling cross-training, since it's not time spent running.
Understand that you can't "make up" missed sessions
If you spend a week down with the flu or a slight twisted ankle, your first impulse might be to double up on training the following week. Gentry's response? Absolutely not. Here's why.
"If you miss more than a week of cardiovascular movement, as in bedridden, you will inevitably feel the impact on your breathing and movement when you return to training," she reasons. "It's important to not try to make up the missed sessions, as overtraining is something you will feel on race day.  If you have to miss a few days it will probably affect your mental attitude more than anything."
So, jump back in where you left off, and adjust your mileage as you continue to recover.
Arrive at the start line healthy—and then figure it out
Bad news: there's no such thing as "cramming" for a race like you would for an exam. In fact, overtraining towards the end of your training cycle can really only hurt you on race day, says Gentry.
"Cramming is not going to help. It will hinder you as you will over exert yourself and over train, resulting in fatigue and a higher risk of injury," Gentry says. "The best thing to do [if you miss weeks of training] is re-evaluate your goal for the race and settle your mind on doing the best you can that day, and focus on the celebrations of crossing the finish line." 
Adjust your goals to be focused on fun and feeling strong
We say this all the time when we're talking about goals. We love setting big goals, and we accept that we might have to adjust them based on life's realities. Same goes for marathon training, says Gentry.
"If you were thrown a few curve balls during training then the race should turn into a joyful run," she advises. "Focus on the experience of the course rather than proving a level of physical exertion that doesn't sit well with your current fitness ability on the day." In other words, accept yourself as you have shown up that day, and run with that reality. 
That said, it can be emotionally tough to feel like you're giving up on something you've worked for months on. If that sounds familiar, have grace with yourself, says Gentry.
"When prior expectation was not reached, we tend to forget to have grace for our bodies in the performances they give," she says. "All hope and pride can be squashed in one bad run, but the mountain climbed to get to that run was forgotten."
In other words, remember the journey it took to get to the start line—and honor it.
"Race day is just another long run"
"In the end, [race day] is just another long run – you just get rewarded with an 'official time' and a medal at the end," Gentry reasons. "So if training has been tough, that race should turn into a learning experience for the future races—because there are so many others to take part in."
Plus, she points out, if you're too tough on your body when it's not prepared, you risk major injury. In doing so, you might hurt your chances at competing in future races. And when it comes to listening to your body, Gentry knows what she's talking about.
"After the NYC Marathon I was on a high—but I was also injured," she remembers. "I tried to continue through it because the level of pain was masked by adrenaline post race. Once that adrenaline wore off, I realized I needed to stop running."
But delaying that break only delayed her recovery and her comeback.
"[After my injury] I was not ready for NYC Half the following March," Gentry says. "Every training run I did, I was plagued by this knowledge. I found it very difficult to think I was ready for the race. However, it ended up that this race was the first Covid-10 cancellation."
A blessing in disguise? Maybe—and you might find that same silver lining in your race, no matter how your training cycle went.