Race Day Tips from Peloton TREAD Instructor Becs Gentry
I did not grow up a runner, I lived in the pool for most of my childhood, but for the past 10 years I have learned so much from running and have participated in races ranging from a 5k to a marathon.  There is a never-ending learning curve to racing and running, and it keeps the sport exciting.
I have also become familiar with runners whom I admire and look up to and love to take their advice and learn about what works for them and how they got there.  One of those people that inspires me is Becs Gentry. Becs is a Peloton Tread instructor that is known by thousands across the world through her classes as she encourages everyone to run.  Recently she ran the New York Marathon and set a personal record (PR) of 12 minutes. Her energy and attitude radiated as she was able to share some tips of how she has gotten to this point of her running career and how instructing on the Peloton Tread has changed her training.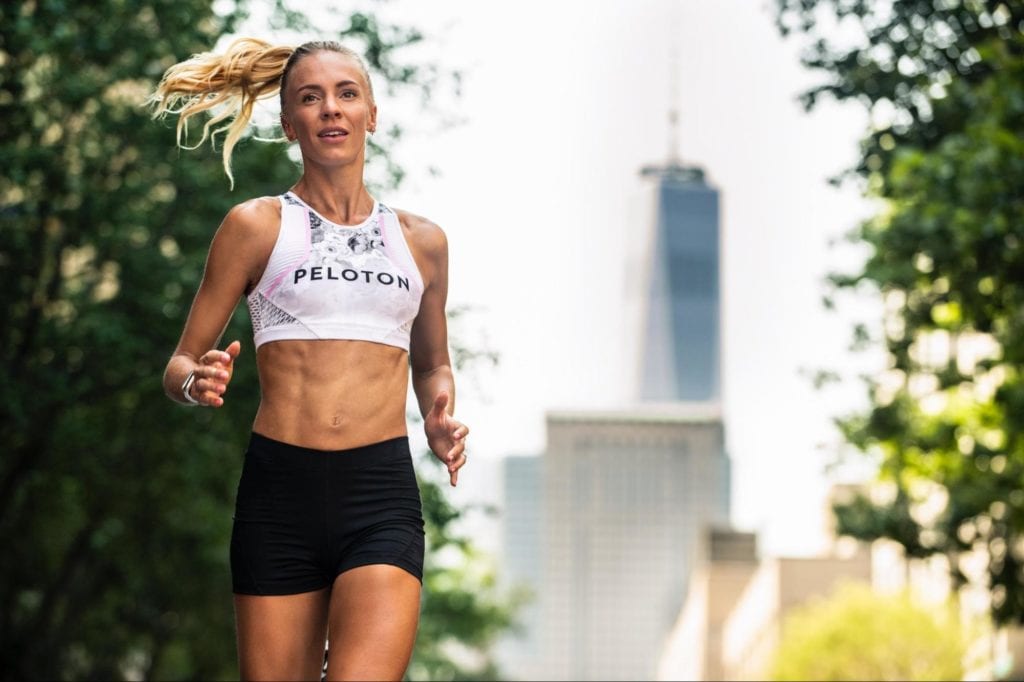 How Becs approaches training for a marathon
Becs had a PR at the Boston Marathon in 2019, and then about 7 months after, PR'd again in New York by 12 minutes to end with a 2:37:01. But since becoming a Peloton TREAD instructor, "my running has never been stronger," Becs says.
Since teaching Tread classes, her mileage has gone up a lot, so she said she has to be "sensible about how much [I] do outside of the studio and how [I] approach my classes in the studio."  She focuses on providing the best classes to the members and tries to ensure her hard training is done outside of Peloton hours.
When she PR'd in Boston, her training did not change much since she had come off an intense training season. What did slightly change was her coach having her run faster speeds than she "had ever envisaged [she] could in speed sessions."  Before Peloton, Becs had "a significant amount of junk miles" in her training.
"Now," she says, "having to be aware of the various types of classes I teach through the weeks makes me keep a positive balance of recovery miles and then hard work." Becs prefers not to risk injury or illness by running outside when it's icy or super cold, so she does the majority of her speed work on the Peloton Tread and finds it easier to hold the pace and form inside than having to deal with GPS issues or the weather.
That doesn't mean that all of her runs are on the treadmill; she does longer speed training (tempo runs) along with some easy and long runs outside. She does prefer indoor speed training as she has not been a fan of the track.
Every running journey will be different, Becs says, and since she ran her first marathon in 2016, she's learned a lot about herself and her running.  Her best advice? Find what works for you and your body—it's a process.
Race day tips for new and seasoned runners
For new runners, Becs says to enjoy the race, first and foremost.
"You have no expectations or time to beat…look up and around you, live in the moment and absorb the experience of what most cities like to describe as their best day," she advises.
For seasoned runners, take the pressure off yourself, and try running with a smile to stay mentally positive and strong throughout the race.
"The more relaxed you can go into the race, the more you will enjoy it and probably perform better,' she points out, encouraging seasoned runners to realize they've put the work in already. Becs puts it this way: the race is the "cherry on top of the cake," the celebration of all the hard work you've already put in over your training cycle.
"Believe in yourself and your hard work, and decorate yourself with that medal in your own way," she concludes.
Best pre-race rituals for the night before
Lay out your race kit 

Pack gels into running belt and have morning fuel ready for the morning

Finish anything you may need from your phone and charge it

Plan your route to the start line in the morning so you're not rushing

Know where friends and family will be during the race – it makes a huge difference to know when you will see people you care about on the course

Look at the exit route from the finish line and how you will get home once the race is done
How to deal with issues on race day
Of course, everyone would love if race day was perfect and there were no challenges that rose that day.  But not every race will have the best weather and your body may just decide to feel off—it happens.
"Running is like Russian roulette," Becs says. "It is very difficult to predict exactly what's going to happen." When things don't go well, whether it was something that you could have controlled or something totally out of your hands, you have to let it go.
"The run does not define you," Becs says. Regardless of your finishing time, you're still the same person, and you didn't fail if you didn't get the time or the race you wanted. Remember, you signed up for the race in the first place for a reason; don't let that be clouded with an unwanted outcome.  Find the fun in each step to keep you motivated during the race, regardless of the time on your watch.