The New Normal of Group Fitness
For group fitness enthusiasts, the pandemic has been a challenging time. Virtual workouts cannot totally replace the community and human interaction found in studio fitness classes. As the world gradually reopens and group activities are reinstated, thankfully fitness classes have returned, notwithstanding in a "new normal."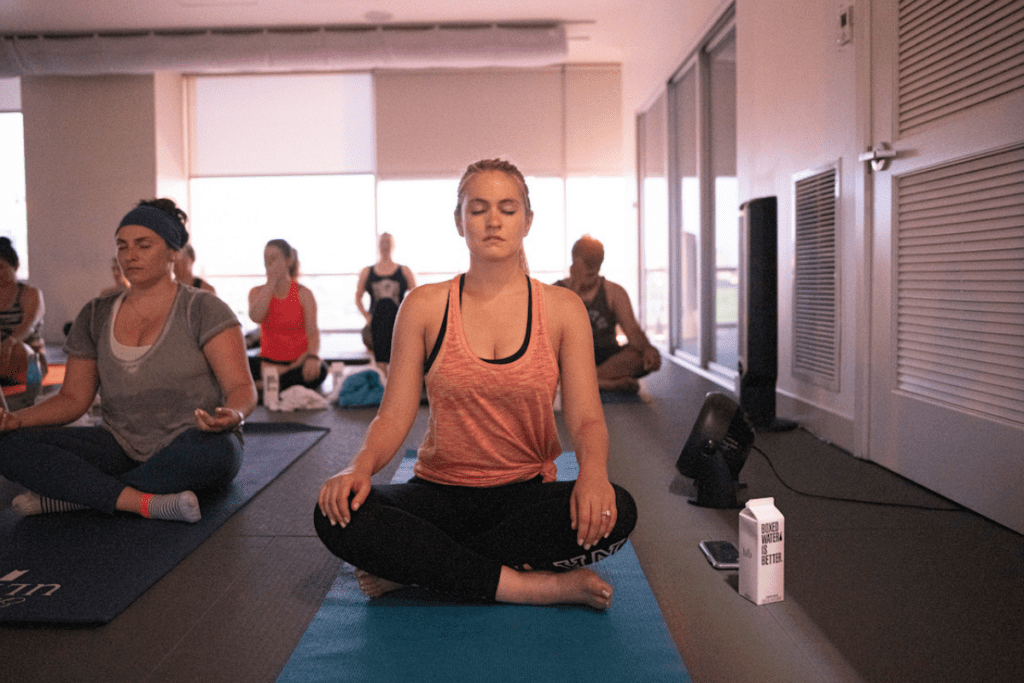 In many places, gone are the days of body-to-body formations, sharing equipment and immediate back-to-back classes. While some of the hustle and bustle of the fitness world seems to be lost, or at least lessened, there is still so much (and so much "new") to celebrate in the studio.
What does the new normal look like?
If you worked out before the pandemic, you likely found an online class or program to keep you moving. Some people may have a hard time ditching those virtual workouts altogether even though their local studios have reopened. A hybrid fitness routine seems to be the way of the future.
"We do still have a handful that are taking advantage of virtual options, whether they are doing a mix of in-person and virtual or solely virtual, but the majority of our clients are back in-person," said Danielle Cote, Director of Training Operations for Pure Barre.
Not all members may be returning to the gym at the frequency they did before the pandemic. However, reduced class capacities and schedules are keeping utilization high in a lot of studios. On top of that, some gyms might be seeing an influx of members who discovered a love for exercise during quarantine and are now looking to level up with an in-person experience.
"Our classes sold out before the pandemic and continue to sell out now, meaning we hold a waitlist for nearly every "prime time" class," said Caity Rose, General Manager at AKT Royal Oak. "We stood by our local directives and ran our studio by the book during the pandemic, which gave us a positive reputation and helped our community feel comfortable exercising with us."
Permanent changes to the group fitness normal
One perk that comes with society's heightened awareness of health and hygiene? Fitness studios around the world are likely the cleanest they have ever been. Even as restrictions loosen in many areas, the fitness world continues to make sanitation a top priority.
At CycleBar River North in Chicago, extra time between classes allows for deep cleaning of the bikes and other surfaces. An air filter was installed to keep riders feeling safe as they breathe heavily through workouts. Touchless check-in was implemented to reduce points of contact for members. These changes will remain in place for the foreseeable future, as will probably be the case in most fitness businesses.
The human spirit prevails
Class sizes may be a bit smaller as the industry deals with restrictions and ramps back up. However, the sense of community in the group fitness scene is stronger than ever. Distance has certainly made hearts grow fonder.
"The connections that clients create with one another, the energy that is felt in the room, and the inspiration that comes from the individual leading the room really take things to the next level," said Cote.
Sure, you can get a great workout at home. But you're not going to befriend your virtual instructor or classmates the way you would someone you can talk to in the lobby after class. A comment on a Facebook Live workout will never compare to the human interaction after the lights come up.
"I see my members more than some of my family and best friends," said Matt Vitacco, an instructor at CycleBar and Fitness Formula Clubs in Chicago. "We have seen each other through some of our darkest days. Now we are even more empathetic to what each other is going through when we step in the studio."
Months away from clientele have also helped instructors reflect and rediscover their purpose. For Rose, teaching virtually challenged her in ways that have helped improve her in-person instruction.
She explained, "Virtually, you must give more precise and descriptive cues on how to set up exercise form properly. It allowed me to work even harder to bring out my personality and energy through the screen, which has built me into a stronger trainer."
What's next?
Group fitness may be one of the slowest industries to rebound post-pandemic, but I'm confident it will bounce back stronger than ever. The trainers I spoke with echoed this sentiment.
"I see boutique fitness growing exponentially in the next year as we transcend out of this pandemic, as the need for increased health and community is higher than ever, and not slowing down from there," muses Rose.
But it won't be an easy road. The landscape is competitive with the rise of virtual giants like Peloton, and people are more discerning with their dollars.
"I think customers will continue to expect a high-level experience when they are paying a premium price," said Cote. "Concepts will have to continue to adapt, evolve and listen to their core consumer more than ever before."