Hate All of Your Clothes? Here's How to Start Over with Your Closet
Fact: I do not put a lot of energy, money, or time into my wardrobe. (If you have ever seen me at the grocery store on any given weekday, you can totally vouch for me). I am a Wellness Writer who WFH. Needless to say, my usual go-to outfit consists of workout leggings and a loose-fitting top with an oversized sweatshirt to support my braless lifestyle. (Hey, there is no shame in my game).
So when it comes to figuring out what to wear for dinners, events, or even just a casual night out, I find myself frantically rifling through clothes that have not seen the light of day for years. This usually begs two questions. First of all, "Why do I still have this hanging in my closet?" and two, "What the heck am I going to wear?"
If you find yourself in this same situation, you may be tempted to start over from scratch and build a brand new wardrobe from the ground up. Before you light that blow torch, consider a different alternative. Reinvent your wardrobe and shop your closet. Here's how to start over with your closet that does not involve a call to the local fire department.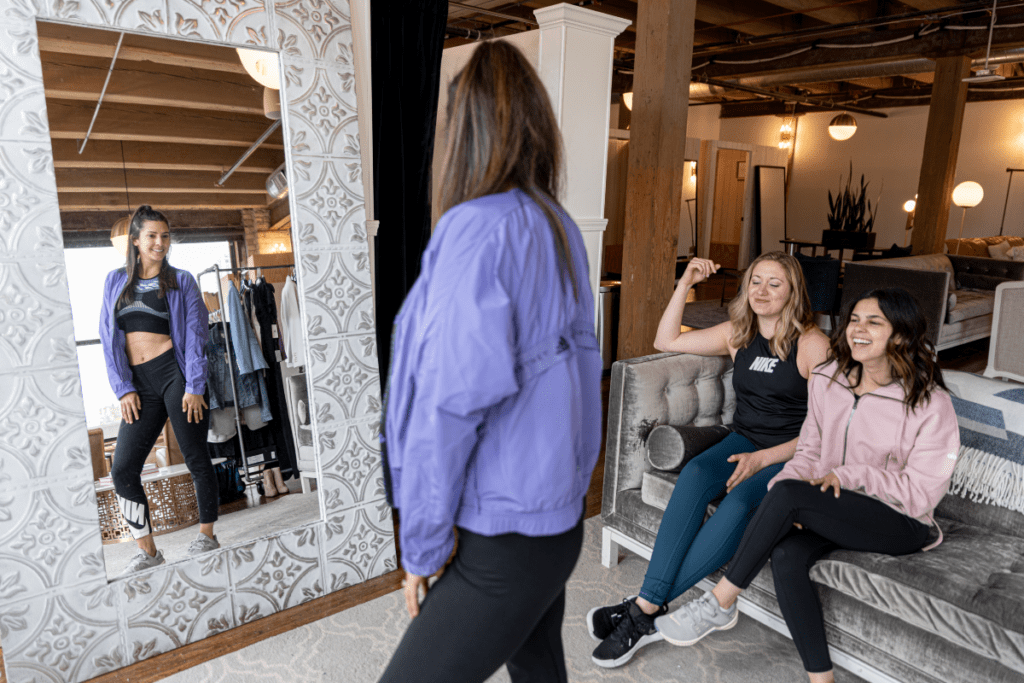 Reinventing your wardrobe
I invited my fabulous fashion-forward friend, Moriah Miller, over to my apartment to help me reinvent my wardrobe. Travel writer by day and fashion consultant by night, Moriah is one of the most fashionable people I know. Here are the steps we followed to help me reinvent my wardrobe and shop my closet.
1. Clean out your closet
Before you can reinvent your wardrobe, you need to first clean out your closet. I seriously struggle to get rid of clothing because I think, "Oh well, maybe one day I will wear this," or "Maybe if I just hold on to it for a few more years, it is bound to come back in style, right?" Wrong!
Although I appreciate wishful thinking as much as the next person, this is a great place to phone a friend. Whether it is a best friend, a sister, or someone who has a pulse on fashion, invite them over to help you sift through your current wardrobe. Together, you can see what pieces should stay, which pieces should go, and which items should be donated or sold.
Finally, try everything on. Make sure the pieces you are keeping fit you properly and that you feel good wearing them. If you aren't comfortable, you are most likely never going to wear it out of the house (heck, even in the house), so get rid of it. If it is really that heinous, I give you permission to burn it. (Kidding…kind of).
2. Shop your closet and take an inventory
Now that you know which articles of clothing you are keeping (hello, classic LBD), you can shop your closet and take an inventory. That way, you can better identify the areas of your wardrobe where you are lacking. Miller says, "When purging your closet think about where there are gaps in your wardrobe. Are you missing basic pieces or more trendy pieces?"
Look for a few classic pieces that never go out of style. Think of things like a great pair of jeans, a crisp white button-up blouse, or a blazer. Miller continues, "See where you can upgrade your basics. Replace your sweater with a better quality cashmere sweater or upgrade your handbag to something classic and more designer." When making an upgrade, think of the long-term. Miller reports, "Designer bags have great resale value. Most you can resell for almost what you paid for it."
Once you shop your closet and see what you have, you can then make a plan to figure out what areas you need to put some extra TLC towards.
3. Create a budget
The goal of reinventing your wardrobe is not to make you go broke and regret redesigning your wardrobe in the first place. That's why you shop your closet before you dole out the dollars for some new threads. By shopping your closet, you know what pieces you need and can budget accordingly for how much you want to spend and on what items.
As you review your list, Miller recommends shopping around and waiting for sales to try and save on items, especially higher quality items that are investment pieces. "There's no need to rush. Building a functional wardrobe takes time. Once you do, you should have these pieces for years and years to come."
Also, as enticing a sale may be, Miller recommends avoiding buying things just because they are on sale. "When shopping for items, ask yourself if you would pay full price for this. If the answer is no then it's safe to say that piece will just hang in your closet."
4. Reinvent your wardrobe by reflecting on your own personal style
Before you shop until you drop, take some time to reflect on your own personal style. Do your current pieces accurately reflect your personality or are you ready for a bigger change? Determine if this is a look you want to continue with and adjust accordingly.
Miller says, "Consider your current lifestyle and choose pieces that are multifunctional. Think of items that can go from the office to a night on the town seamlessly or pieces that go from school drop-offs to girls' lunch with ease."
Ask trusted family and friends what they think about your style and take a look at some of your favorite looks with a more critical eye to see if this is the style you want to sport. Remember, at the end of the day, your style is a reflection of you, so the only opinion that really matters is yours.
5. Browse
Before you buy, be sure to do your research too. Miller shares, "Try and find new brands that reflect your age and current life. Do your research, choose brands that use natural fabrics." Then, take a stroll through your favorite stores and casually browse simply to see what is out there. This is your time to explore and see what is available for purchase. Get an idea of what stores are offering and try on some of your favorite finds to see how they fit and can potentially work in your new wardrobe.
6. Shop
Now comes the fun part…shopping!
Try on, shop, and purchase pieces that are well within your budget and are flattering on you. Whatever you buy, try it all on again once you get home to really make sure you like it. Keep all tags on and receipts in case you need to make a return and familiarize yourself with the store return policies.
I am learning, firsthand, that fashion takes some serious patience and perseverance, so stick with it and do not give up on reinventing your wardrobe. Instead, have some fun with it. Phone a friend who can help make this process fun and use these six simple steps to reinvent your wardrobe because you are worth it!
Let us know!
Did this post help you get closer to achieving one of your goals?