How Girlvana Author Ally Maz Prioritizes Accessibility in Wellness
I started my yoga wellness journey last year while I was in residential rehab focusing on my own mental health. Practicing yoga allowed me to center my mind and body and taught me to be present. I grew up doing ballet, and I think that a part of me always dismissed yoga as a much easier form of dance – I was wrong. I have never sweat as much as I have during intense yoga sessions.
Last fall, coming out of treatment, I challenged myself to stay committed to yoga and became a certified yoga teacher. During my casual exposure to yoga in my teen years, one social media account in particular caught my attention: Girlvana. Girlvana is a global movement that brings yoga, meditation and mentorship to the next generation of young women; it was founded by Ally Maz when she was 24 years old. For years, I followed the account for inspiration, but hadn't yet overcome the mindset barrier of truly leaning into yoga practice. Now that I have, it's been so inspiring to reconnect with Ally and learn about her next adventure: her debut book, Girlvana. 
With everything going on in the world right now, this book comes to us at the perfect time. With stress and anxiety levels at an all-time high, everyone needs a little extra self-acceptance and self-love. Girlvana, with its yoga flows, guided meditations, and empowering message, is a book that women of all ages will relate to and learn from.
In her own words, Ally says "I truly believe that any woman at any age can relate to this book. My 64 year old mother just read it and shared that the overarching themes of self love, speaking your truth and quieting the mind are universally relevant. My hope is that anyone who buys the book at any age or gender can read it and continue to share it."
Here's more from my conversation with Girlvana's author, Ally Maz: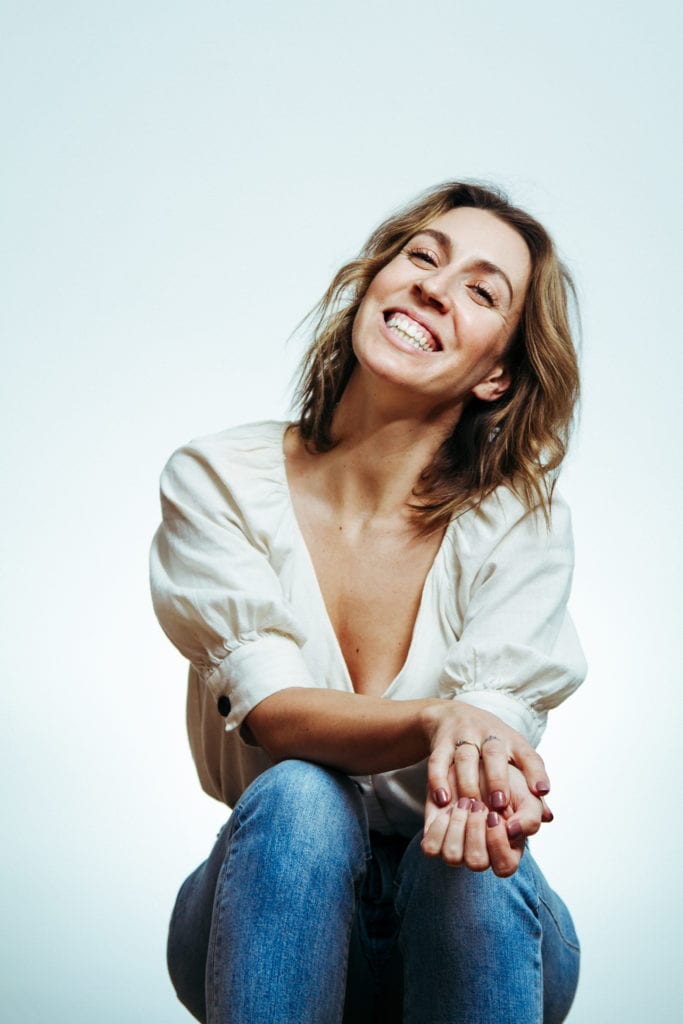 In writing Girlvana, was there anything that came up that you think would be helpful for other generations to understand about Gen Z and their relationship with wellness?
I think what can surprise other generations about Gen Z is their willingness to understand and support their mental health. I see Gen Z having a breadth of knowledge and wisdom when it comes to the holistic picture of being human. I think for the first time ever, this generation is looking at life in a less linear way. I think happiness doesn't just look like all these boxes you tick- college, job, marriage, house etc… life can be so much more about the in between, the journey, the connections and the relationships to others and self along the way. I think other generations can look to Gen Z and feel inspired by both only their drive for life, but their care for themselves, others and the planet.
I know this is a big question, but in your own words, what is mindfulness? What is wellness? How do the two relate to each other?
To me, mindfulness is about bringing deep awareness to the present moment. Wellness, on the other hand, feels like mindfulness in action. Wellness is about mindful practices that support our mental, emotional, and physical wellbeing. Mindfulness is connected to being, and wellness is the doing.
Your book is described as a guide to creating a more "safe and inclusive world" – what does that world look like to you?
That world looks like all humans feeling safe to be themselves… A world that feels like you can express yourself regardless of gender expression, race, and socio-economic background- you can feel safe, represented, valued, and heard.
Why now? You've been an incredible voice in the wellness space for over a decade and I'm sure that people have been begging you for a book for years. What inspired you to choose this moment to write the book?
I have been working on this book on and off for five years, but in 2020 I was determined to finish it and get it out into the world. It feels like the right time to share the tools of yoga and meditation with Gen Z, who are grappling with so much. From the effects of a global pandemic, racial injustices, gender inequality, and mental health struggles, I wanted to give this next generation real and accessible tools to know themselves, honor themselves, and feel empowered to go out into the world and use their voices.
In honor of Sexual Assault Awareness Month this April and Mental Health Month this May, I would love to hear your thoughts about how yoga can be really helpful for healing for both survivors and those who might be struggling with their own mental health. Your book seems like an incredible guide for young women to explore their own coping mechanisms – how has yoga been a way of healing or coping mechanism for you? 
Yoga teaches us how to listen, connect and honour our bodies. For so many of us, myself included, it can be easier to disassociate with our bodies due to past trauma. Our bodies can feel like a scary and powerless place to be. Often through the messages we receive through media, society, and peers it can seem like our bodies are for the consumption of others. Yoga gave me my power back. I learned how to breathe deeply, how to take up space and how to honour what feels like yes in my body and what feels like no. Showing up to a yoga practice consistently gave me a very deep relationship to my body and my mind. I truly don't know where I would be without it. 
I have seen so many people find reconnection to their bodies through yoga. In essence, yoga is a way to reunite the mind, body, heart, and soul. So many of us have found a new sense of ease, potential, and freedom to heal ourselves through the power of yoga. 
So much of your work is encouraging young women to find balance in their life. How do you find harmony with work and life?
The biggest player in finding balance and supporting my mental health is nature. Getting outside is so important to me. I work a lot and like most of us, spend way too much time on screens. Getting out into nature helps me reset my body. I immediately feel calmer, more alive, and less numbed by technology. Even tiny breaks between meetings to step outside and take a few breaths in the sun helps me balance my day to day workload. I think it is about finding something that lights you up that is outside of the work you do. Something that feels enlivening and isn't connected to a certain outcome or expectation. That way we can feel free to be playful with it, without pressure or the need to perform.
From yoga to writing to being a founding teacher on Open, a social platform for mindfulness and movement, to continuing to teach yoga and lead Girlvana, how do you prioritize the different avenues of your work? Is there a personal mission that you believe encapsulates all of the work that you do?
Absolutely, I think the common thread here is accessibility. At Open we are $20/ month for unlimited classes that you can do from your home. At Girlvana we offer scholarships and free workshops. Everything I do is from the heart. Being well shouldn't be for a certain demographic that can afford it, it should be accessible to all. I truly believe that the more people have access to these tools, the better off we all will be. I want everything I touch to feel real, inclusive, and beneficial for all.
In terms of prioritizing, it is definitely about being agile and wearing different hats. I need to embody different energies for different things. When I am writing, I need space away from others to be more reflective and soft. When I am teaching live classes to hundreds of people, I need lots of determination and inspiration and when I am in meetings, I am putting on more of a strategic mindset. Over the years I have gotten better about what is needed for all these different hats and not being shy about showing up in different ways!
When yoga and mindfulness are part of your job – how do you create space to do your own mindfulness practices for yourself and not for work?
I think this is something every teacher struggles with at some point. What helps me is getting creative. This past year I have been playing with crystal singing bowls. The addition of sound to my meditation practice has been really cool to explore. As for my yoga practice, taking it outside on the beach before I surf has been an amazing way to keep it fresh and allows me to find more connection to the ocean and the movements of surfing as well. Mixing it up has been really key for me over the years.
I have been guilty of saying things like, "I don't have time to meditate." What would you share with people out there who are feeling a barrier to creating time in their day for mindfulness and yoga?
I am guilty of this too! But seriously, we all have five minutes. I think removing the ideas of needing it to look a certain way is important. You don't need to have the right clothes or a meditation cushion. It could be closing your eyes and breathing deeply on the subway or it could be blocking out some time in your calendar at the end of the day for a quick yoga flow. Next time your phone alerts you about how many hours you've spent looking at Instagram, surely a fraction of that time you could be doing something more mindful!