Is This Streaming Program Worth $90 A Month?
In the world of fitness, there's probably no figure with a bigger mystique around her than Tracy Anderson. With a list of celebrity clients including Jennifer Lopez, Gwyneth Paltrow, and Kim Kardashian, the dancer-turned-trainer is known for training some of the most famous people in Hollywood.
But as you can imagine, she doesn't come cheap. Studio membership starts at $900 per month. But she also has a streaming program that's comparatively reasonable for $90 per month.
So is Tracy Anderson worth it? Here's my personal opinion.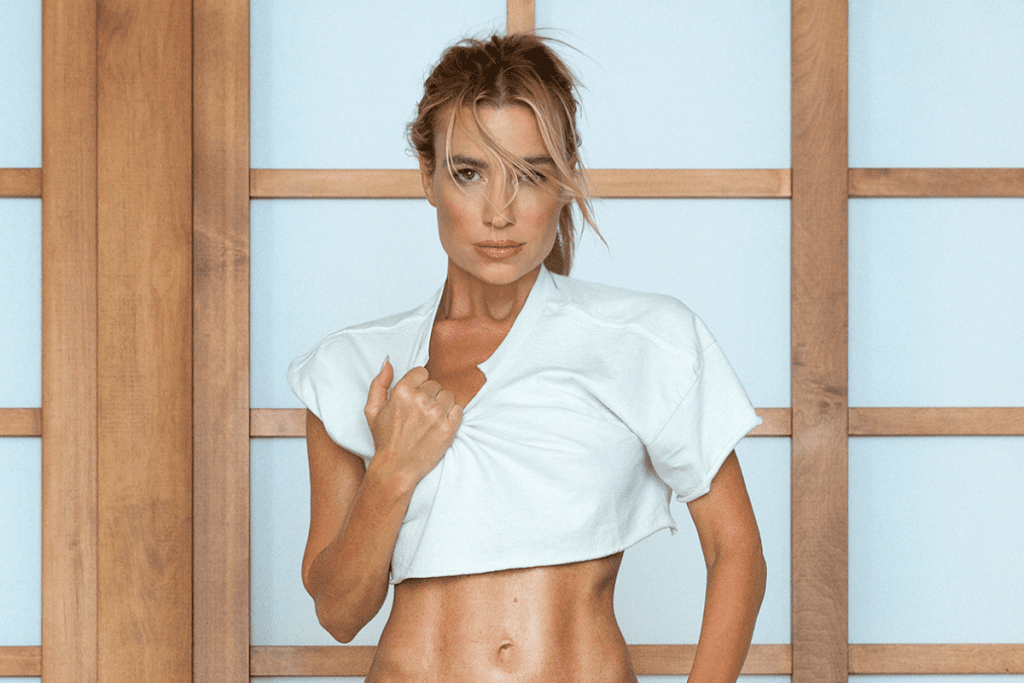 The price is right
How much is the Tracy Anderson membership? So, the $90 per month price tag might make your jaw drop a little bit. It's still certainly more accessible than $900. After all, most popular streaming services cost around $20 per month or less. There are gyms around the country where you can take classes and use the equipment for less than $90 per month. But they don't offer the Tracy Anderson Method.
Here's a hot take: the high price may arguably motivate you to use the program and exercise more. After all, it's far easier to justify skipping out or blowing off your workout when it isn't a real investment in your health and wellness. Spending $90 a month for Tracy Anderson's online studio requires you to show up for yourself in a different way entirely. This might sound like a mind-trick, but it really forces you to commit.
The program
The best thing about Tracy Anderson is that, unlike most streaming fitness programs I've tried, it's actually hard. It really requires you to try. A combination of barre, strength training, and dance cardio, Anderson's movements are unlike anything I've personally done before. These sequences are a bit tricky (in a good way) and those who are very experienced may not even get them right away. Your body will likely feel awkward. The positioning of your body, mat, and laptop may also take a bit of trial and error. But you shouldn't let any of this discourage you. Even if you don't do things perfectly at first, it's such a thorough workout, you will feel a great sense of accomplishment at the end no matter what you do.
It's also worth noting that Anderson's classes are a bit of a time commitment. The main workouts are at least an hour long. Again, this is another way the program asks you to show up for yourself. For anyone with specific goals regarding changing or maintaining their body, a 10 or 20-minute daily workout usually doesn't cut it.
Fortunately, there are elective programs you can mix and match depending on your mood, fitness goals, and frankly, how much time you have available. This includes 15 Minutes Body Boosts, which target different areas of the body, such as Abs and Spine and Arms. There are also Multi-Task Mashups which are hour-long programs that combine muscular-structure work along with cardio.
In addition to that, there are Standing Sequences which are 30 minutes long and my personal favorite. You really feel like you've worked your body in just half an hour. These electives keep the program from feeling boring or repetitive. Still, the content changes weekly, so if you aren't into a particular sequence or workout, it's done soon enough.
The main program is divided into levels: Beginner, Intermediate and Advanced. Because the program is challenging, there is an additional breakdown of the weekly moves. It is highly suggested you watch this before starting the workout, especially if you are new. This is particularly important because unlike other streaming fitness platforms— there's no zero instruction during the workout. In fact, the instructors don't give any directions or speak at all. While this can take a bit of getting used to, it really amps up your mind-body connection.
Final thoughts
While I highly recommend Tracy Anderson to most people, the only thing that needs to be noted is that you do need a decent amount of space to spread out for kicking, etc. Make sure you don't have anything made of glass or that's fragile within arm's or leg's distance, especially for the Standing Series. So, if you don't have a lot of extra room, you'll be more comfortable doing this outside.
As someone who generally doesn't think that streaming is an acceptable substitute for taking classes in person, Tracy Anderson, when done properly, gets you pretty close in terms of difficulty. However, it doesn't exactly win points for guidance. So you have to really have to focus on the instructor's movements. If you need a lot of guidance when you exercise or the instructor to explain things as you go along, it might not be the right fitness program for you.