What to Do if It Hurts Down There After a Spin Class
So you decided to buy an indoor exercise bike for your at-home gym: Welcome to the club! According to research firm NPD Group, sales for stationary bikes were way up in 2020 compared to the previous year. In fact, there was a 270 percent increase in sales in April 2020 vs. April 2019.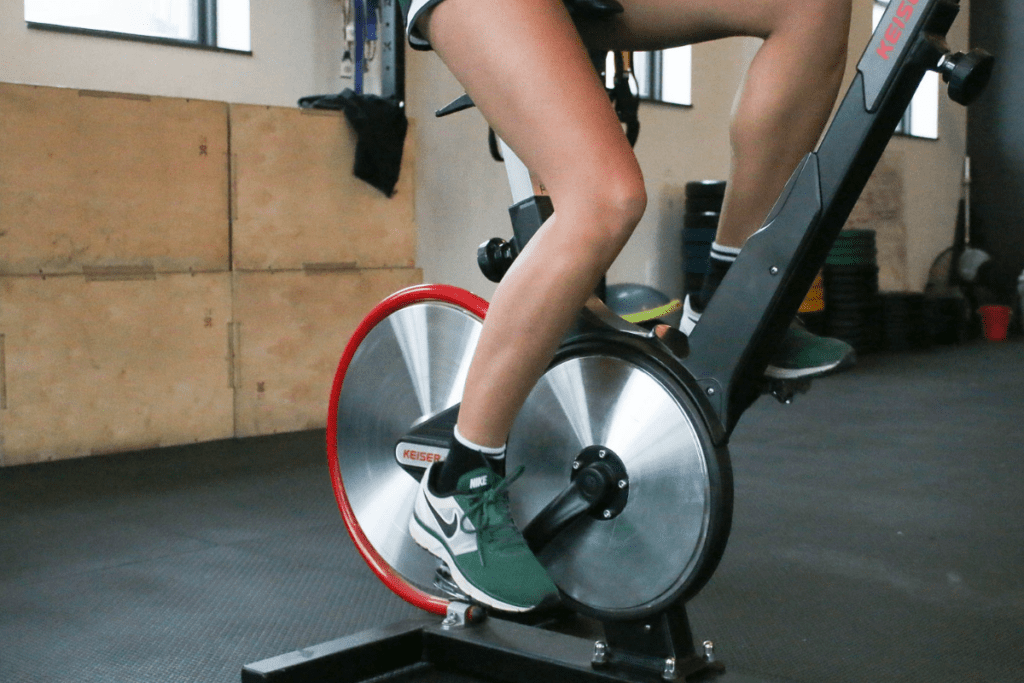 It's not surprising everyone is clamoring for their own exercise bike during quarantine. Indoor cycling legit works your entire body and seriously boosts endorphins to boot. Plus, with so many brands—like Peloton, SoulCycle, and Echelon—now selling at-home bikes, more people than ever can access this trendy workout without stepping foot into a fitness studio.
But there is a side effect some newbie bike riders deal with: We're talking about indoor cycling seat pain. Yep, a sore crotch after cycling is real, especially if you're inexperienced.
"Typically, seat pain is only felt, if even, if you're brand spankin' new to indoor cycling," says Maddy Ciccone, master SoulCycle instructor.
The pain is usually caused by the seat being something new you're presenting to your body, explains Karen Maxwell, senior master instructor for CycleBar.
In most cases, adds Ciccone, you'll stop feeling any discomfort after a few rides. "This isn't something that should deter someone from trying a cycling class," she says. Ciccone does note, however, that if you have "crazy pain" post-ride there could be something wrong with how your seat is set up or the position of your bike.
Luckily, there's an easy fix for that—and there are also a few other ways to prevent indoor cycling seat pain from ever happening at all. Here's how to avoid the dreaded sore crotch after cycling.
Set your seat up properly.
"The height of the saddle, or seat, matters the most for comfortable riding," says Maxwell. "The seat should be high enough to have a slight bend in your knee when your pedal stroke is at the bottom of the rotation."
If your seat is too low, she says, it'll apply unwanted pressure to your knees and seat. If your seat is too high, meanwhile, your bottom area will be very uncomfortable, says Maxwell. You'll also risk hyperextending your knees when pedaling.
For the most comfortable ride, consider the distance between the seat and the handlebars as well. There should be about an arm's length, without too much wiggle room, between the two, says Ciccone.
Sit on the saddle smartly.
How you sit in the saddle can also go a long way toward alleviating any ache down there.
"Use the saddle to your advantage," says Ciccone. "Make sure you're sitting back on the squishiest and fullest part of the seat—don't perch on the edge where there's less room."
Maxwell adds that sitting at the back—the widest part of the seat—offers the most support.
Wear the right workout bottoms.
Steer clear of shorts unless they're biker shorts and they're on the longer side, says Ciccone.
"Biker shorts—as much as I love them—are truly hit or miss because some end up riding all the way up your thigh and then you look like you're wearing cheer bloomers or undies on the bike," she says.
She suggests you choose ones that are 8" or longer for the most comfortable ride. Ciccone is a fan of lululemon biker shorts. The lululemon Invigorate High-Rise Shorts ($68, lululemon.com) are 10" and go up to size 14. There's also the Athleta Ultimate Stash Pocket 9" Short ($59, athleta.com), which is available up to 3XL.
Maxwell says tight-fitting leggings are another good option. Girlfriend Collective Compressive High-Rise Leggings ($68, girlfriend.com) are a fan favorite because they go up to size 6XL—and they stay in place during spin classes and other high-intensity workouts.
You could also try shorts with built-in padding in the crotch and bottom area, although those are mostly used by road cyclists, she says. "In CycleBar classes, we only spend about 25-30 percent of the class in the saddle, so it's not necessary," she notes.
Consider a padded seat cover.
Although not necessary, a padded seat cover can help eliminate some discomfort when you're starting out, says Maxwell.
Just keep this in mind: "Your body gets used to the feeling and it becomes a nuisance," says Maxwell. You may also need to adjust your seat height when using a padded seat cover because it'll add height to your saddle.
If you do want to use a padded seat cover until your body is used to the bike, Ciccone likes the Bontrager Road Gel Saddle Cover ($20, rei.com).
The bottom line: If you're hurting down below after a session on a stationary bike, you can always pop an ibuprofen and apply ice to ease the pain, says Maxwell. But once you've gotten a few rides under your belt—and you make sure to set up your seat properly—the discomfort should no longer be an issue.